How to Get Noom Free Trial Easily – 2023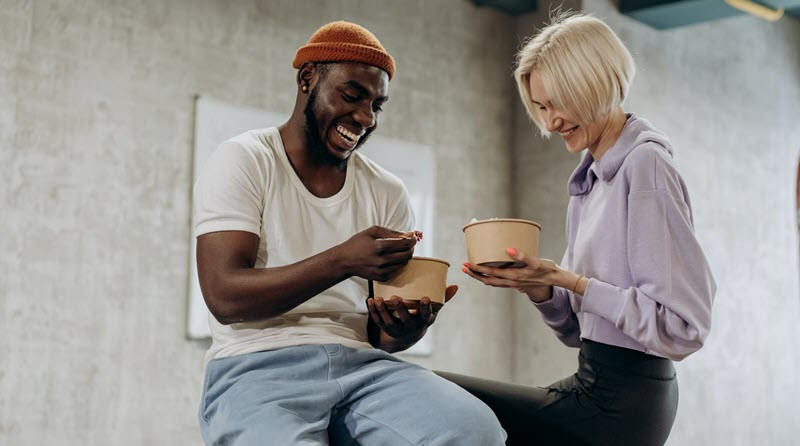 Noom 7-day Free Trial
Get custom weight loss plan free
Noom is a psychology-based app for sustainable weight loss and a perfect choice for you to kickstart a better lifestyle. You can grab the Noom 7-day free trial to explore all the exciting features before paying for it. If you're interested in learning more about Noom, this post has everything covered.
How does Noom work
Thinking of Noom as a simple diet plan or calorie tracker? It actually does much more than expected. Supported by a team of health experts, it's a subscription service that encourages you to lose weight and keep healthy in a scientific way. It offers a variety of features centering around diet, exercise and mental health.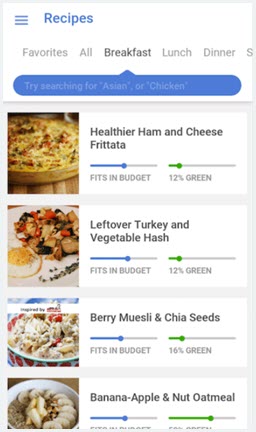 5 to 15 minutes of quick and digestible lessons every day, focused on cognitive behavioral therapy
Innovative and simple food logging system
Multiple tracking tools for weight, water intake, glucose and blood pressure level
Access to personal one-on-one coach
Recipes and weekly meal planning
---
To get started, you'll complete a series of questionnaires about your weight, height, why you want to lose weight, dietary habits and so on. This will help Noom know you better and develop a customized personal plan.
Noom's pricing plan
The Noom plans are usually for around 16 weeks, but there's no one-size-fits-all program. Your recommended duration can be more or less depending on your goals. The longer the subscription, the cheaper the monthly cost.
1-month plan – $60
2-month plan – $119
3-month plan – $149
4-month plan – $159
5-month plan – $164
6-month plan – $169
7-month plan – $174
8-month plan – $179
9-month plan – $185
10-month plan – $189
11-month plan – $195
Annual plan – $199
Is Noom worth it?
So if you're wondering whether Noom is worth the money, our answer is a big Yes! You may find Noom beneficial whether you're in the need of losing weight or developing healthy habits in the long term.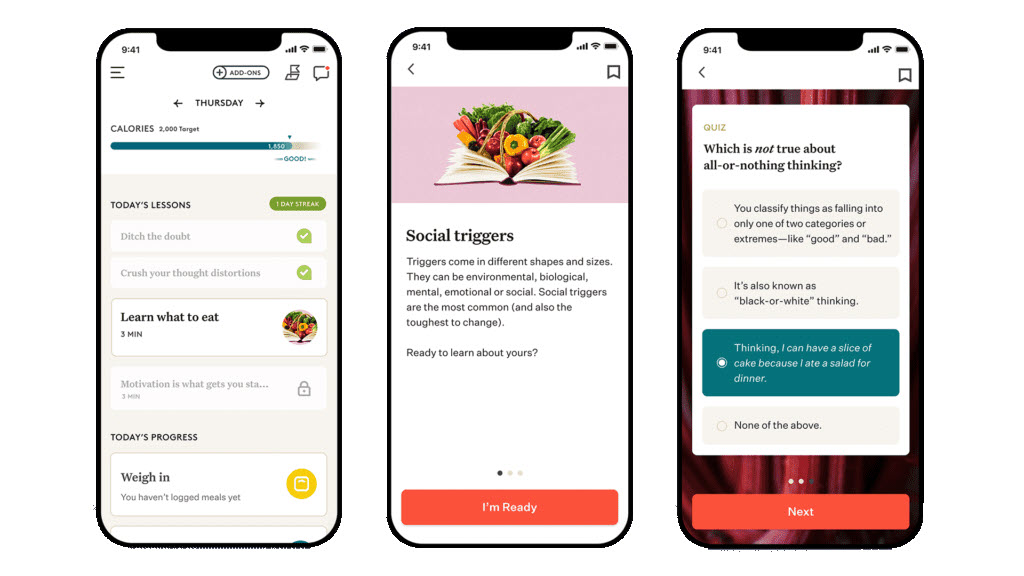 It's well-structured and user-friendly, guiding you to make behavioral changes in various ways instead of radical or rigid strategies. Meanwhile, getting support from Noom's qualified coaches and joining group chats of other dieters will keep you motivated for sticking to the goals comfortably. The subscription is also much more affordable compared with the cost of a gym membership or hiring a personal trainer.
If you don't lose weight after going through the program, Noom promises a full refund with trial fees, no questions asked.
How to get Noom for free or cheaper
There's a 7-day Noom trial for anyone to try the program. But if you want to extend the period to one more week, try contacting the support or your coach directly. If it doesn't live up to your expectations, just make sure to cancel the trial in time.
1. Go to the Noom website and follow the instructions to take the survey.
2. When you completed the questions, a 7-day trial will pop up.
3. The trial is not completely free, but you can choose how much you're willing to pay for it. The lowest price is $0.5.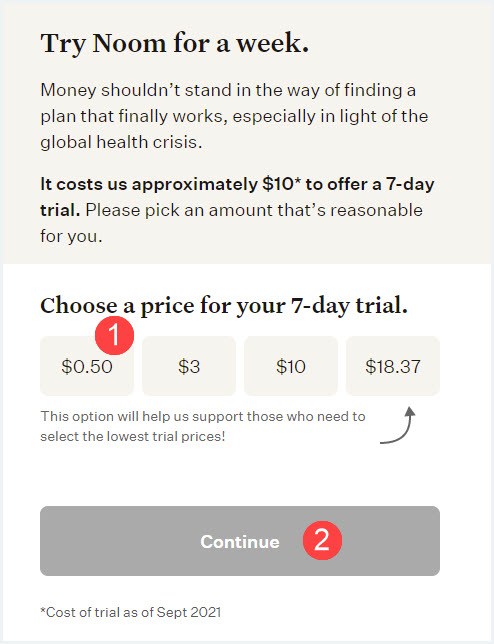 4. Confirm your plan, enter the payment information and click Continue.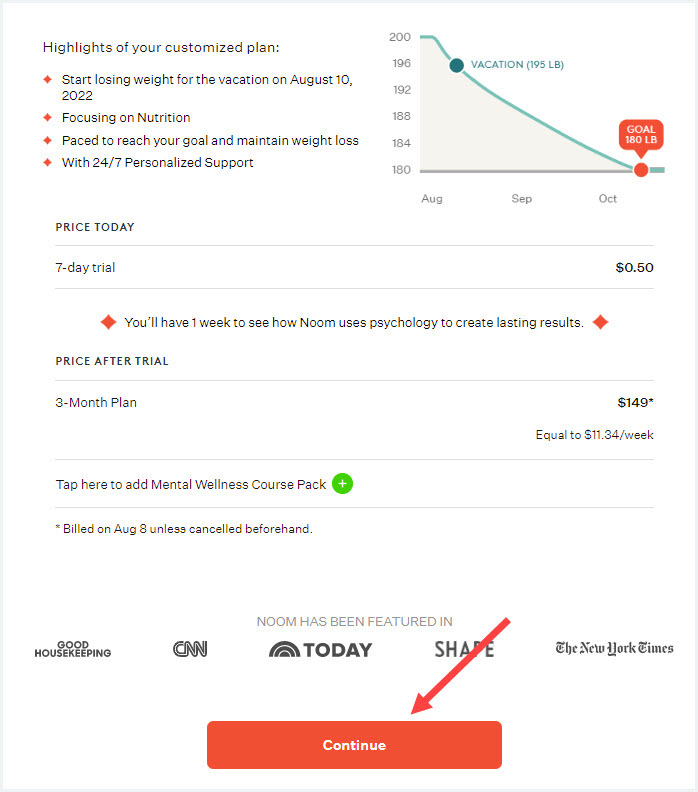 Once you're set up, download the Noom app on your iOS or Android device to use it.
More tips to save on Noom
If you decided to keep Noom, here are some proven tips to help you save.
1. Use a Noom promo code
There's no easier saving method than using a promo code. You could manually search for a valid Noom promo code online or use Coupert, our favorite coupon finder, to grab the best discounts whenever you shop online.
1. Add Coupert to your browser.
2. Go to the Noom promo code redemption page and sign in with your credentials.
3. Click the extension icon at the top right corner and select Coupert.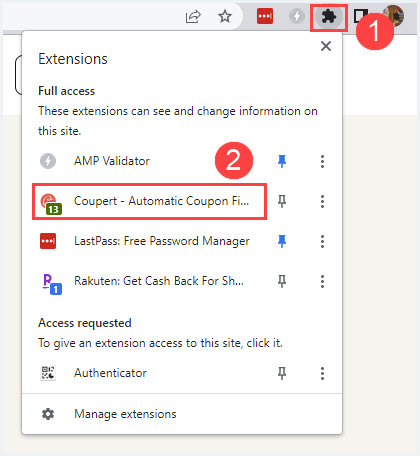 4. Copy a coupon from the list and paste it into the promo code box.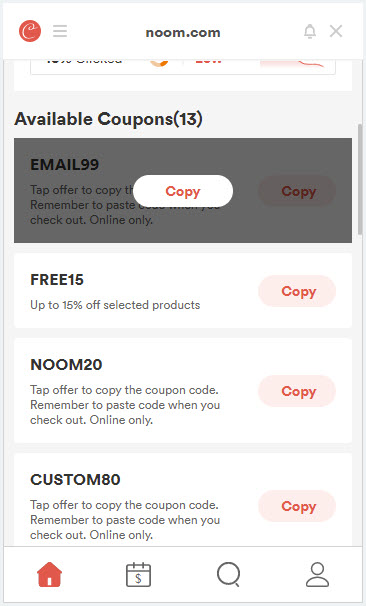 ---
2. Refer a friend
Noom gives existing users appealing rewards by inviting new users. While logged in on the Noom app, select Home in the upper left corner, and tap Get $20 > Share to generate your referral link. Your referral will get 20% off their first Noom subscription when signing up via your link and you'll also receive a $20 Amazon credit. That's definitely a win-win for both.
So that's all for the Noom's free trial. If you have any questions or suggestions, feel free to leave a comment below.