Who doesn't like free stuff? I love free stuff. I would try my best to save my money, the game is not an exception. As an incentive, CSGO skin trading is focused around the Steam Community, but we can still get them for free in different ways.
Where can I get free CSGO skins?
There're 4 ways for you to get free CSGO skins, they would take your time and energy.
Are free CSGO skins worth it? It's up to you. I would say you can make full use of the free skins, for example, treat them as an investment and make a profit in the future.
1. Play the game for weekly drops
Play the game is the easiest and safe way to get free CSGO skins. Each week, you have a chance to receive two drops in-game. As long as you play the game to level up, you'll get drops that value from $0.03 skins or cases to up to $0.30 case (which is very rare). Too cheap? What are you expecting? They are giving for free!
By receiving the drops, you can decide to sell it on the Steam market. The money you earned can be used to buy new skins.
2. Get from Steam group
Do you know there is an open group on Steam called "Donation Box"? It's a wonderful group, don't miss it, check it out. It's a sharing group that collects unwanted items and gives them away to the community. So you can donate your unwanted skins to the box and you have the chance to request skins you like in this community.
3. Take part in giveaways
CS: GO streamers, YouTubers, and some websites that want to boost their popularity will giveaway free CSGO skins. Usually, you need to join their server or subscribe to their channels. The standard of getting giveaways varies from site to site, you need to follow their rules to earn free CSGO skins. The method needs luck and takes time.
Take Skins.Cash as an example, you need to get entries to win the giveaway skin.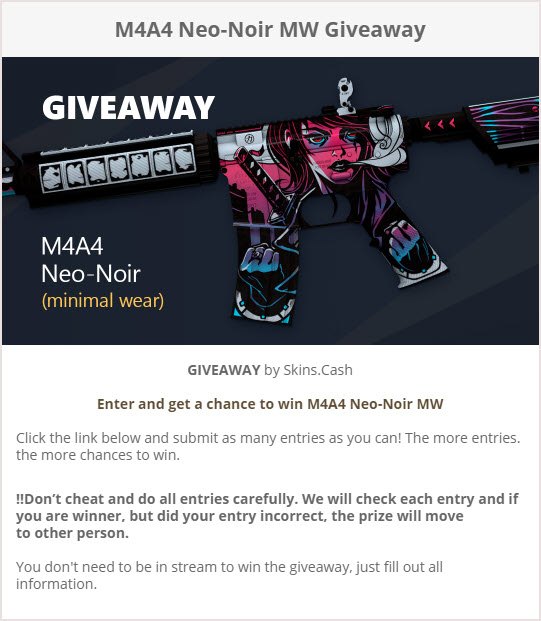 You can search on social media to find these people or teams. For example, search csgo givveaway in Facebook, YouTube and Twitter, you can find a lot of groups and accounts.
4. Get from websites
This method is the most common way to get CSGO free skin. But you need to pay attention to websites you find online, they may be scams or have potential risks.
Those websites have one thing in common: you can earn points by finishing surveys, watching videos, and other tasks on the website, then you can redeem CSGO skin with the points you earned. The websites offer multiple ways to earn rewards, points, even real money, if you want to get a free CSGO skin easily and quickly, this method is what you need as long as you can finish enough tasks in a short time.
Another advantage of those websites is, some sites are not only for CSGO free skin. For example, you can redeem Fortnite Vbucks, Amazon gift cards, Bitcoins, even actual money to your VISA card by completing tasks in freeskins.com. This site is totally free and no need to deposit anything.

Below are a number of websites I collect from YouTubers and Quora answers. They're recommended by many different users, I assume they're workable. But, stay safe guys!
Note: The website list is only for references, there's no interest between Supereasy.com and these websites. Be wary of any transactions that require you to pay.
---
That's all. Hope this post could help. Let's enjoy the game!