Airbnb is the best travel resource for most of us. If you're a frequent traveler who is always moving from one Airbnb rental to the next, this guide is written for you. Here in this guide, we'll provide you the latest Airbnb discount offers and tips on how to save big on your next trip.
Method 1 – Get Airbnb discounts through Coupert
If you're a frequent shopper, make sure you installed the Chrome extension Coupert. Coupert takes the work of scouring the internet for coupons and deals out of the equation and will automatically apply coupons when you shop online.
Here's how to save money with Coupert:
Install the Coupert Chrome Extension.
Go to your Airbnb checkout page.
Click Enter a coupon, Coupert will automatically find all the Airbnb coupons for you. Just click on the one you want to use.
Method 2 – Get sign-up discounts if you're new to Airbnb
If you're new to Airbnb, don't miss the Airbnb sign-up offer! After creating a new Airbnb account, you are entitled to $40 off your first reservation (and $14 off an experience).
But if you're already an Airbnb member, you can't log in with your current Airbnb info and get the discount. Instead, you can ask your friend, spouse or partner to register Airbnb and place the order for you.
Method 3 – Get Airbnb coupon codes and deals
While Airbnb will promote coupon codes on their site to encourage purchases, these are not the best deals. The top money-saving codes are always those you find online.
If you don't feel like spending time scouring for the code, go to our Airbnb coupons and deals page for the best Airbnb offers. Click the Get Code button to get the code.

Method 4 – Earn cash back through Extrabux
Extrabux.com is a cashback website that allows you to get a rebate from all the orders you make through their site.
To earn cashback from your Airbnb orders, you need to have an Extrabux account. (If you're new to Extrabux, feel free to sign up using one of our referral links and receive $20 as a signup bonus.) Next, visit the Airbnb Cashback page to check if there're any cashback offers available.
Method 5 – Refer friends and get an $11 discount
You can earn Airbnb credit for referring your friends who aren't on Airbnb yet. Your friends will get $78 off their first order, and you'll get up to $11 off your next reservation.
To do this, click Invite Friends under your account menu to start referring your friends.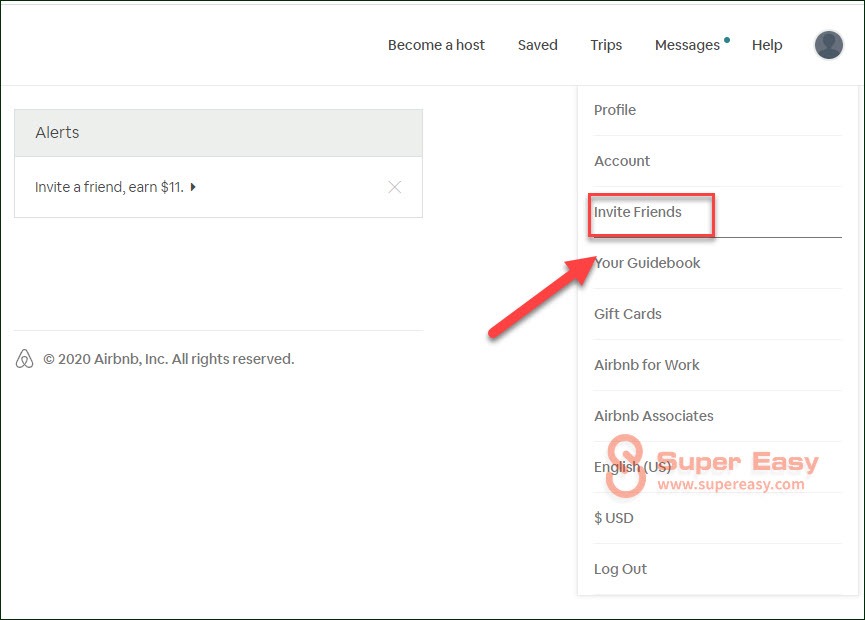 Method 6 – Ask the host for a special discount
Asking the host for a unique discount is a common practice and it frequently works. Most hosts have no problem with giving a reasonable discount for a last-minute booking if their property is free. But before you reach out to the host, it's important to keep in mind that this should only be done with tact and respect.
To do this, on Airbnb.com, click Contact host below the rental property description. Introduce yourself to the host and ask politely for a discount.
Hope this post helped! If you have any questions or suggestions, please feel free to leave a comment below.