After Effects is a handy video-editing tool. It allows you to add amazing visual effects and create cinematic movie titles with ease, making your videos professional and unique. With a range of nice features, this popular software is known for its high price of $20.99/month. So if you're thinking about any ways to get After Effects for free, or at least cheaper, check out here for some real saving tips.
How to get After Effects for free
If you're getting Adobe After Effects for personal use, the yearly cost of subscription can be daunting. However, you can still use smart methods to save money.
Method 1 – Sign up for the 7-day free trial
The best deal After Effects offers is the 7-day free trial for any new users who want to have a test drive.
To claim this privilege, you just need to visit the official website of Adobe After Effects and click Free Trial. There is single-app plan for AE, or you could have a taste of the Creative Cloud all-app package that includes various essential apps such as Photoshop, Illustrator, Premiere Pro, Encode and more. After entering your email account and payment information, you're good to go.
Please remember to cancel the subscription before the trial ends. Otherwise, the payment will be automatically processed.
Method 2 – Take advantage of discounts
If you've decided to upgrade to the paid subscription, try grabbing Adobe discounts to reduce your cost. Students and teachers can enjoy the special 70% off discount on the Creative Cloud all-app plan, low as $19.99 each month. While for common users, Adobe will occasionally give coupon codes to help you save a few dollars, but not often. To never miss out the best deal and coupons, simply bookmark our Adobe coupon page and check back.
Method 3 – Try AE alternatives
If you still feel After Effects is a bit expensive, we would recommend two alternatives which provide robust functions that can meet your video editing needs. Take a look to see if they're right for you.
Filmora (For Windows & Mac)
Filmora by Wondershare is a powerful video editor that is quite easy to use for beginners. It has an intuitive interface and a slew of advanced features covering titles, transitions, effects and animation, which will make your editing experience simpler and more joyful.
The pricing of Filmora annual plan starts at $51.99 and a perpetual license only costs $79.99. You could take advantage of the free trial to try it out. When you're ready to pay, don't forget to use a 20% off coupon.
Animoto (For Windows & iOS)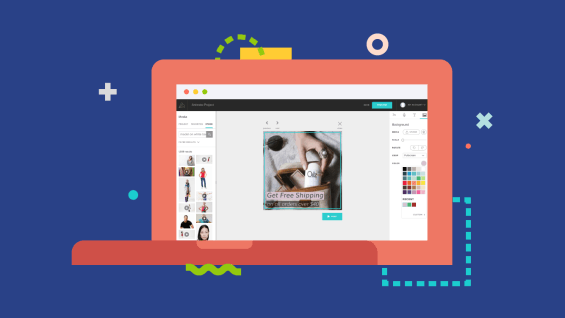 If you prefer an easier option, Animoto might work for you. It's a slideshow video creation software, where users can get access to wide-ranging video-making capabilities including music tracks, marketing storyboards, social media optimization and so on.
Animoto has a free version with standard features, as well as premium plans that come with additional perks: Professional at $29/mo. and Professional Plus at $79/mo. You could use an Animoto coupon for more savings.
Conclusion
The only way you can get After Effects for free is by signing up for the trial. But if you're using more than one programs of the Creative Cloud suite, the all-in-one plan would be a more cost-effective option. Alternatively, you could try other similar but cheaper video-editing tools.
Hopefully this post helped. If you have further questions or suggestions, please feel free to leave your comment below.