[SOLVED] How to Fix YouTube TV Buffering Issue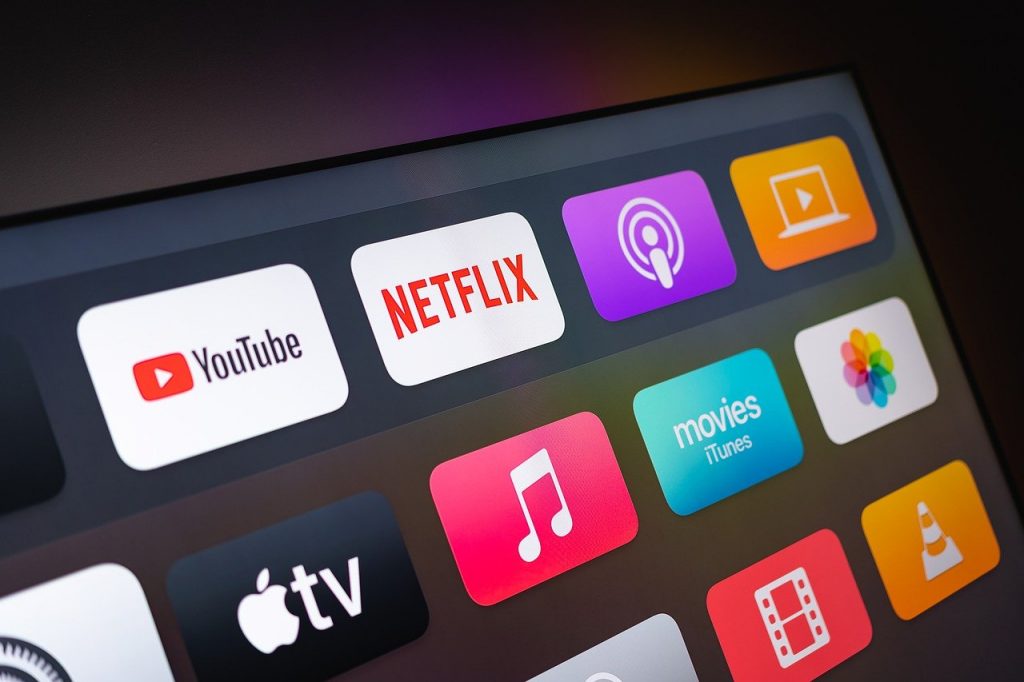 As one of the most popular streaming television service providers, YouTube TV offers live TV, on demand video and cloud-based DVR from more than 85 television networks. However, many users reported that they encountered YouTube TV buffering issues from time to time, which, to some extent, totally ruined their watching experience.
This post is going to free you from the buffering issue and enjoy smooth watching by 5 fixes. You don't need to try them all; just work down through the list until you find the one that works for you.
Fix 1 – Restart your device and app
When something does not work as you expected, always consider restarting your device or applications as your go-to option. Restarting is the easiest way to get your device back on track without the unwanted bandwidth-hogging background programs.
Restart your device – If you're using a PC, click the power button and then Restart. If you're using mobile devices, press the side button to get your device restarted.
Restart your web browser or app – If you're using a web browser, try restarting your browser or change a browser, which is proven effective by some users. If you're using the application, end it in task manager and relaunch it. For mobile device users, just swipe an app off the screen to close the app.
After the rebooting, try to play a few videos on YouTube TV, to see if the buffering matter still appears. If it does, move on to the next fixes.
Fix 2 – Check Internet connection
Slow Internet speed is one of the major reasons for YouTube TV buffering. So it may be a possible solution to check Internet connection and make some changes.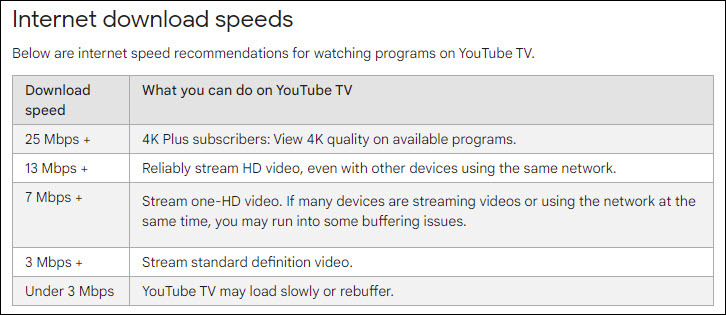 Restart router – As a networking device, router forwards data packets between computer networks. Therefore, its malfunction may cause slow Internet browsing. Try to unplug your router from the power supply, and then wait for minutes to plug it back in.
Test Internet speed – The Internet speed test measures the speed of your Internet connection, which includes things like download speed and upload speed. To test your Internet speed, just open chrome and search Internet speed test. Then tap or click Run Speed Test.

Change a network or disconnect other devices – if your internet speed is too low, you may try to change a network, use wired connection instead of Wi-Fi, or disconnect other devices using the same network. All of these can free up more Internet resources for your streaming service.
If your Internet connection is comparatively fast but buffering problem persists, go ahead to try the next fix.
Fix 3 – Use a VPN
If you have difficulty handling the YouTube TV buffering problems, give VPN (Virtual Private Network) a shot. Why? Here are the reasons:
Sometimes your ISP (Internet Service Provider) may throttle YouTube TV, leading to speed loss and restrictions. A good VPN can get around this problem and make the streaming service fast and smooth.
YouTube TV is only available in the US. If you're traveling outside the country and want to access its streaming services, VPN can help you bypass the location limits.
If you don't have a VPN yet, we recommend NordVPN rather than a free one. The reason is that if the VPN doesn't earn money from subscription, they may sell your data for profit, which is annoying and dangerous in this information era.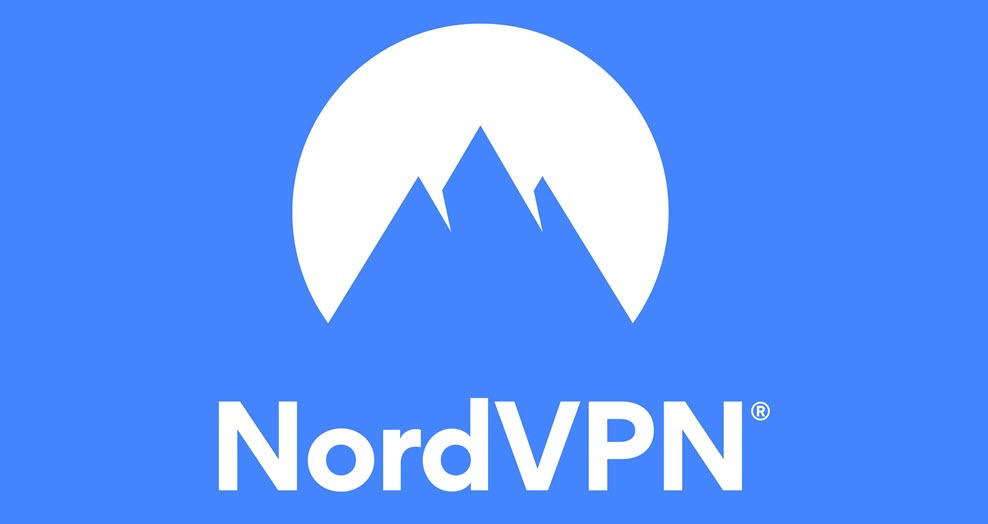 Besides, NordVPN features threat protection, secure and private connection, fast connection speed, and unlimited bandwidth. By securing up to 6 devices at the same time with one account, it safeguards all your browsing history and online identity.
Here is how to use it:
Download and install NordVPN.
Run it and connect to a VPN server in the US.

Open YouTube TV and log in your account.
NordVPN offers a 30-day money-back guarantee. If you have any problem, please don't hesitate to contact their support team.
Now try to play streaming TV to check for any improvement.
Fix 4 – Change video resolution
If your YouTube TV still keeps buffering, try downgrading the video resolution. Low resolution requires less data transfer to play a video, so it may help ease the video buffering. Therefore, try to reduce the video resolution to 480p or other non-HD quality to see if it works better.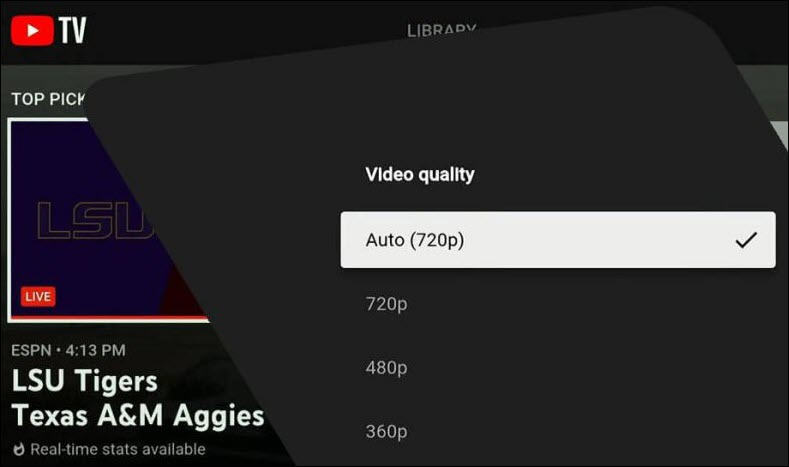 Fix 5 – Check for update
It's always suggested to keep your system and programs up to date.
On one hand, outdated versions of device systems may fail to support streaming service. On the other hand, the latest version of software tends to fix some existing problems. Both make checking for updates an essential step for tackling the YouTube TV buffering problem.
Hence, go to your app store, system settings or other related programs to check for any updated version of YouTube TV and your device system.
Bonus tip – Stream without border and device limits
If you're sick of YouTube TV's constant glitches, using other streaming services may be a good choice. While some of their service is limited in certain regions and VPN configuration varies from device to device, we recommend StreamLocator, a powerful hub, to you.
It has
No configuration required;
No network slowdowns;
Unlimited devices number;
Live streaming services without border limits;
Access to 60+ streaming services including Hulu, HBO Max, Peacock, BBC iPlayer, Amazon Prime and multiple Netflix countries;
A wide range of compatible devices such as Smart TV, Roku, Fire TV, Apple TV, Xbox, PlayStation, Android TV, iPhone, iPad.
Here's how it works: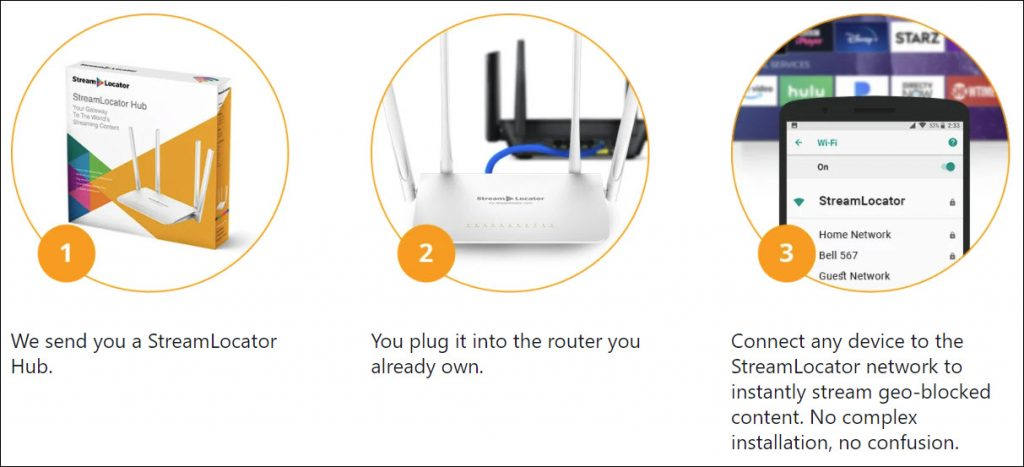 Pay attention that StreamLocator only unblocks geo-restricted content on streaming services you already have an account with. It cannot let you watch paid streaming services for free. But many services StreamLocator supports like BBC iPlayer, ITV, Zattoo and more are completely free to watch!
Now it offers a 30-day full-refund for unsatisfied customers. If this product suits your needs, don't miss it out.
Hopefully this post can be helpful in solving YouTube TV buffering issues. If you have any suggestions, please feel free to leave a comment below.