How to Find Someone on OnlyFans by Real Name | The Fastest Way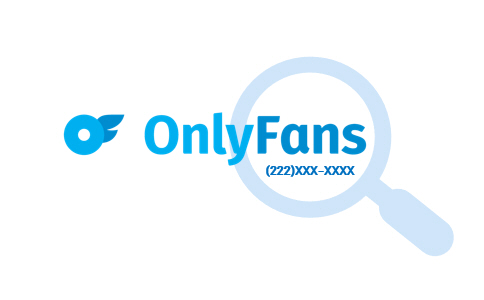 Enter any name to find out if someone is on OnlyFans.
OnlyFans is an emerging subscription-based social platform which primarily consists of adult-oriented content. You might want to find out whether your partner, your child or anyone else you know has an OnlyFans account. However, the search feature within the app has been restricted for privacy concerns, which makes it a bit difficult to find people.
But don't worry! You can still search & find someone's profile, thanks to some useful workarounds. In this article, we'll show you how to do it (in a time-saving way).
Method 1: Perform a Google Search
The first thing you can try is to use Google. Simply type the following into the search bar:
[name] site:onlyfans.com
You need to replace [name] by the person's full name or potential username. If one single search doesn't bring up any useful information, you can just keep trying.
Most people would prefer not to create an OnlyFans account with their real name. So things would be much easier if you have a rough idea about what his or her username might be (or at least a portion of it). You can, for example, try to recall the username they commonly use on other social media.
And here's an example of the possible results: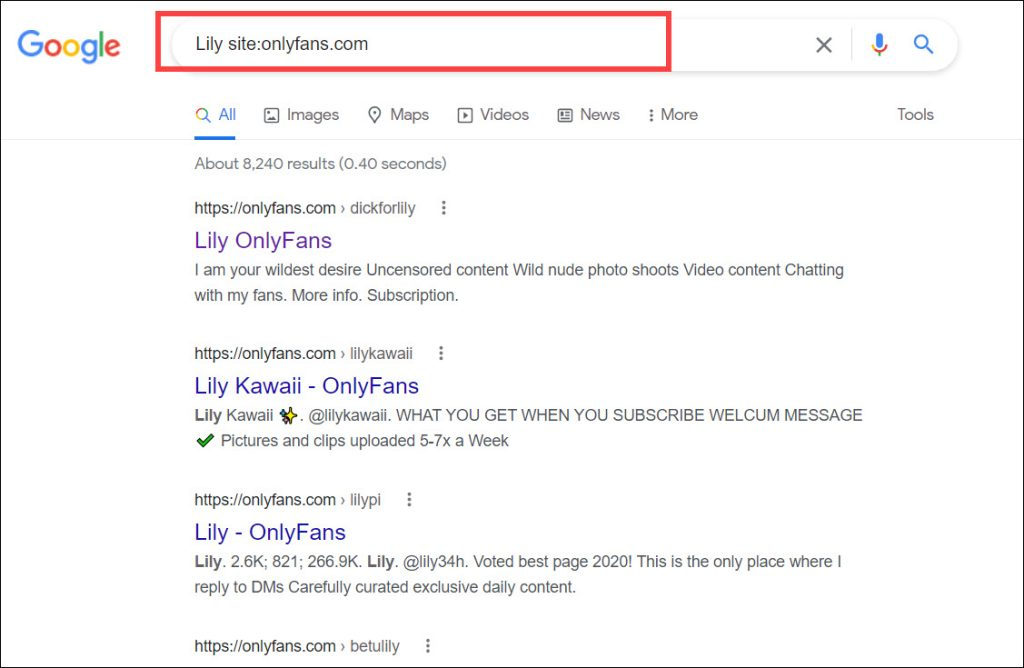 Scroll through the results and see if you can find the OnlyFans profile you're looking for.
If this is not helping, then you should probably try a professional people search tool.
Method 2: Use a people search engine
A powerful people search engine can sift through millions of data, and allow you to find all the verified and up-to-date info about an individual within seconds, including a wide variety of social media accounts. These tools often give you the possibility to refine your search by selecting a specific age range or location, which helps you save valuable time.
Option 1: Social Catfish
Social Catfish specializes in finding people on social networks, with the help of which you can find out if someone's on OnlyFans in no time. You can also find out if they're on some popular dating websites like Tinder or Bumble.
Social Catfish offers many different types of searches: you can search for a person by name, phone number, email address or an image that you upload! To start your search, follow these steps:
Go to Social Catfish People Search page.
Choose a search type that suits you best.

Enter the required information and click Search.
The results will appear within seconds. You can click See Complete Results to check out the full report with detailed personal info, including all the available social media profiles.

Option 2: TruthFinder
TruthFinder is also a well-known and trustworthy site for finding people. With millions of records in its database, TruthFinder allows you to find a person on more than 100 social networks simply by entering a name.
To get started, enter the full name into the search bar below, and click Search Now.
Then wait for TruthFinder to comb through its database. When a list of possible matches pops up, find the right one and click OPEN REPORT.

Select the SOCIAL tag on the left, where you can discover the person's digital footprints on over 100 social and dating sites.
Method 3: Search OnlyFans users with Onlyfinder
When it comes to OnlyFans profile search tools, it's hard not to mention Onlyfinder, a dedicated OnlyFans search engine. You can either search by name, keyword, location or ethnicity.
Here's how you search OnlyFans users with the site:
Go to Onlyfinder search page.
Enter the name or any useful keyword you have into the search box, and click the pink search button.

Wait for the site to search its database. Within seconds, you'll see a list of profiles that closely match your description.
Go through the results and identify the right one. Click the name to view the profile.
So that's pretty much all the methods we want to tell you to find someone on OnlyFans. Hopefully this post can help you. If you have any questions or suggestions, please feel free to leave a comment below.