How to find out if someone was in the military (free & paid methods)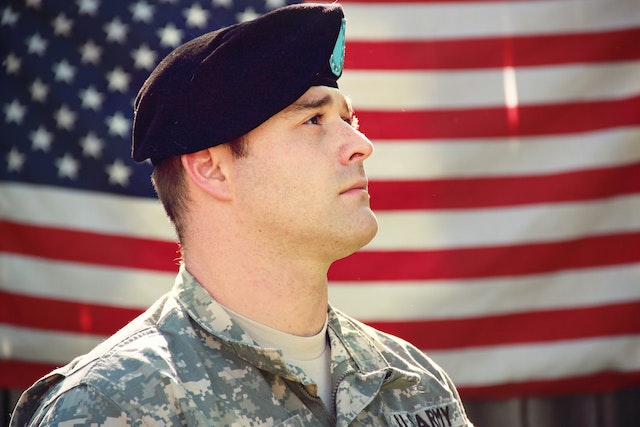 Background Check
Enter a name to find someone's military records & more
According to the U.S. Army's CID, there have been hundreds of reports each month on military romance scams [1]. If you're online dating someone who claims to be a U.S. Soldier, you should verify if the person was really in the military before moving forward.
Method 1 – Run a paid background check
Background check is an effective way to learn about someone you met online. It can reveal a person's real identity, criminal records, and more.
Here are two great tools to use.
Option 1 – TruthFinder
TruthFinder is a perfect choice for dating background checks. It scours billions of public records from legitimate sources and compiles reliable information into a clear report. Beyond the military records, it also shows digital presence, criminal history, location, and a bunch of helpful details.
1. Go to the TruthFinder background check page.
2. Enter the name, city, and state the person lives in. Click Search.
3. The website starts searching for the correct person. Once done, you'll receive a report. After purchasing a membership plan, you can view the person's military records, jobs, social media profiles, and other important information.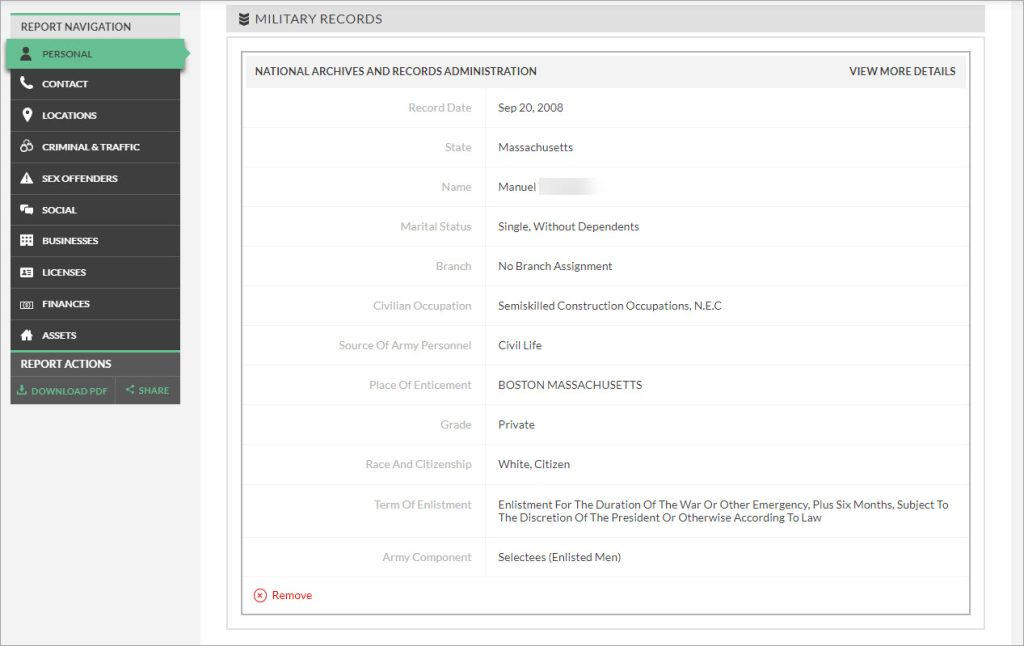 ---
Option 2 – BeenVerified
BeenVerified is an all-around people search engine with the goal to provide simple, affordable access to public information. Simply enter a name; you'll be able to dig up someone's public records. That includes jobs, education, assets, and different types of legal judgments.
If you met the person on dating websites and don't know the full name, BeenVerified allows you to search by a username or email.
1. Visit the BeenVerified search page.
2. Choose your preferred search type, fill in the query, and click Search.

3. Wait until the results are ready. The report is very comprehensive, containing the person's address, jobs, photos and so on.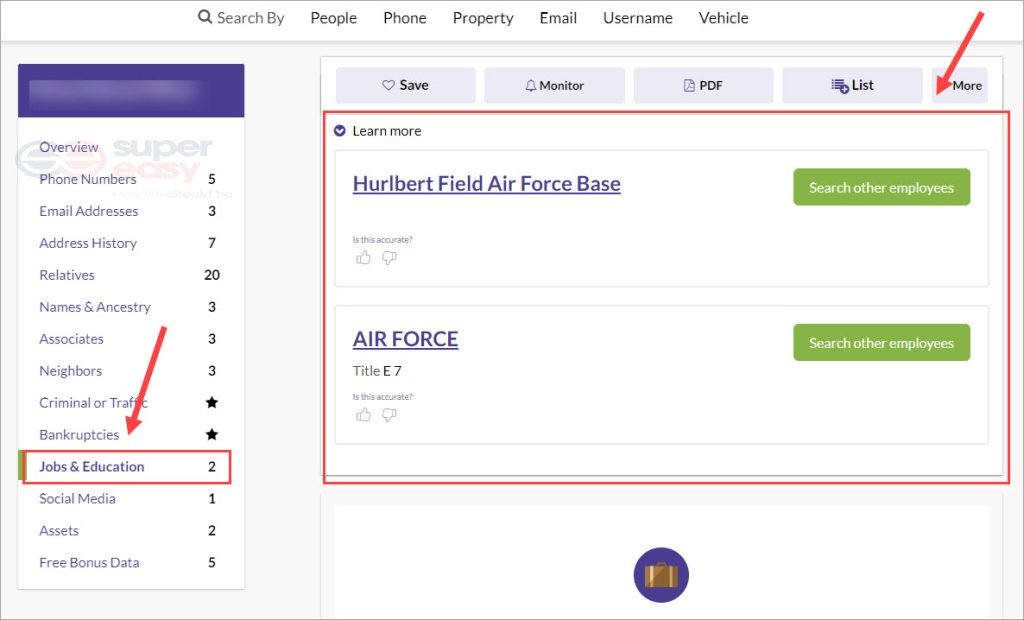 Method 2 – Spot fake images
In addition to background checks, you can check if your online date is a real soldier or just a scammer from his images. Military impostors would use stolen pictures and identities, and in fact, it's easy to check that out.
Social Catfish is a dating investigative service to protect people from getting catfished. Relying on facial recognition, this tool identifies the original source of a photo and scans for similar images across the web. Besides, it pulls more background info about the person in the photo.
1. Go to the Social Catfish image search page.
2. Upload an image or paste a URL of an image. Then click Search.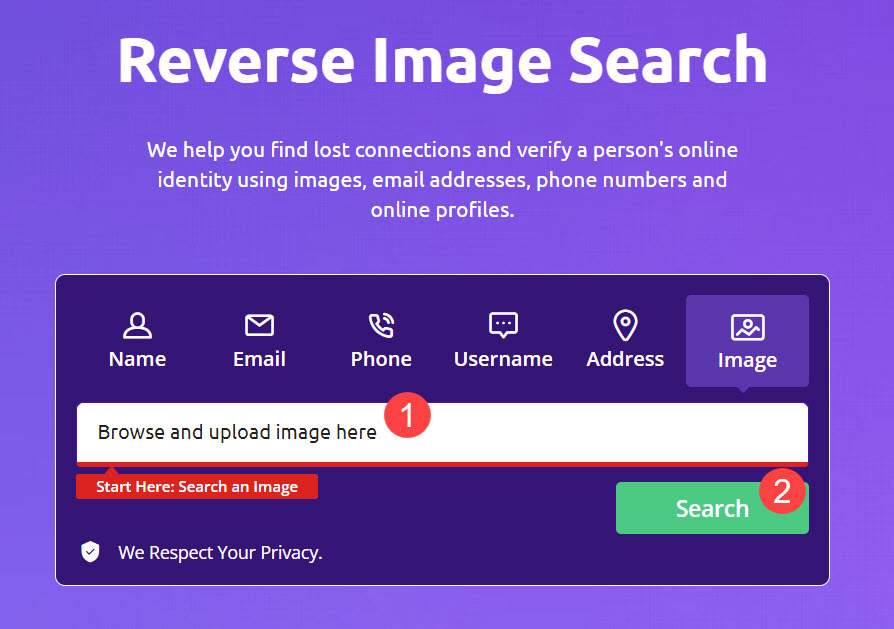 3. It will look through millions of results to identify the person. If the profile is inconsistent with what the person claims or the photos proved to be fake, you'd better stay vigilant.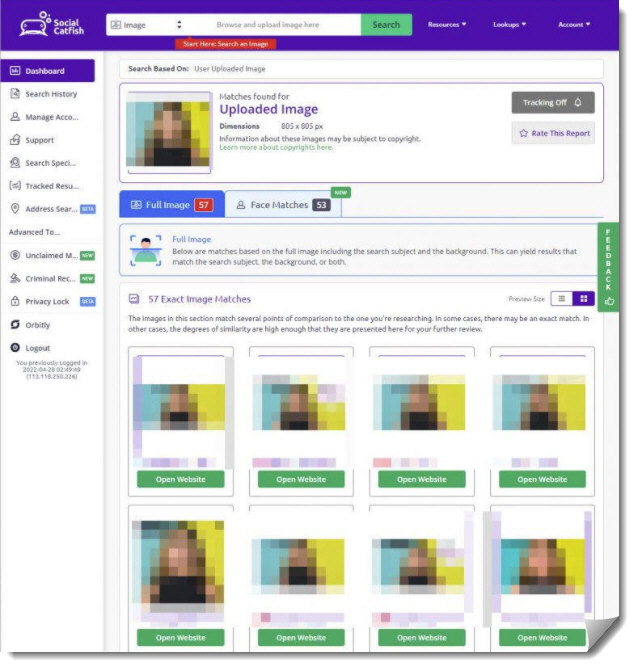 There are also some free reverse image search tools such as Google Images, TinEye, and Yandex. You just upload a picture, and they'll find similar photos and lead you to the websites where the image was posted.
Method 3 – Request official records
Military personnel files are considered public records and are available upon request. Below are several ways to obtain the information.
Option 1 – DMDC's military verification service
DFAS, the Department of Defense, offers proof of military service of active duty and retired military personnel. You can use its military verification service to check someone's military status, including the branch they served in as well as when the duty starts and ends.
You need to create an account on the website. Then submit a record request with the person's real name, birthdate, and SSN.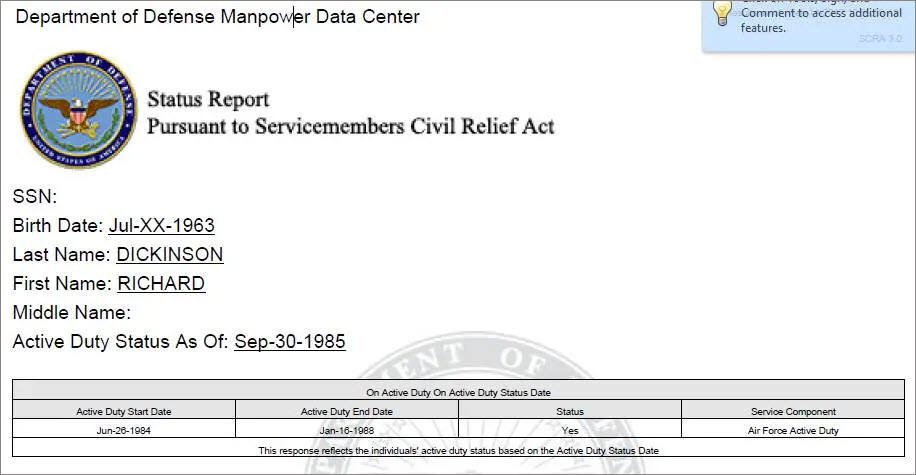 Option 2 – NPRC
NPRC (National Personnel Records Center) hosts personnel-related records for both the military and civil services. But according to FOIA, the general public can only get limited information [2] like the service number, dates and branch of service, and final duty status, etc.
If you're the veteran or next-of-kin
You can directly request records online with eVetRecs.
The next-of-kin is defined as the unremarried widow or widower, son, daughter, father, mother, brother, or sister of the deceased veteran.
If you're not related to the person
You should submit a request letter or Standard Form 180 the following ways:
Mail it to
National Personnel Records Center
1 Archives Drive
St. Louis, MO 63138
Fax it to 314-801-9195
Method 4 – Check on social media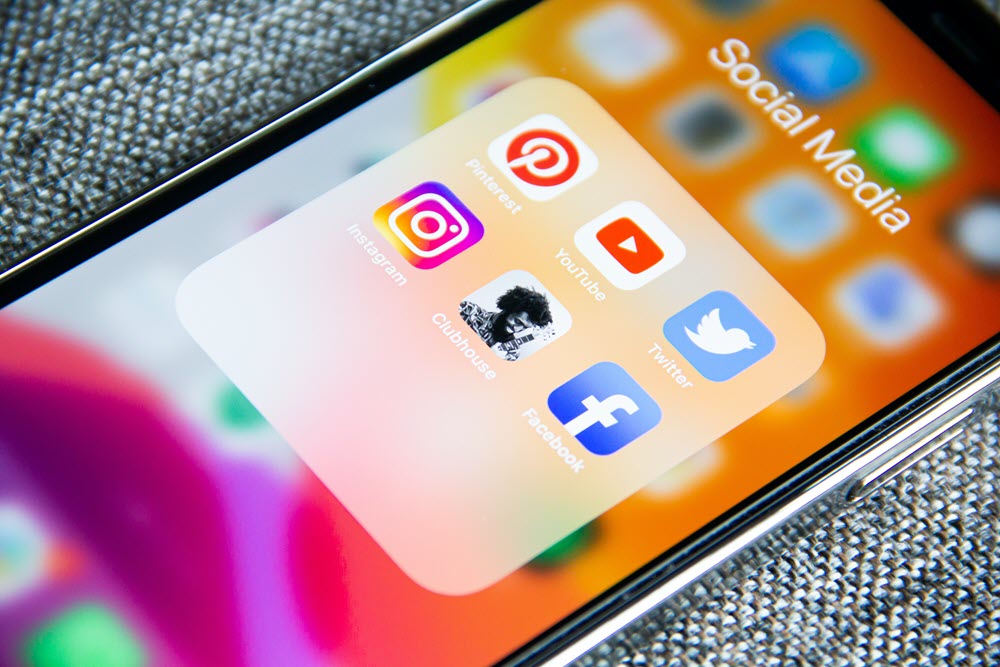 Nowadays, social media has become an important way for people to learn about others. People have at least one social media account, and they love sharing about their lives, from their interests to work experience.
Simply search the person's name or email on popular networks like Facebook, Twitter, or LinkedIn. If luckily, you find a matching user, scroll through the posts carefully. There might be clues that indicate the person is/was on military duty.
Nevertheless, social media accounts can be faked. If it has only a few posts and low engagement or its followers don't look real with no avatars or posts, it's quite suspicious.
Read More: How to find out who made a fake Instagram account
Conclusion
To know someone's military status, the best way is to request official records from appropriate government agencies or use a powerful search engine.
Don't have time for the investigation? Consider starting an open conversation with the person. You could ask them some questions about their military lives. Or just ask to see their military ID cards or DD-214 form, which is the document for U.S. service members upon discharge.
If you feel being scammed by someone pretending to be a U.S. Soldier, contact FBI Internet Crime Complaint Center and the Federal Trade Commission for assistance.
[1] Online Romance Scam Information
[2] Freedom of Information Act (FOIA) and The Privacy Act
All product names, logos, brands, trademarks and registered trademarks are property of their respective owners.
The methods in this article provide you with easy access to public record information, but without a guarantee for accuracy and may include links to websites not listed as a Consumer Reporting Agency (CRA). Information acquired from these bodies is illegal to be used for employment, housing, credit, and other purposes alike, according to laws such as the Fair Credit Reporting Act (FCRA). If you're not sure whether your use of our methods is appropriate, click here for details.