5 Best Ways to Find out If Someone Is on Tinder (2023)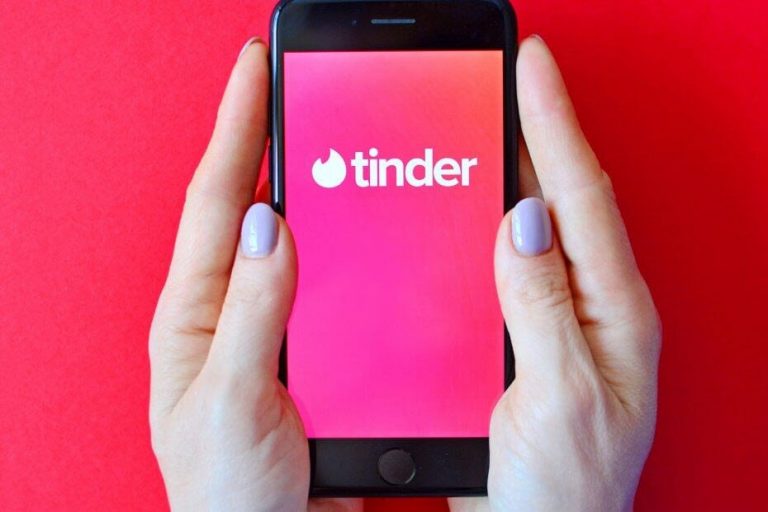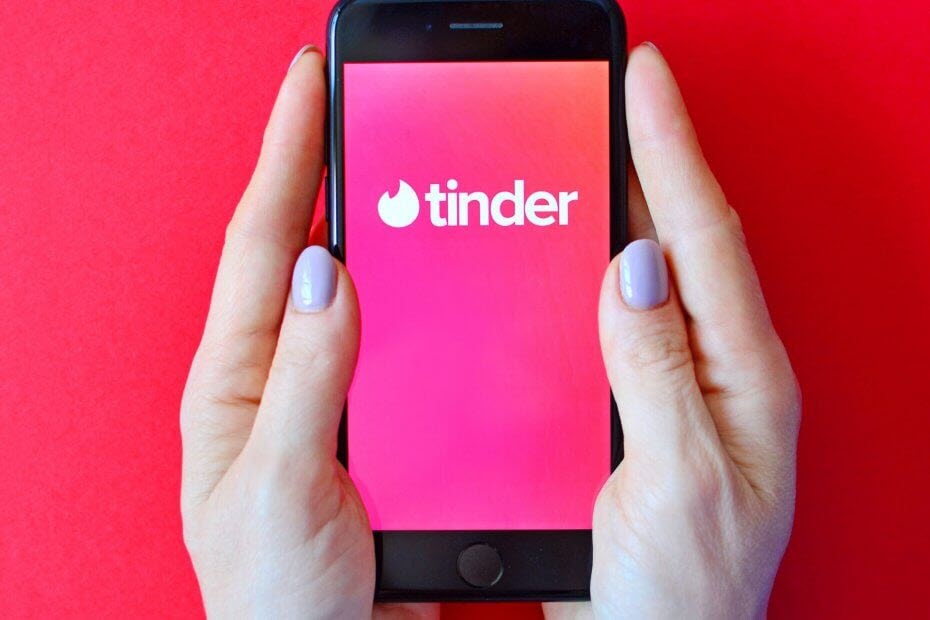 Tinder Profile Finder
Enter someone's name to find out if they're on Tinder.
It's true that modern-day dating apps like Tinder have opened us up to endless possibilities of meeting new people and ideally, meeting the love of our life. However, it can also be the breeding ground for habitual liars, cheaters, and catfish alike who lurk around and break hearts.
Whether you want to research the background of your new online date, or you're suspicious of your boyfriend, girlfriend, or spouse not being faithful, finding out if he or she is on a dating site, Tinder specifically, is a good place to start.
The good news is, there are actually 5 ways you can find out…
How to find out if someone has a Tinder profile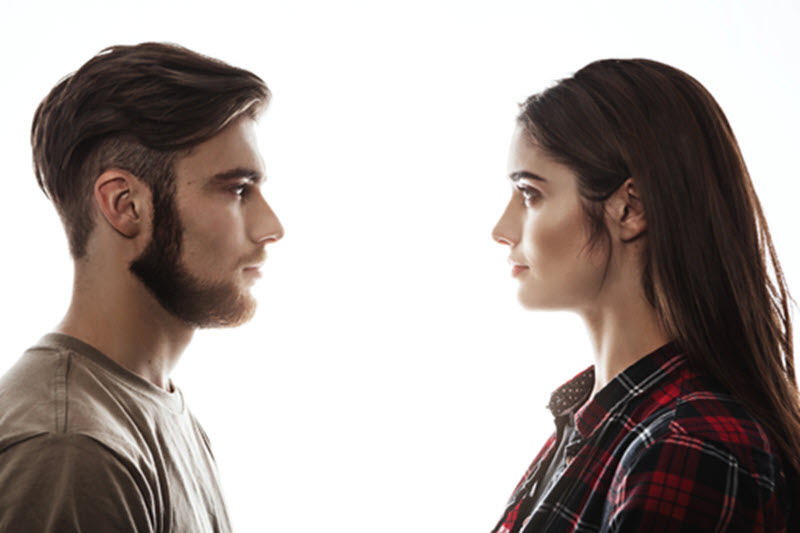 Due to privacy reasons, Tinder only allows you to search your matches but not everyone else using the app. But don't worry, you still have other ways to find out:
1. Search if someone is on Tinder with TruthFinder

Whenever you want to dig out hidden truths about people, make TruthFinder your first stop. With access to millions of public records sources, TruthFinder allows you to enter just a name to search for someone on many different social networks, which include Tinder, Snapchat, Instagram, YouTube, and so on.
Go to TruthFinder's official website, enter the name of the person, then click SEARCH.

Sit tight while TruthFinder combs through millions of public records. Once it locates a match, it'll generate a detailed report. In order to view the report, you will need to purchase a membership plan that is right for you. From there, you can get a peek into the owner's presence on 50+ social platforms (Tinder included) and learn what they've been up to.
The above image is from a sample report. Actual TruthFinder reports may contain more or less information.
2. Run a background check with Intelius

Intelius is another public records search engine that allows you to check if someone has a Tinder account. It refreshes its sources, which makes it a trustworthy site for providing fast and comprehensive reports.
Here is how to search if someone is on Tinder with Intelius:
Go to the Intelius Official Website.
Choose the search type: name, phone, and address (For email search, you'll need to create an account), then enter the information and click Search.

Wait a few minutes as Intelius scours through its public record sources. Once it locates a match, it will compile the associated records and build them into a report for you.

The above image is a sample Intelius report. An actual Intelius report may contain more or less information.
3. Social Catfish

Met someone new on Tinder and wonder if they're who they claim they are? Or, are you suspicious of your partner loitering around on Tinder? Social Catfish may just give you the answer.
Social Catfish not only finds people but also verifies their identity. All you need to do is enter a name, email, phone number, username, and location or upload an image.
To find out if someone is on Tinder, go to Social Catfish Official Website.
Choose a search type, enter the information and click Search.
Within minutes, you'll receive a detailed report about the person you searched for. This usually includes their activity on Tinder and other dating sites if available.

Hire a private investigator at Social Catfish
If you're serious about learning as much as possible about the person, and you want guaranteed results, you can pay for a Social Catfish Specialty Service. The people search experts at Social Catfish will do all the hard work for you, using the same tools that the FBI uses. And they guarantee they'll find the person.
4. Spokeo (supports searching by only first name)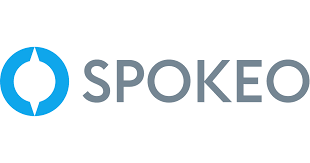 Spokeo is a powerful people search engine. With billions of up-to-date records in its database, it allows you to look up any people's personal information on 120+ social sites. This means that whether a person has a profile on Tinder, OkCupid, Meetme, Hinge, Bumble, or Instagram and Snapchat, a search at Spokeo will lead you to it.
All searches are done confidentially – the people you look up will not be notified. And the process takes up only a few minutes.
Here is how to use Spokeo to find out if someone has a Tinder account.
Step 1: Go to Spokeo official website.
Step 2: Enter the name, phone number, or email address and click SEARCH NOW.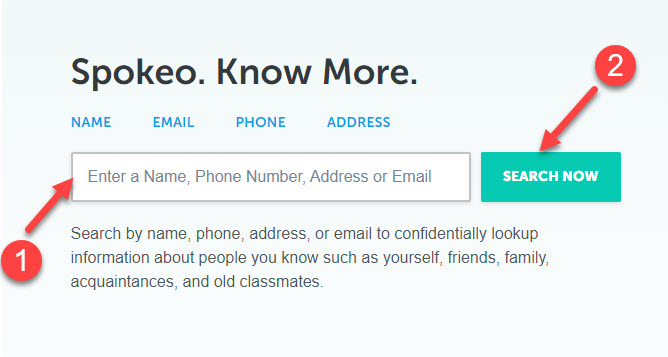 Step 3: Wait for Spokeo to search its database.


Step 4: Once finished, you'll be presented with a full report containing all detailed information about the subject you searched, including his/her social media and dating website accounts (when available).

Note: If the person you search for does have a Tinder profile, you can click on the link Spokeo provided to navigate to his or her profile, where you can check out their bio or picture to determine if it's the person you're looking for.


Spokeo provides basic information search for free. But if you want to get access to the full report, you'll need to pay a subscription. If you're not quite up for the membership, you can try the 7-day trial for only $0.95.
5. Run a Google search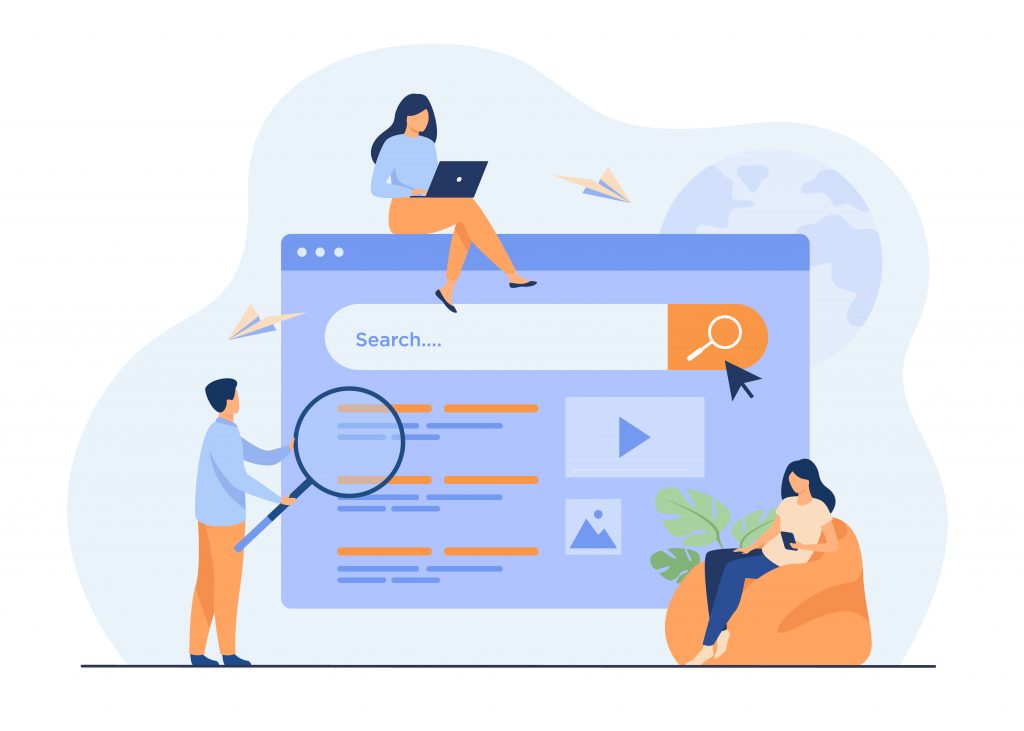 Search engines are another good source where you can find out if someone is on Tinder. To do so, simply open your web browser, then type tinder.com/@username (You'll need to replace @username with the person's name who you're trying to search) into the search bar and hit Enter.
Within seconds, you'll be presented with all people who are using Tinder with that name. If you click on the results and peruse them one by one to check if the person is on the site.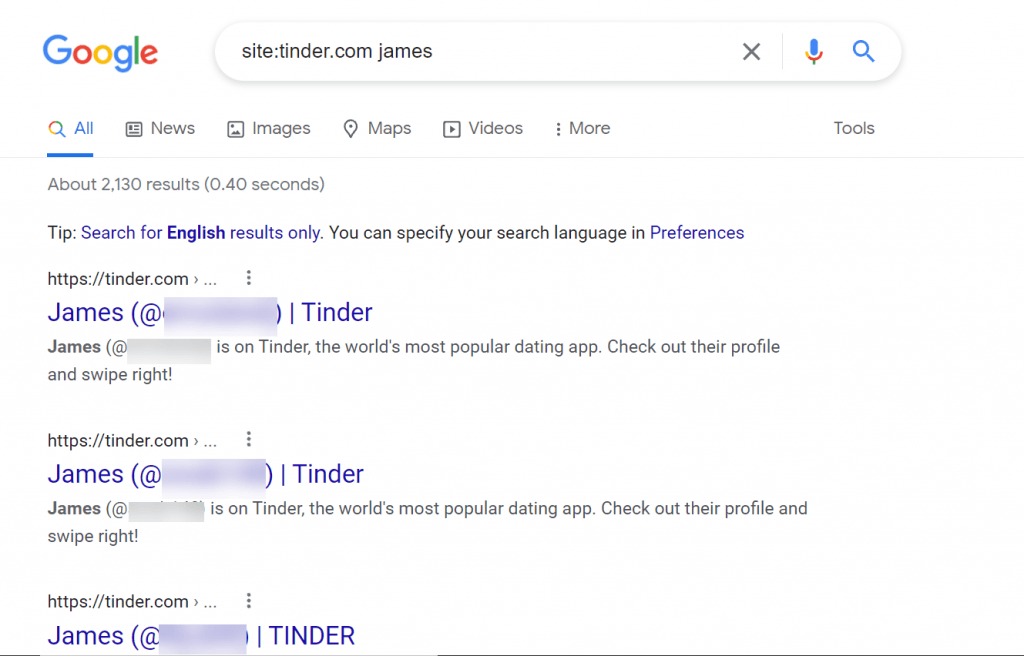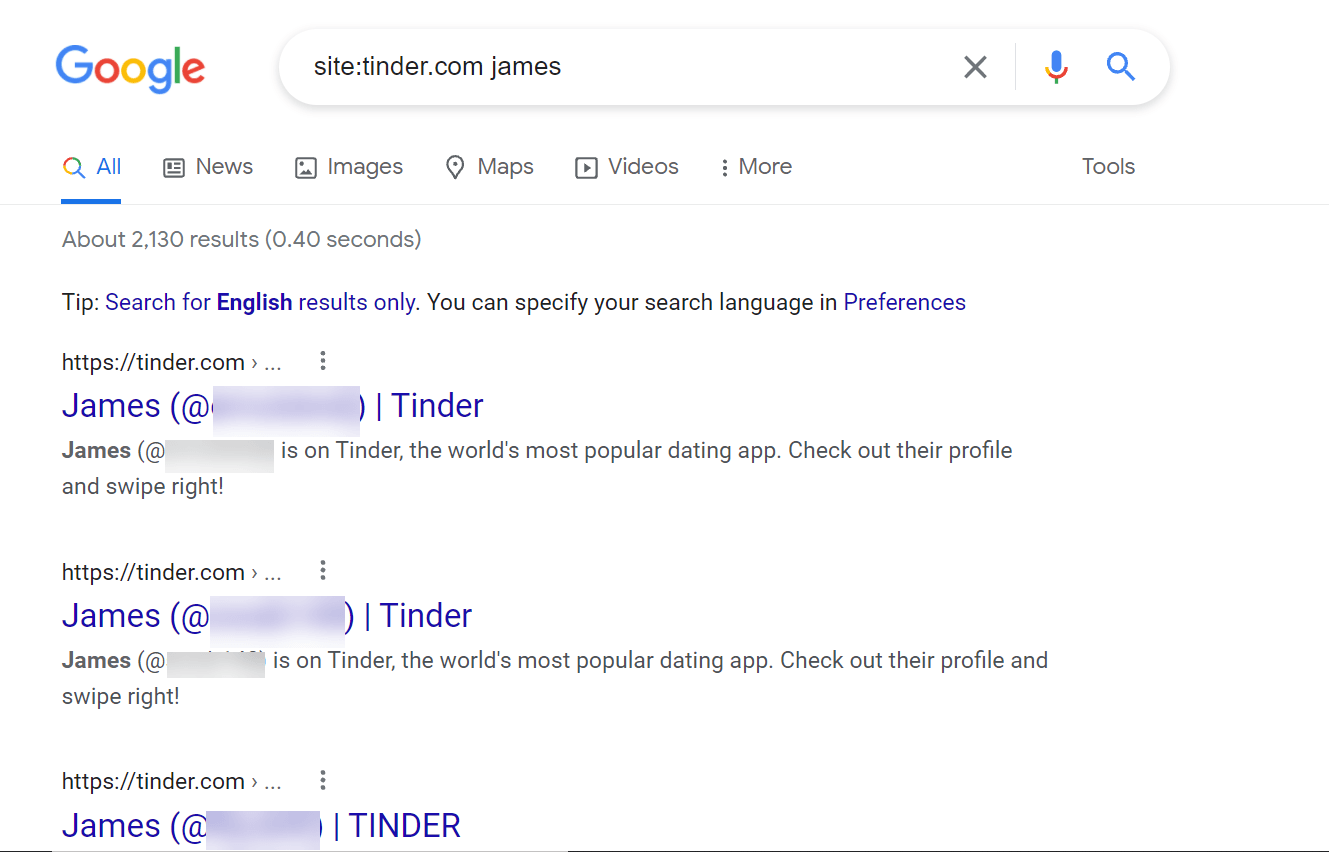 How to tell if someone is active on Tinder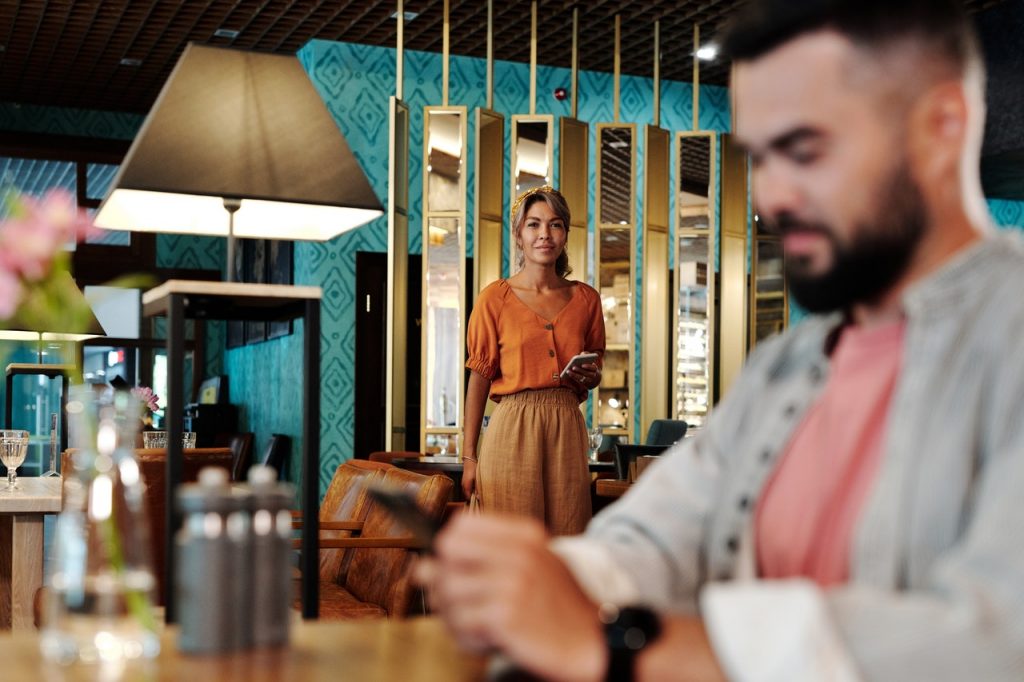 When you started to run research on the person to check if the person has a Tinder profile, you may have prepared yourself for the result. So don't panic when you do see existing profiles associated with that person's name. And even if he or she does have an account, it doesn't mean they've been active on it, and nor is it a smoking gun of his or her infidelity – they may have created the account ages ago and forgotten it long since (you two met).
Again, Tinder doesn't show last active or online status, but once you have found out their Tinder profile, you can try the following clues to figure out if someone is at least recently active on the app:
The green dot symbol
While the green dot symbol may not indicate real-time status as it does in other messaging services, it does mean that a user has been online in the last 24 hours if they have a green dot next to their name. But this is a premium feature, and you will need a Tinder Gold or Tinder Platinum members membership in order to check out this symbol on other users.
See If the user is typing
This is a very obvious cue, except that you can only test it if you're expecting a reply from the person. If he/she is writing to you, you may be able to see the typing bubbles as they enter something into the chatbox.
Swipe right to see if they swipe right on you
You can try swiping right and see if they do the same. If yes, they're on the app. Or, if they have turned the notifications on, they may take a look and check you out. But if you don't get a "match", it's either he's not using the app or he's not "into" you.
Change of locations
This is a very useful clue as Tinder updates your whereabouts as long as you're connected to the internet and open the app. You can check whether the person's location has been updated since the last time you talked to him/her or opened their profile. For example, if the person you're looking up was 16 miles away from you two days ago and now it's 28 miles, he/she has definitely been making their rounds on the app over the last 48-hour window.
Updates in profile
You can go on checking out their Tinder profile to see if there are any updates that suggest their recent activity. For instance, having a photo taken three years ago before you two were committed to each other on his profile might not be hard evidence of him loitering around on Tinder but if he posts selfies taken last week in the bathroom of your shared apartment, it'd be a whole different story.
Image credit:
People photo created by cookie_studio – www.freepik.com
All product names, logos, brands, trademarks and registered trademarks are property of their respective owners.