How to Extract Text From Image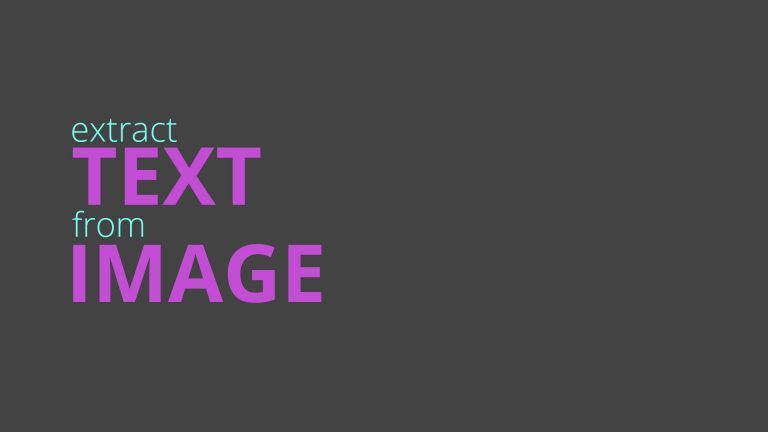 To extract text from images, you'll need the help from the OCR technology. Check out the tools with technology to help you grab the text in a image.
Trying to extract the text from an image? You may want to do this manually — type the text word by word. But this usually requires a lot of time and energy, and you would be easily annoyed.
Fortunately, you don't have to do it manually. There are more automatic ways to extract text from an image…
Try these tools
You may not have to try them all; just browse your way down the list until you find the one that works best for you.
The tools listed below are all using a technology called OCR. OCR (Optical character recognition) is a type of technology that recognizes the characters of your image and helps you covert them into text. The tools below are basically different implementations of (different) OCR.
Tool 1: Online OCR
There are web-based OCR tools you can use to convert your image into text. One of them is Online OCR. To use this tool:
Go to the Online OCR website.
Follow the on-screen instructions to upload your image file, select the language and output format.

Click the CONVERT button to start the conversion.

Once the conversion is complete, you should see the output text is displayed below.
Tool 2: Microsoft Office OneNote
You can use the Microsoft OneNote app to extract text from images. Here is how:
Download and install the OneNote app.
Run the OneNote app, and click Insert > Pictures > From File.

Go to where you store the image, then double click to insert this image.

Right click the inserted image, then select Copy Text From Picture.

Right click an empty space and select Paste.

View the extracted text.

This is how you can extract text in a image using OneNote.
Tool 3: Google Docs
Google Docs can help you extract text from an image. To use it:
Go to Google Drive (and sign in your Google account).
Click the New button at upper left.

Select File upload.

Go to where you store the image, then double click to upload it.

Right click the image uploaded, then select Open with > Google Docs.

View the image opened in Google Docs, along with the text extracted below.
Hopefully one of the tools above has helped you extract text from your image. If you have any questions or suggestions, you're more than welcome to leave us a comment below.