How to Download Videos from Vimeo
Vimeo is a video-sharing platform like YouTube. You can upload, share, and view videos on this site. Vimeo doesn't have ads, so it's become quite popular these days. You can replace a video without losing stats and you can use the free version but with limited storage. You can find videos you like on Vimeo but how to download them becomes a problem. Don't worry, read this post to find how.
Method 1: Check the video download option
Vimeo does offer a download option to let people download. Payment users (Plus, Pro, Business, and Premium members) have the option to enable download option.
Open the video page that you want to download.
Click the Download button.

Choose the size and click Download.

If you can't find the Download button on the page, don't worry, there's still a way to download videos from Vimeo.
Method 2: Online download tool
There're online download tools that can download Vimeo videos. Take Vimeo Video Downloader as an example:
Open the video page that you want to save.
Open the Vimeo downloader page.
Paste the video page's link in the empty space and click Download.

Wait to see the download link shows up and click Download. You can choose the video format by clicking the green button.

Method 3: Use free extensions
If you're using Google chrome, a free extension would help you download videos from Vimeo.
Go to Chrome web store.
Search Vimeo video downloader and press the Enter key.
Choose the one you like, then click Add to Chrome.

Click Add extension in the pop-up window.

Open the Vimeo video page that you want to download.
Click the extension icon and choose the quality of the video to download.

If you're using Firefox browser, the free add-ons: Awesome Vimeo Downloader works great for downloading videos from Vimeo.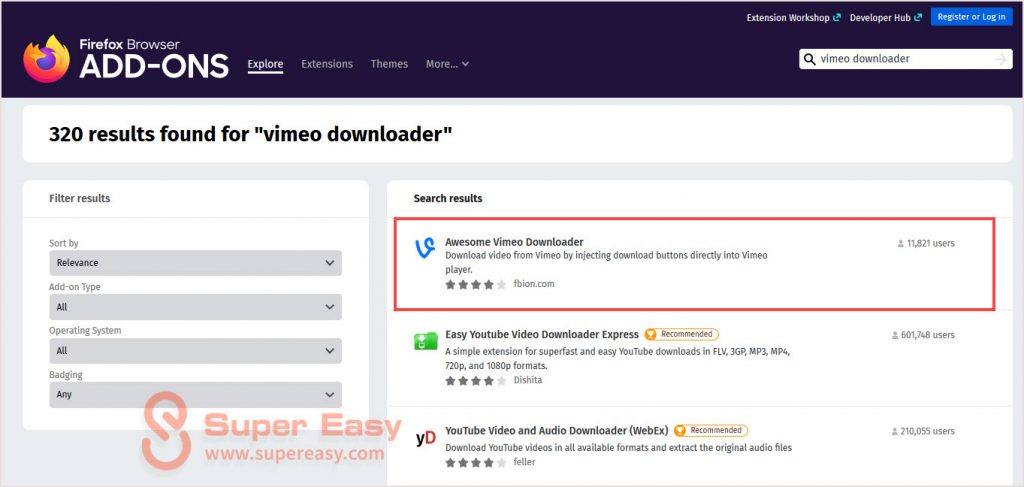 Method 4: Use a third-party app
There're third-party applications that can help downloading videos from the Vimeo. There're lots of online video downloading applications, you can choose the one you trust. Please be ware of some apps from unknown links, they may come with virus.
Conclusion:
If you're a Vimeo user, you're able to download videos from Vimeo by using the above methods. Actually, these methods also works for YouTube videos. If you have any recommendations, suggestions or questions for Video downloading from Vimeo, you're welcome to drop a comment.