How To Add & Use Discord Custom Emojis | 10/2020 Guide
Emoji is an important part of social media, I can't chat online without emojis! Official emoji and gif are not enough, I have my favorites, but how to use them in Discord? This post will guide you to add and use custom emojis in Discord step-by-step.
How to add custom Emojis
Adding custom emojis is easy, but you need to have the manage emoji permission or are the server owner.
How to check my permission?
Well if you're clear about the roles in the server, you can just send a message that can click your name to know your roles. If you don't know the permissions, you can click the arrow nearby the server's name. If you can't find Server Settings, you don't have the manage emoji permission.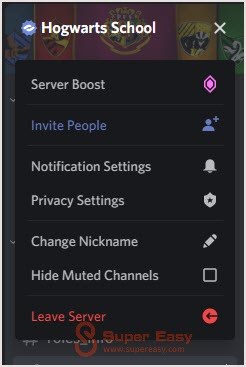 No permission.
Requirements for custom emojis
Up to 50 custom emojis.
Up to 50 animated emojis.
Emoji names must be at least 2 characters long ( can only contain alphanumeric characters and underscores).
The emoji file size must be smaller than 256kb.
For optimal emoji resolution, you can upload the size up to 128×128 pixels, Discord will resize it to 32×32.
How to add custom emojis
Choose the server that you have the manage emoji permission.
Click the down arrow.

Click Server Settings.

Choose Emoji on the left panel and click Upload Emoji. Choose the emojis you want to upload.

Note: If you don't have Nitro, you can't use animated emojis, even on you own server.
How to use custom emojis –for people without Nitro
If you want to use your custom emojis everywhere without limits, you need to have Discord Nitro (click to learn how to get free Discord Nitro).
If you don't want to pay for it, you can use the below tricks to use custom emojis and GIFs more easily.
NOTE: Free users can't use custom emojis as a reaction on the other servers or DM.
Add GIFs to your favorites
You can see the GIF button beside the emoji button. Either click or type to search could bring GIFs to you, you can pick the one you like.
But sometimes search for gifs are not efficient. You have to wait for a while.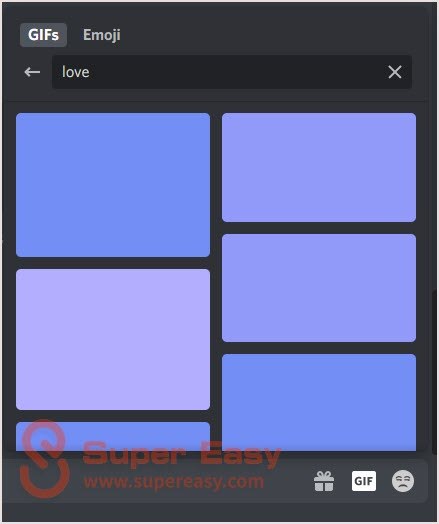 Adding gits to your Favorites section could solve the issue.
When your cursor on the gif, you'll see a star appear on the upper right corner, click to Add to Favorites. Next time, click the FAVORITES section to find it directly.
Set up a custom emoji folder
If you have saved some special emojis or gifs that are not easy to be found on the net, I recommend you set up a new folder on your PC or phone's Photos. You need to know, as a free user, we can't send custom emojis and gifs in DM or other servers through the Emoji button. But we can send emojis through the file button.
Click the "+" button on the left corner. Choose the folder > Emoji/gift.

Click Upload.

You send it to your friends or server successfully.

Free sites for discord custom emojis
These are the sites for you to download safe and eligible custom emojis. You can add them to servers easily without any problem.
This site says it's the best custom slack emojis, but you can download them for discord. They work great.
It's a site focus on custom emojis for Discord and Slack. You can download the whole theme or choose one of them.
If you love anime and prefer anime emojis, this site would meet your need.
These sites provides a compilation of emojis/emotes and stickers that can be used on discord. as well as reaction images and gifs.
---
That's it! Hope this post could help you. If you have any questions or suggestions, you can leave comments below.