[Step-by-step] How to book hotel rooms for group travel | 2023 Guide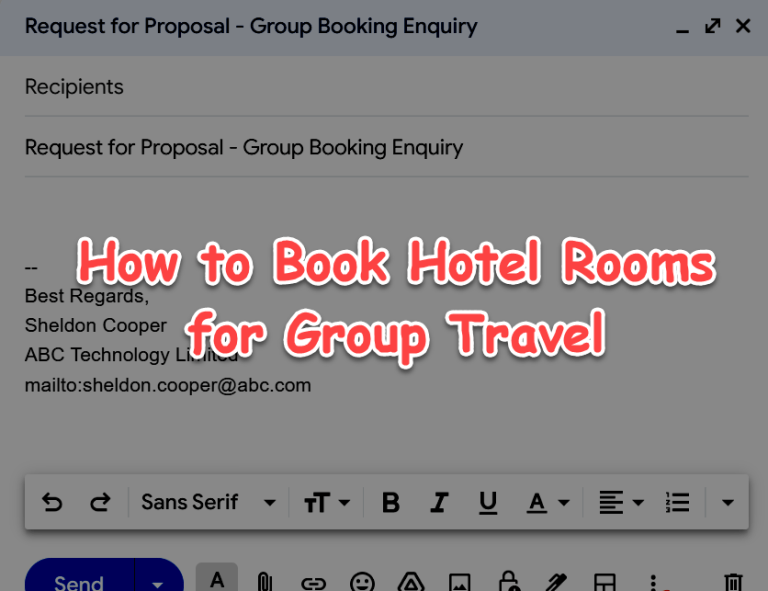 Are you wondering how to ace a group hotel booking without a hitch? You're in the right place! While large hotels have their group booking routines, the internet isn't exactly bursting with advice on this topic. That's where we step in. In this guide, we'll take you through the entire process, from that first contact with the hotel to nailing down payment details.
First thing's first, here are some basic facts you should know before making your booking:
Standard rates vs. group rates
Most hotels offer two main types of rates. The first is the regular rate found on online platforms like Booking.com. The second, known as group or corporate rates, is specifically designed for larger groups. This special rate often comes at a more budget-friendly price – and in some instances, it can be a real steal.
The number of rooms needed for a booking to be considered a group booking can actually differ quite a bit from one hotel to the next. However, in most cases, it begins at a minimum of 10 rooms.
Online booking vs. reach out to the hotel directly
If you're a large group, it's best to get in touch with the hotel directly, either by email or phone, rather than going through the hotel's website or third-party booking platforms. Here's why – those platforms are usually set up for individual guests, not large groups. So, you might miss out on the best group rates by booking there. Plus, they often limit the number of rooms you can book in one go, which can be a hassle if you're aiming for dozens of rooms.
While it's not recommended for large groups to book directly through third-party platforms (booking.com, trip.com, etc.), you can initially use their filtering criteria such as location, price and customer rating to narrow down suitable hotels.
Step 1: Find contact info of a hotel
When you have your sights set on a specific hotel and intend to get in touch with them, your first step is to locate their contact information, such as a dedicated email address for reservations. The most straightforward method to obtain this information is by visiting their official website (which most hotels have). Here's how you can do it:
Enter the complete hotel name into the Google search bar.
Google will display a dedicated information block related to the hotel. To access the hotel's official website, click on the website button located on the right side of the screen.

Browse the official website to find contact information. Typically, you'll find a "contact us" section in the navigation bar, but if not, you can often locate the contact details at the top or bottom of the website.

Although, most of the time, we can easily discover a hotel's reservation email on their official website, there are those occasional situations when a hotel may not have a website or simply doesn't provide that information. In such cases, an alternative approach is to seek out their Facebook or other social media accounts. Hotels often post promotions on these platforms and include their contact details, making it an effective way to get in touch.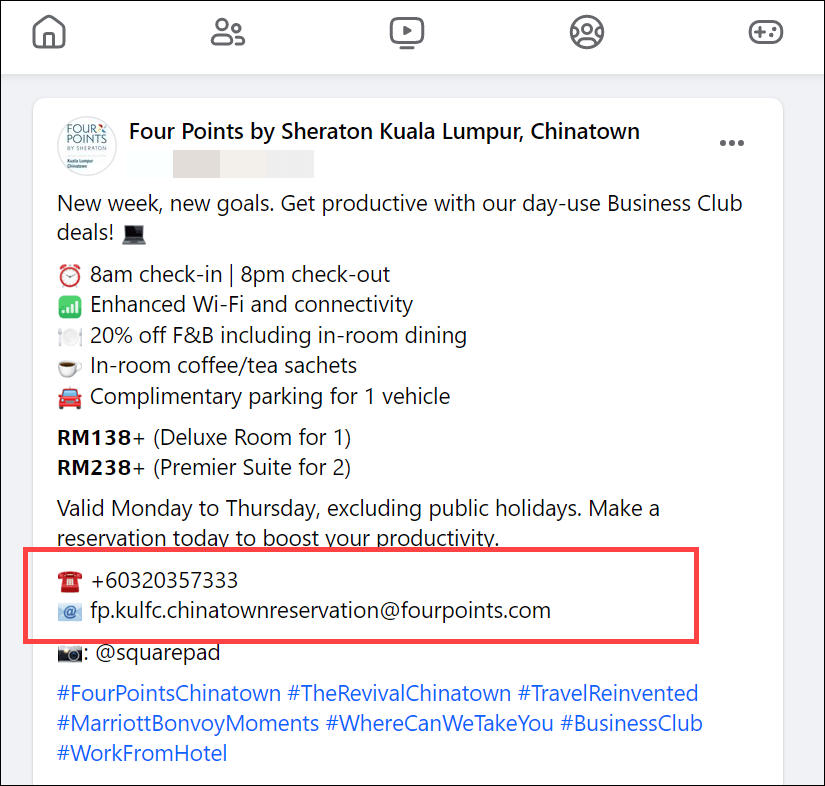 Step 2: Reach out and initiate contact
The next step is to reach out and initiate contact. Sending a request via email is recommended as it's a convenient way for hotels to prepare a quotation and reply to you. Moreover, you can easily reuse the email for different hotels with minor modifications, making the process more efficient.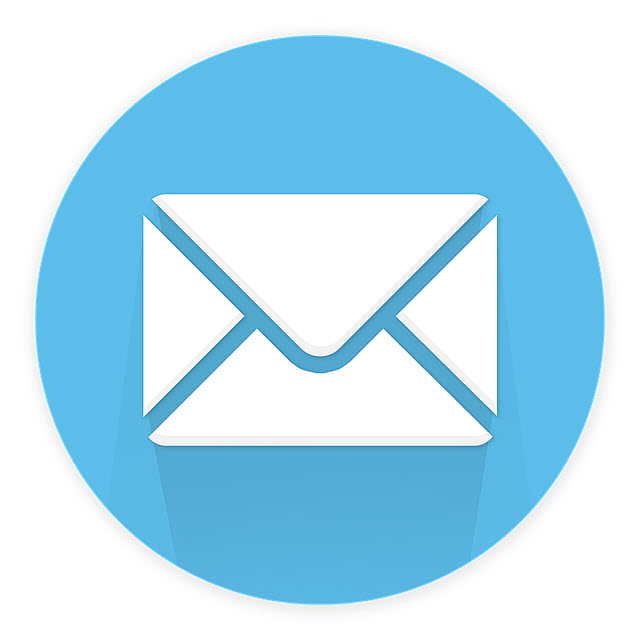 Tips for writing an inquiry email
Crafting a clear and well-structured "request for proposal" email is essential for a seamless hotel reservation process. Here are several general rules you should keep in mind:
Ensure the subject line clearly indicates that it's a group booking inquiry. For example, "Group Reservation Inquiry for [Event/Date]."
Introduce yourself and your group, including your name, your organization (if applicable), and the purpose of your group's stay (e.g., conference, wedding, tour).
Clearly state the check-in and check-out dates, as well as the duration of your group's stay. Mention any flexibility you have with dates if applicable.
Indicate the number of people in your group and the estimated hotel rooms needed .
Describe the type of rooms you need (single, double, suites) and any specific bed preferences (extra bed, accessible rooms, etc.).
Mention any special requests, such as meeting rooms, banquet facilities, or any particular amenities you'd like to have.
Specify whether you need meal arrangements.
Politely request a proposal for the specified dates and requirements. Inquire if there are any discounts available for large groups.
When you're writing on behalf of a company or organization, it's common for hotels to request specific company details as part of their standard procedure for group bookings. This typically includes information such as the company name, company address, office & mobile number. So it's advisable to include this information in your initial inquiry letter to show your sincerity and improve efficiency.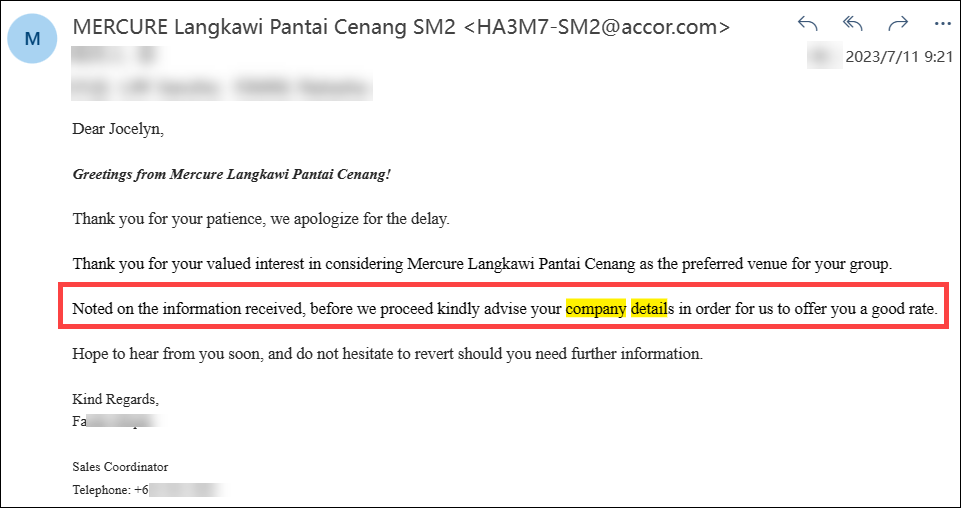 Here's a simple yet effective template that I used for crafting "request for proposal" emails:
Subject: Request for proposal - group booking enquiry

To whom it may concern:

I hope this email finds you well. I am writing on behalf of our company - a group of [ Number of guests ] who are interested in staying at your hotel for a duration of [ ] nights: from [ ] to [ ]. 

Our group consists of [Structure of your group, like numbers of males and females]. To ensure everyone's comfort, we kindly request accommodations that primarily consist of rooms with [Bedding type, e.g. 2 single beds].

As we are a sizable group, we have decided to reach out to you directly to inquire about the availability and best rates for our stay. We kindly request that you provide us with a detailed proposal for our consideration. Thank you.

We look forward to a memorable stay at your hotel. Should you require any further information or have any questions, please feel free to reach out to us.

[Summary of information]:
Company: 
Address: 
Telephone/Mobile: 
Arrival: 
Departure: 
Purpose of travel: 
Number of guests: 
Estimated no of room required: 
Meal or meeting arrangement during group stay:

Best Regards,
[Your name]
[Name of your group]
Booking hotels for a group can be a bit of a challenge because you need to juggle multiple factors like budget, location, availability, and more. So, just like when applying for a job, remember to reach out to several hotels.
If you haven't received a response within three working days, it's a good idea to contact the hotel directly by phone to inquire about your request.
Step 3: Assess the quotation
After sending out your request email, you can generally expect to receive a reply from the hotel within two to three days. In most cases, you'll receive a message from a key player in the hotel's sales department, often referred to as a sales manager, who specializes in handling group bookings. Now, when that email pops into your inbox, it's a good idea to take a quick look at the email address's suffix and the email signature. This helps confirm that you're dealing with the right person on the hotel's team.
If your initial request is clear and provides sufficient information, the hotel will often send you a PDF-format quotation specifically tailored to your group as an attachment.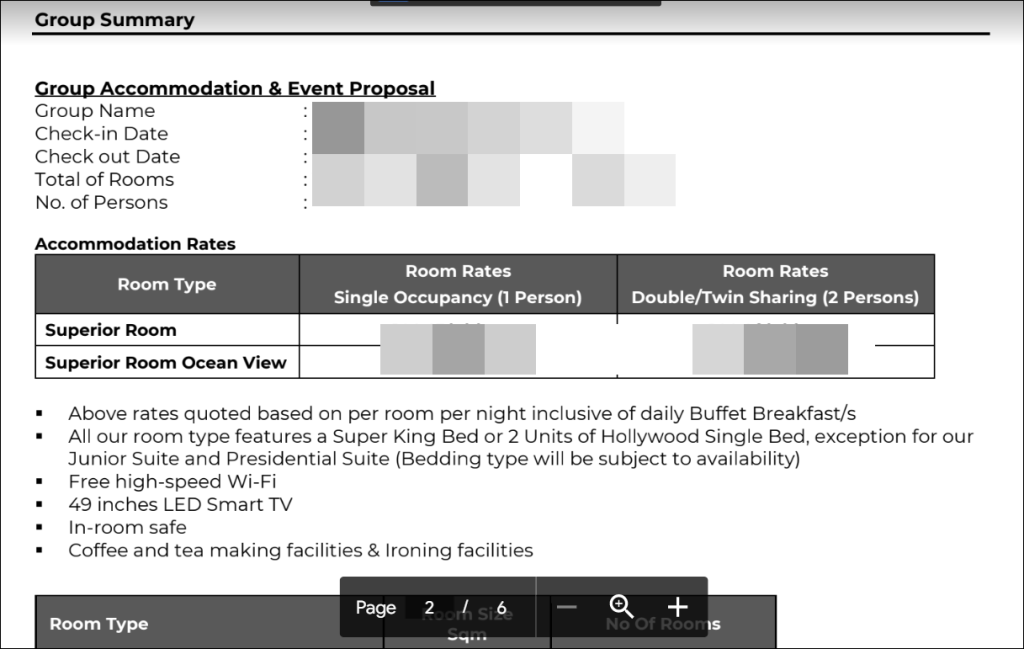 At this point, it's essential to assess whether the group rate offered is cost-effective and aligns with your budget, and it's a good idea to compare it with the prices available on online booking platforms. No kidding, I've actually encountered situations where corporate rates were more expensive than booking directly online! (Well, each hotel's pricing policies can be quite unique.)
Another important thing to note is that hotel-provided group rates often include breakfast by default. If you don't require breakfast or need to further reduce your budget, you can request rates that exclude breakfast.
Step 4: Confirm your reservation
Now, if you've found a hotel with rates and terms that match your needs, it's time to send an official written confirmation via email. In this email, be clear about the types and quantities of rooms you require. And if there are any special requests on your wish list, like getting rooms on the same floor or staying away from those near the elevators, don't hesitate to mention them. (Keep in mind, while the hotel team will certainly do their utmost to make it happen, they might not always be able to guarantee these requests.)
Step 5: Review the contract
Upon receiving your confirmation email, most hotels will send you a contract that needs to be signed by your designated "person in charge." It's important to carefully review the key terms in this contract, such as payment deadlines and cancellation policies.
Based on my previous booking experiences, payment methods can vary from one hotel to another. A common practice is to split the payment into two installments – the first payment covering half of the total amount, and the second being the balance payment. Of course, there are a few that may require a single lump-sum payment.
It's worth noting that group booking rates are typically more favorable, but they often come with different cancellation policies compared to online bookings. Generally, they may not offer free cancellations due to the larger reservation quantity.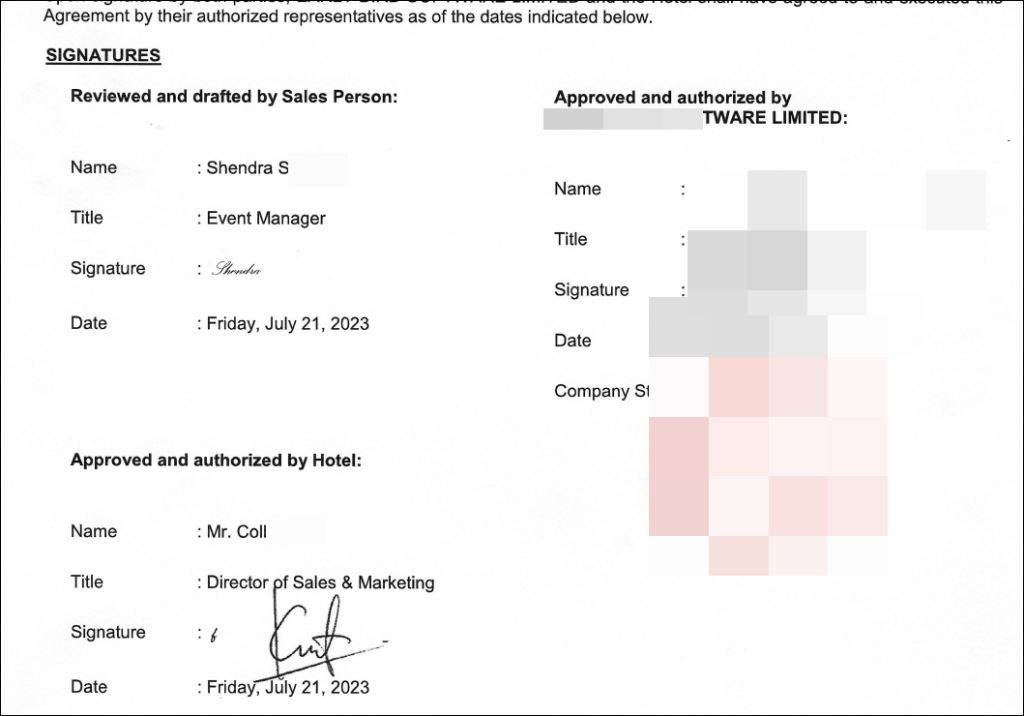 Along with the contract, hotels typically provide you with a proforma invoice that neatly lays out all the charges and their respective amounts. Typically, in addition to the room rate, there might be some extra charges or taxes to consider. It's crucial to make sure whether the amount you're paying already covers all these items and whether there won't be any surprise additional payments during check-in. (In the case of individual bookings, guests often find themselves shelling out extra for taxes upon check-in, so it's a good practice to double-check this for group bookings.)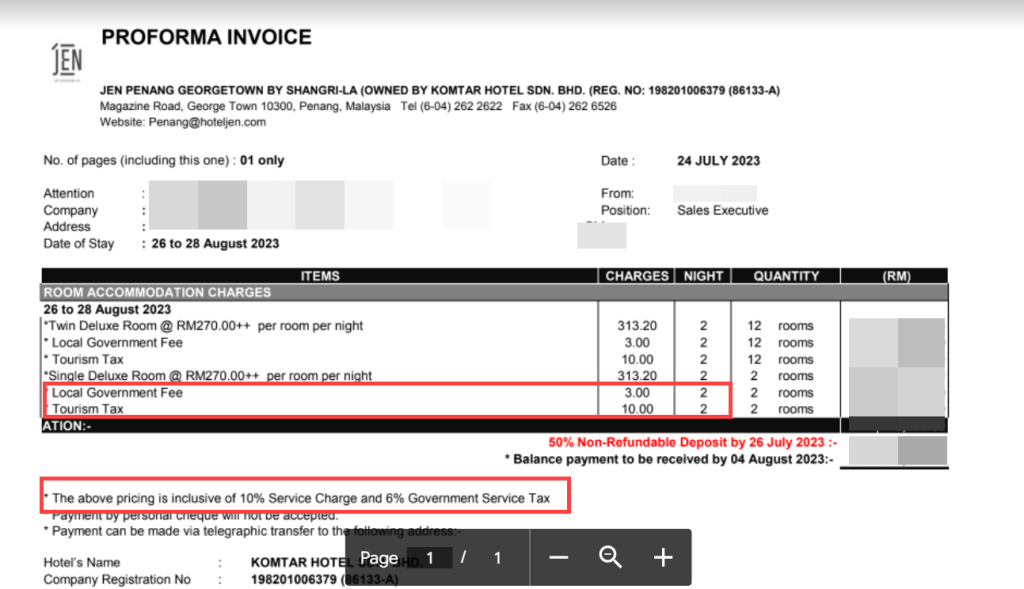 Step 6: Complete the payment to secure your booking
To secure your reservation, you'll need to make the payment before the specified deadline. If you opt for credit card payment, the hotel typically asks you to fill out a credit card authorization form. This way, they can automatically charge your card on the agreed-upon date. After the payment goes through, don't forget to ask for a receipt. If you require a tax invoice, you can usually request one after checking out.
In addition to credit cards, many hotels also accept alternative payment methods such as bank transfers or company checks.
Step 7: Stay in touch for further details
Signing the contract and making the payment doesn't mark the end of the road. It's important to keep the lines of communication open with the hotel for various follow-up matters. For instance, if your group requires early check-in or late check-out, it's a good idea to confirm the feasibility with the hotel.
You can continue these discussions via email, or you might want to pick up the phone or request their WhatsApp or other contact details to streamline the communication process. It's all about ensuring a smooth and efficient experience for your group.
Wrapping up
Booking hotel rooms for group travel can be a breeze when you follow these step-by-step guidelines. From reaching out to hotels to securing your reservation, each stage is essential to ensure a seamless and enjoyable group experience. Remember, communication is key, and being well-prepared will make your journey all the more rewarding. So go ahead, plan that group adventure, and embark on your next memorable travel escapade. Safe travels!