How to Get GoDaddy Promo Codes | Jan 2023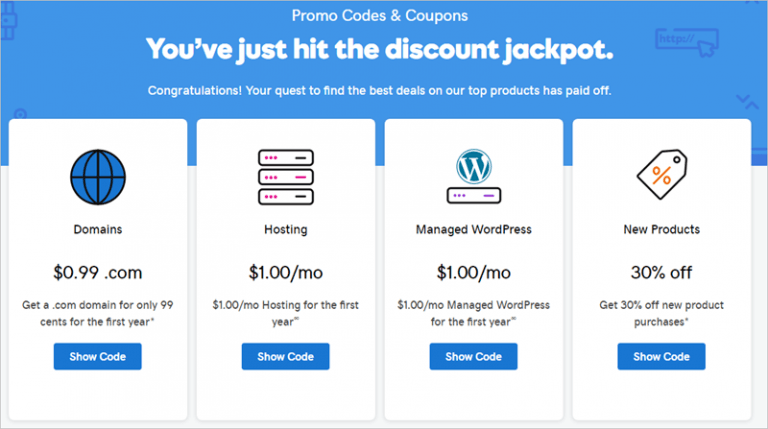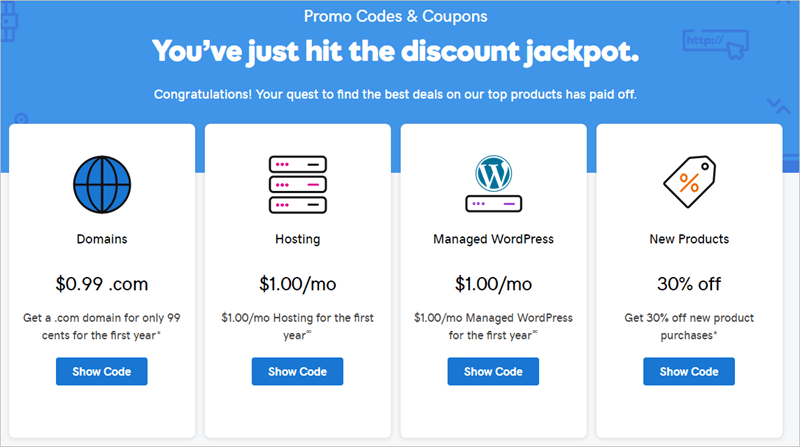 Get GoDaddy promo code right now. The best deal for GoDaddy products in 2019.
If you'd like to get the best deal for GoDaddy products, you can use the promo codes below. Just copy and paste the promo code and use it at the checkout.

Promo Code for Domains ($0.99 for the first year):
Promo Code for Web Hosting ($1.00/mo for the first year):
Promo Code for Managed WordPress ($1.00/mo for the first year):
Promo Code for New Products (30% off):

There are countless sites that claim they provide GoDaddy coupons. You may want to check other sites to see if they offer coupons that give more discount. Before you go, you may want to know that GoDaddy offers promo code themselves. And they remind that the promo codes offered on other websites probably won't work. The promo codes we offer here are from GoDaddy official, so you can use them without any problems.

If you want, you can get the promo codes from GoDaddy directly. Just visit Promos on GoDaddy.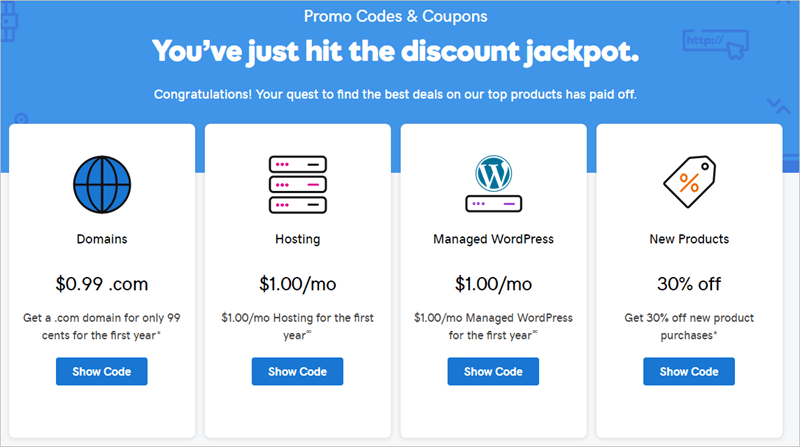 GoDaddy not only offers promo codes for new customers, but also offers renewal codes for regular customers.

How to get a renewal code
To get a renewal code, you can just scroll down to the bottom of any page on GoDaddy's website and sign up for their email list. Once your account is verified to have the eligibility to get the discount, GoDaddy will send the renewal code to your inbox. For more info about this, visit Find GoDaddy Renewal Codes.

Hopefully you find this article helpful. If you have any questions, ideas or suggestions, feel free to leave a comment below.