How to Get Xbox Game Pass for Free (06/2023)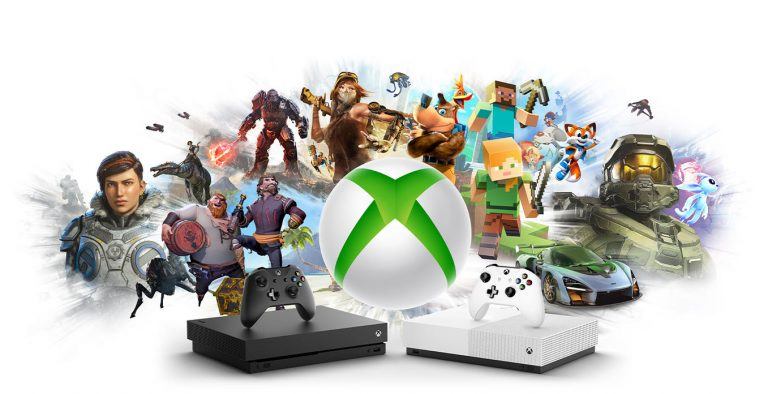 Want an Xbox Game Pass but can't afford it? Don't worry, this post is here to help.

What's Xbox Game Pass?
Xbox Game Pass is a subscription service provided by Microsoft. Choose the plan and you have unlimited access to over 100 high-quality games. Join Xbox Game Pass, play directly on the console, PC, and — in the coming future–Android mobile devices.
How to get Xbox Game Pass for free?
1. Sign up to 14-day free trial
Try Xbox Game Pass 14 day free trial is the way to get a free subscription.
The free trial is only available to the Console plan.
Go to Xbox Game Pass website.
Click JOIN NOW under the CONSOLE section.

Create an account and follow the instructions to finish the process.
Remember it's a 14-day trial, cancel the Xbox game pass before the time is up, otherwise you need to pay $9.99 per month.
2. Use cash back App to pay for your Xbox Game Pass
Earn cashback while shopping and redeem the money to pay for your Xbox Game Pass! You can always earn extra cashback with Coupert by shopping at 7000+ participating stores.
To qualify, just install the Coupert extension to your browser and sign up.
Once you accumulate $10 worth of points, you can withdraw cash to buy a Steam gift card by clicking the Withdraw button on your account page.
3. Earn Xbox Game Pass with Swagbucks
Swagbucks is a famous online rewards site. By joining the community, complete tasks like playing games, complete surveys, download apps, watching videos and etc. to earn points. Then you can redeem your points for free gift cards such as Amazon gift cards or cash back from PayPal.
Go to Swagbucks.com.
Sign up for free.

Choose a task to complete and earn points.
Redeem $10 PayPal cash.
Pay for the Xbox Game Pass.
There are also special bundles that offer Game Pass access at a discounted rate. These deals can save you some serious money, so be sure to check them all out.
4. Using Microsoft Rewards
Using Microsoft Rewards is a surprisingly easy way to get Xbox Gift Cards. Then, Xbox Fans can get Xbox Game Pass for free. Here's how:
Go to Microsoft Reward page and sign up.
In your account, click GO TO DASHBOARD and start earning points by completing tasks.

Install Rewards App on your Xbox and do the Xbox Events.
Redeem your Rewards Points for Rewards.
MICROSOFT REWARDS AVAILABLE ONLY IN: US, GB, FR, DE, NL, CA or AU, IRL and NZ.
Not in your country? Using a VPN service.
Here we recommend NordVPN as our top pick due to its speed, security and ease of use.
1) Download NordVPN and set up your account.
2) Log into your account.
3) Connect to a chosen country VPN server.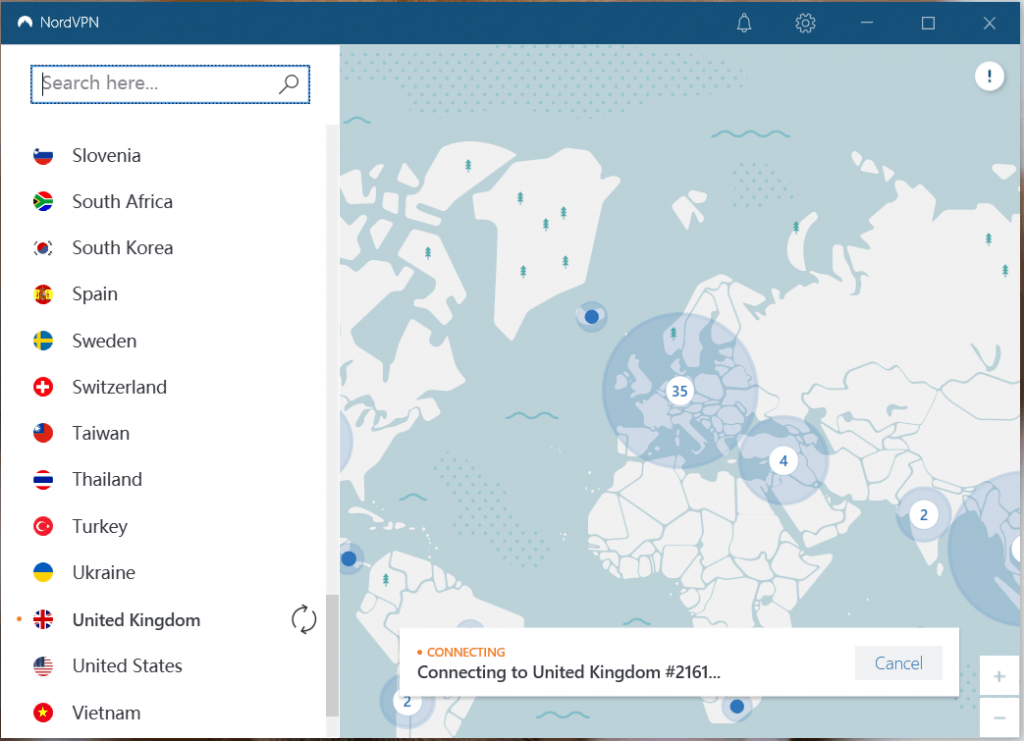 5. Try the glitch
There's also a chance you can get a free Xbox Game Pass by accident.
Turning off recurring billing and Microsoft may give you a two-week trial.
Multiple users report that if you're an Xbox Live Gold user, you're able to use Game Pass without a subscription.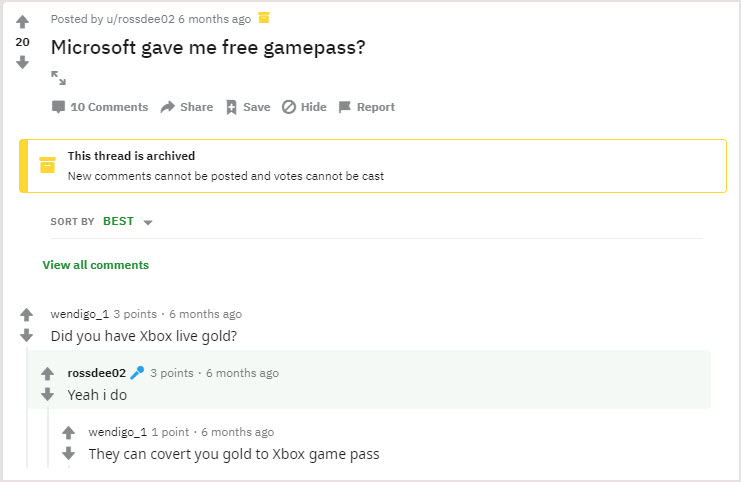 This seems to be a glitch, but you can have fun while it lasts!
How to save on Xbox Game Pass ?
If the price blocks your way, this is good timing to buy Xbox Game Pass. Try the service for $1 is a good deal, just remember to cancel the subscription in time.
Plan
Price
Platform
Benefit
PC
Get the first month for $1, then $4.99/mo. (Limited time price)
Access to over 100 high-quality PC games
Member discounts and deals
Console
$9.99/mo.
Access to over 100 high-quality console games
Member discounts and deals
Ultimate
Get the first month for $1, then $14.99/mo.
Access to over 100 high-quality games for console, PC, and Android mobile devices
Member discounts and deals;
Includes Xbox Live GOLD ($9.99/mo. value)
NOTE: Subscription continues automatically.
The Ultimate plan includes Xbox Live Gold, so you're getting Xbox Live Gold for free and you can enjoy Deals with Gold, Games with Gold, and console multiplayer which is a great deal.
If you get tired of searching for working coupons on the internet, there's a free tool that would ease the process and save time. Install the Coupert extension on your browser and it tells you if there are available coupons for a site.
Install Coupert on your browser for free and sign up.
Go to Xbox website and click the Coupert icon on the upper-right corner.
Then you'll see all available coupons. Now you can start saving with Coupert. (You can get a cashback even if there isn't a working promo code).


So you'll get a discount AND a cashback through Coupert!
Coupert is 100% free to join, and 100% legit. It's 100% trustable and reliable, if it says there are no working coupons, there's no need to waste time searching for coupons online.
If you're on mobile and can't install Coupert, you can also buy Amazon Xbox Game Pass to save some money.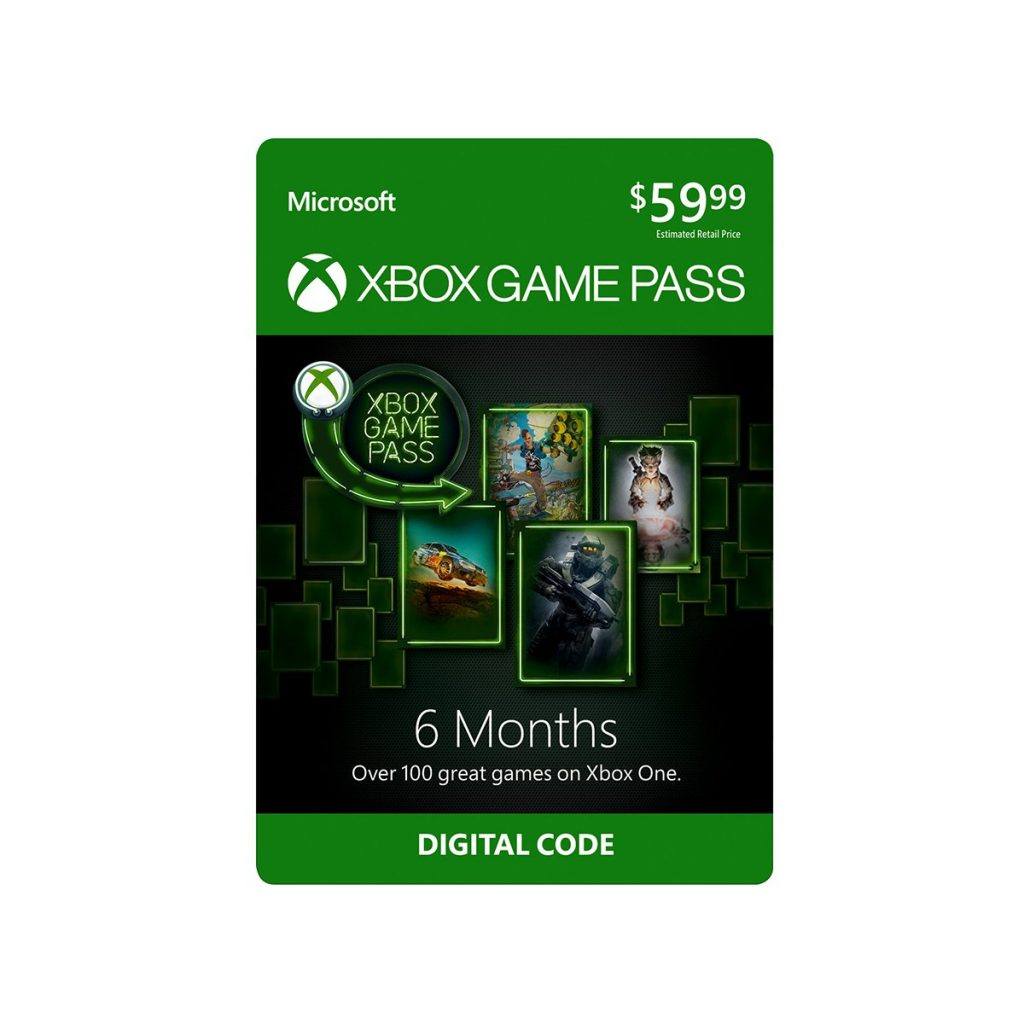 Amazon Xbox Game Pass
How to keep free Xbox Game Pass like forever
There's a trick that could help you keep the Xbox Game Pass for free.
Download the games you like to play in the console.
Go to the menu page and choose Profile & system.
Move to Settings.
In the General tab, choose Network settings > Go offline.
That's it, you can keep the game forever! But you couldn't play online games anymore. So this technique doesn't suit online games.
If you want to read a complete list of games available with Xbox Game Pass, click Page 2.