How to Get NFL Sunday Ticket without DirecTV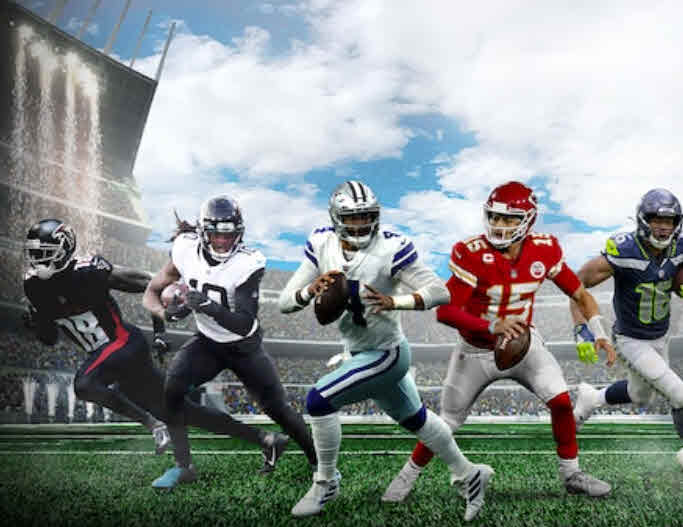 Get the 2022 season of NFL SUNDAY TICKET with the DIRECTV CHOICE, ULTIMATE, or PREMIER packages. No additional cost.
NFL Sunday Ticket is a video streaming service that allows you to watch out-of-market games live. If you're in the US, currently, DirecTV has exclusive rights to the NFL Sunday Ticket package and that means you'll need to be a DirecTV customer to stream the games – but what if you can't get DirecTV?
In this post, we'll look into ways to get NFL Sunday Ticket for the upcoming 2022 NFL season without DirectTV.
DIRECTV STREAM Free Trial
Get EPIX, HBO Max, Showtime, STARZ & Cinemax for 3 months.
Sign up
1. Get NFL Game Pass International
NFL Game Pass is your best option to stream NFL games when you don't have a cable subscription.
While NFL Game Pass lets you watch replays of every NFL game regardless of your location, live streaming is only available in certain regions. For example, if you subscribe to the NFL Game Pass Domestic from the US, you'll only be able to access preseason NFL games and game replays from the regular season after they air.
If you want to access every live NFL game, you'll need to subscribe to NFL Game Pass International in countries where there are no blackout restrictions. You can choose the Indonesia or Malaysia version of NFL Game Pass, which offers live streaming of the regular-season games at $124.99.
Follow the instructions below to see how to get the NFL Game Pass International. We'll use NordVPN for this tutorial, but other VPNs work pretty much the same. If you're not sure which VPN to choose, we recommend giving NordVPN a shot.
Connect to an Indonesia server with NordVPN.

Go to the official Game Pass page and click Signup in the top left corner.

Sign up for the Game Pass Free version or Pro depending on your needs.

Note that video service providers are always trying to detect and block VPN traffic to their platform. This means even if your VPN and the video streaming service work together at this moment, that's no guarantee that they will continue to do so.
2. Stream the 2022 NFL Season Online
Streaming services that offer live television, offer almost all of the Sunday NFL games via standard television channels and at a much cheaper price than DirecTV. Here are several streaming services that allow you to stream NFL games live:
Sling TV
You can tune into the NFL live online with SlingTV and access NFL Playoff channels such as FOX, ABC, and CBS (Check NFL Schedule on Sling TV). You can sign up for a 3-day free trial using the Sling TV mobile phone app. (Note you won't be offered the trial if you're on their website.)
Hulu
Hulu + Live TV let you watch live NFL games on channels such as CBS, ESPN, FOX, NBC, and NFL Network. Which NFL games you can watch may vary and are subject to the same regional availability and blackout restrictions as cable broadcasts. You can check out Hulu Live Guide for the availability of upcoming games.
DAZN
DAZN is a streaming service that offers coverage of every NFL game, both live and on-demand in Canada. You can access every regular-season NFL game live with it. But since the service is available in Canada, you'll need to connect to a server in Canada with a VPN. An annual subscription to DAZN Canada costs $150 CAD, or $20 CAD per month.
fuboTV
fuboTV lets you catch all the Thursday Night Football, your local Sunday afternoon games, and Football Night on CBS, FOX, NBC, and NFL Network. Which local channels are available to you on Sunday afternoon may be determined by your billing address used. Sign up for a 7-day free trial to check out!
YouTube TV
YouTube TV offers a variety of channels that carry NFL games, so you can catch up on live broadcasts from TV channels including ABC, NBC, NFL Network, NBA TV, ESPN, and NBC Sports. You can try the 5-day free trial, and after the trial, a monthly subscription costs 65 USD/month.
ProSieben and ProSieben Maxx (Germany and Switzerland)
Both are free and don't require signup. ProSieben offers the Kickoff Game, some Playoff games, and the Super Bowl, and ProSieben Maxx broadcasts the regular season.
Puls4 (Austria)
Puls4 lets you stream the regular NFL season for free.
3. Get NFL Sunday Ticket U If You're Eligible
If you don't have a DirecTV subscription, you can check out if you're eligible for the NFL Sunday Ticket U plan. The plan let you stream NFL games at a discounted price – $99.96 for four months, or $24.99 per month. But this option is only available if you or a family member if enrolled in a two or four-year university.
With NFL Sunday Ticket U, you can only stream live games on one device at a time. If you want to switch to another device, you'll need to log out from the old one.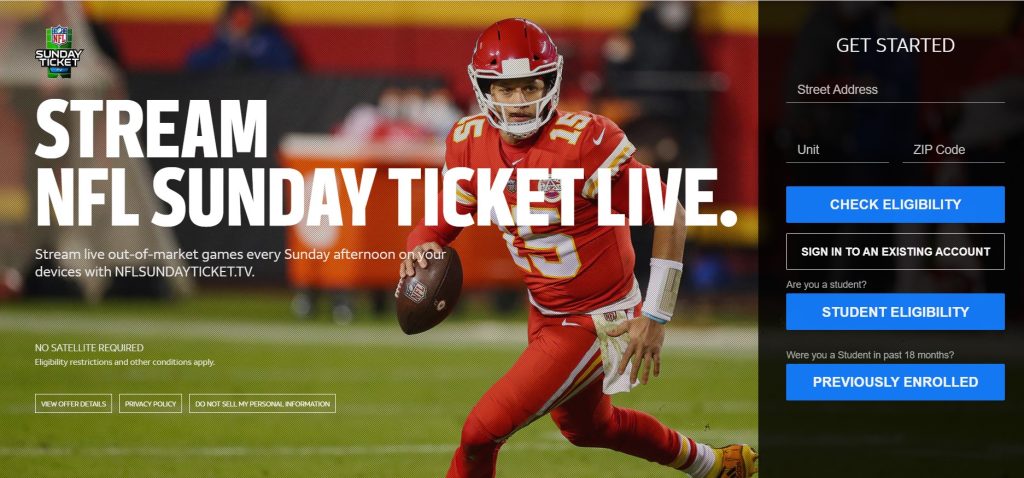 4. Get NFL Sunday Ticket To Go or NFLST.TV Max
If your region doesn't support DirecTV service, you can check if you can get a standard NFL Sunday Ticket subscription.
If your address is eligible, you can opt for Note that NFLST TO GO or NFLST.TV Max, which costs $293.96 and $395.99 for four months, respectively. These two options cost around the same price as the standard TV package. So if you're looking for a cheaper option, read on and see what else you can choose from.
5. Get NFLSUNDAYTICKET.TV
NFLSUNDAYTICKET.TV is a streaming service provided for customers who can't install a DirecTV dish at their home, normally living in apartments, condos or townhouses, due to a restriction.
NFLSUNDAYTICKET.TV packages start at $49.99 a month for four months. And the service gives you access to unlimited streaming of live out-of-market Sunday afternoon games on your mobile phone, tablet, or desktop computer.