Free Vehicle Info Check: how to find vehicle history & owner by VIN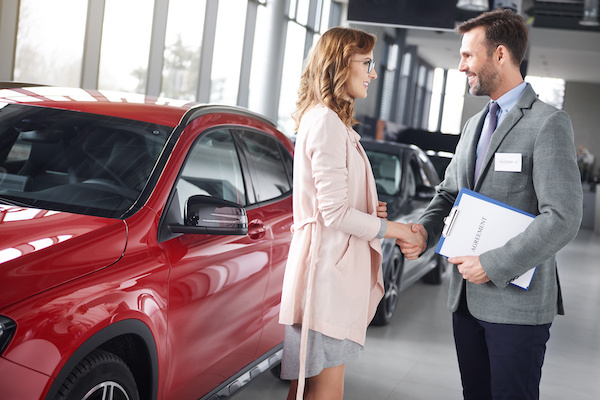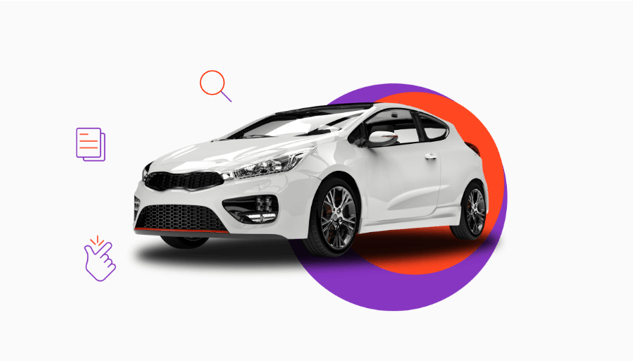 VIN Lookup
Enter any VIN number to find its owner & more!
Before you decide to buy a used car, it's necessary to run a complete vehicle information check. And it's quite easy to do so: all you need is a VIN number.
This guide covers everything you need to know about VIN and vehicle information check, including what is VIN, where you can find the VIN number, how to decode a VIN number, and most importantly, how to check vehicle information by VIN.
What is a VIN
A vehicle identification number, more commonly referred as just VIN or a VIN number, is a unique 17-character identifying code given to your vehicle when it's manufactured. Every car has a unique VIN. It's just like a Social Security Number for a car.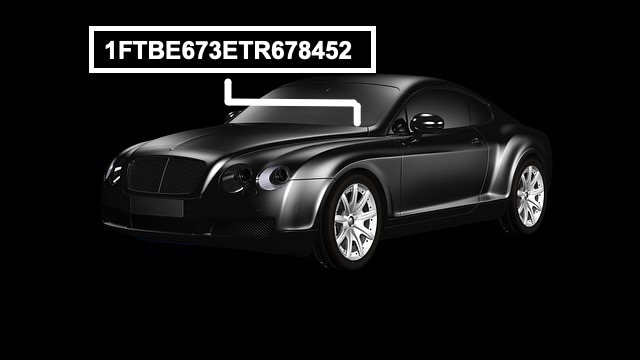 Back in 1954, The National Highway Traffic Safety Administration (NHTSA) began requiring standardized VINs for all road vehicles. In 1981, VIN numbers are standardized to the current 17-digit format.
If you have the VIN number of a car, you can easily check its vehicle information, which usually includes its specs, registration, title status, assembly plant, maintenance records, safety recalls, mile traveled, whether the car has a lien, and so on.
Where to find the VIN
On most newer passenger cars, the VIN can often be found on the driver's side dashboard: just stand outside the vehicle and look at the corner where the dashboard meets the windshield, and you'll find the slim, metal plate engraved with the VIN.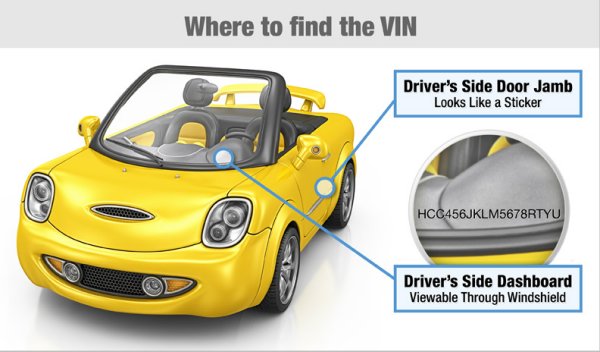 The VIN may also appear in a number of other locations:
Inside the driver-side door jamb
Driver-side doorpost
Front of the car frame
Front of the engine block
Rear wheel well
If you can't find the VIN number on the vehicle itself, check the following documents, as the VIN is always recorded on these documents:
Vehicle insurance card / insurance policy
Vehicle title
How to check vehicle information by VIN
It's pretty easy to get the information of a vehicle if you have its VIN number, and there's more than one method to do it.
1. Look up VIN with NICB

The National Insurance Crime Bureau (NICB) is the not-for-profit organization dedicated exclusively to fighting insurance fraud and crime in the nation. With its free VIN lookup service "VINCheck", you can easily check if a vehicle has a record of an insurance theft claim and has not been recovered, or has ever been reported as a salvage vehicle.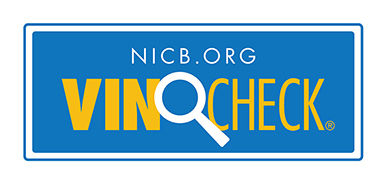 To perform a VINCheck lookup, just follow the steps below:
A maximum of five searches can be conducted within a 24-hour period per IP address.
Go to NICB.
Enter the VIN number, check the box next to I agree to the terms and conditions of use and complete the reCAPTCHA.

Click the SEARCH VIN button to start searching.
NICB will tell you in seconds if the vehicle has a theft or total loss record.

Note that NICB's VINCheck doesn't provide information about a vehicle's specs, owner details, odometer reading, accident history and so on. After running a VINCheck, you can only tell if the vehicle has a theft or total loss record.
If you need a more comprehensive vehicle report, just read on or move on to Method 3, below.
2. Run a free VIN lookup at NHTSA
The National Highway Traffic Safety Administration (NHTSA) is an agency of the U.S. federal government that falls under the Department of Transportation. On NHTSA.gov, you can use its VIN decoder to query a particular vehicle's VIN.

A free VIN lookup at NHTSA will help you check the VIN for any errors. For example, it helps check if Check Digit (the 9th position) is correct. Besides, you can also get the basic information about the vehicle, including its manufacturer, model year, make, model and so on.
If you need an in-depth vehicle history report that includes its ownership history, accident records odometer reading and more, you may want to use a paid service like BeenVerified, as mentioned in Method 3, below.
3. Explore vehicle history with BeenVerified
With a paid VIN lookup service, you can easily gain deeper insights into a vehicle's past. BeenVerified's VIN lookup tool is one such VIN check services that helps you learn more about a vehicle you own or a used car you plan to buy or sell.
Whether you have a VIN number, license plate number, or vehicle model, you can use BeenVerifed's search engine to discover more information about a vehicle. After you ran a lookup, BeenVerified will provide you with an easy-to-read report in a few seconds. The report may include:
the vehicle specs
ownership history
accident records
safety recalls
odometer reading
title status
owner details
theft records
salvage records
maintenance history, etc.
To perform a VIN check with BeenVerified:
Visit BeenVerified Official site.
Enter a VIN number and click SEARCH to start searching.

BeenVerified will start collecting records from its databases for the vehicle. A few seconds later, it will generate a report based on your vehicle.

How to decode a VIN number
Many people think of the VIN number as just a series of random letters and numbers. However, these characters are highly structured codes with their own meaning.
The 17-dit VIN can be thought of as three distinct sections: World Manufacturer Identifier (WMI), Vehicle Descriptor Sections (VDS) and Vehicle Identifier Section (VIS).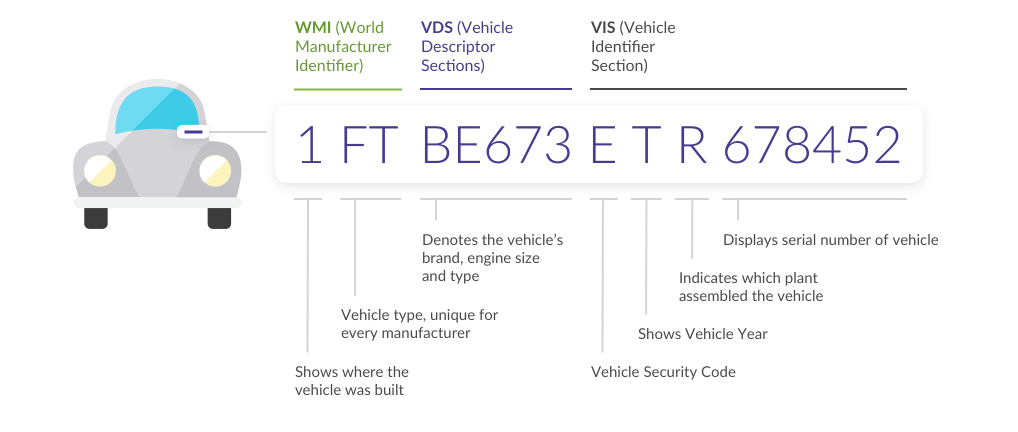 World manufacturer identifier (WMI)
The first three digits of the VIN are the World Manufacturer Identifier (WMI), which are assigned by The Society of Automotive Engineers in the US to countries and manufacturer to identify the manufacturer of the vehicle.
Generally speaking, the first digit of the VIN indicates the country in which the vehicle was manufactured. The second digit designates the region and manufacturer, and the third denotes the division.
VINs starting with 1, 4, 5 are manufactured in the US. However, there are some exceptions: for example, the WMI code 7SA was assigned to Tesla Inc. in the United State in 2021.
7SA = Manufacturer: Tesla Inc., Vehicle Type: MPV (Designated for Model X & Model Y)
Vehicle Descriptor Sections (VDS)
The fourth to ninth positions in the VIN are the Vehicle Descriptor Sections or VDS, which describes the model, transmission, body style, engine type and other vehicle attributes. In North America, the ninth digit is a Check Digit, which is designed to confirm that the VIN is valid.
Vehicle Identifier Section (VIS)
The 10th to 17th positions in the VIN are used as the Vehicle Identifier Section (VIS). This is used by the manufacturer to identify the individual vehicle in question.
A consistent element of the VIN is the 10th digit, which is required worldwide to encode the model year of the vehicle. In other words, the 10th digit indicates the model year. Besides the letters I, O and Q are not allowed in the VIN itself, the letters U and Z and the number 0 are not used for the model year code.
The 11th digit indicates the specific assembly plant where the vehicle was built, and each automaker has its own set of factory codes.
In the United States, the 12th to 17th digits are the vehicle's serial or production number. This is unique to each vehicle, and each manufacturer uses its own sequence.
---
That's it! Hopefully, this guide helps. Feel free to drop a line in the comment area below if you have any questions or suggestions on this topic. Thanks for reading!
Image by gpointstudio on Freepik
The methods in this article provide you with easy access to public record information, but without a guarantee for accuracy and may include links to websites not listed as a Consumer Reporting Agency (CRA). Information acquired from these bodies is illegal to be used for employment, housing, credit, and other purposes alike, according to laws such as the Fair Credit Reporting Act (FCRA). If you're not sure whether your use of our methods is appropriate, click here for details.