How to Get a Free Vehicle History Report (2023)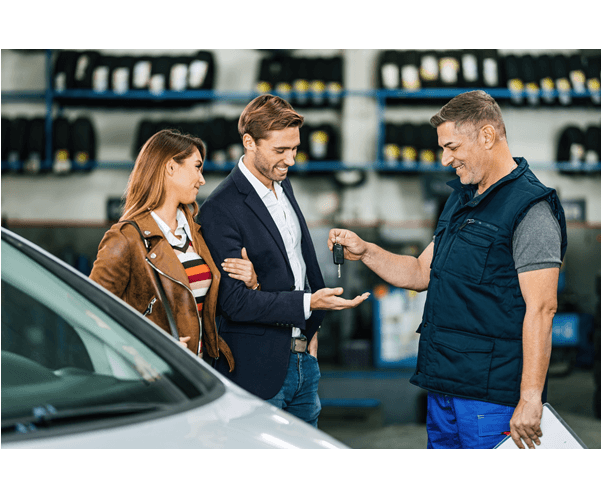 VIN Check
Enter VIN number to get a detailed vehicle history report.
Getting a vehicle history report(VHR) is a crucial step in buying or selling a car. A VHR provides a summary of a vehicle's history, including a car's ownership, title status, accident history, odometer reading, and more.
And the good news is, you don't always have to dish out your hard-earned money to get a vehicle history report. In this article, we're showing you 3 ways to do it for free.
To get a vehicle history report, you will typically need the vehicle's VIN (Vehicle Identification Number), which you can jump here to learn more about.
Or, if you don't have a VIN in handy, you can use its license plate number, which doesn't provide as much detail but suffice to trace down a car.
1. NICB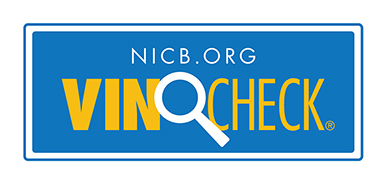 NICB (National Insurance Crime Bureau) offers a free VIN check service to help you identify if a vehicle has ever been given a salvage title after the following situations:
being reported as stolen or lost, and not yet recovered
being damaged beyond financial repair and declared a total loss by an insurance company
Here is how to check if a vehicle has a theft or total loss record with NICB.
Go to NICB.
Enter the VIN number, tick the box next to I agree and complete the captcha. Then click SEARCH VIN.

Wait a few seconds for NICB to scan the data and show you whether the vehicle has a theft or total loss history.

Note that an NICB vehicle history report is concise. It only alerts you to stolen or total-loss vehicles, which are generally considered unsafe for the road. If you need more levels of details, such as a car's specs, characteristics, miles driven, maintenance records, ownership changes, and title history, you should try Method 2, below.
2. BeenVerified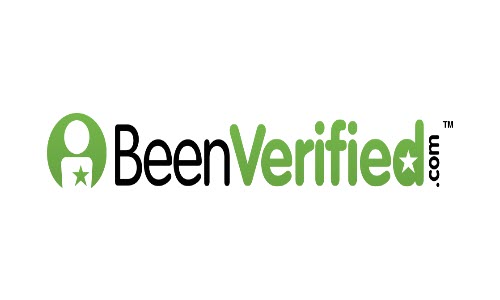 BeenVerified is a powerful vehicle lookup tool to help you explore vehicle history. It supports three types of searches: VIN, license plate number, and vehicle model. Just enter your car's digits, and then it will scour its database and generate a detailed vehicle history report for you. This may include specs, ownership history, title status, owner details, accident records, theft records, salvage records, safety recalls, odometer readings, maintenance history, etc.
Here is how to pull a vehicle history report from BeenVerified:
Enter the VIN, and click Search.

Wait a few seconds as BeenVerified gathers records for the vehicle and generates a report based on your vehicle.
Although BeenVerified is not a completely free service, it offers a 7-day trial for only $1, which allows you to pull as many as 100 reports during the period.
3. iSeeCars
Another resource where you can access vehicle history reports for free is iSeeCars. iSeeCars is an online automotive research website that integrates VIN checks in its engine. As a visitor, you can get one vehicle history report for free. Or, if this isn't enough, you can sign up for its free plan and log in to access a maximum of 5 reports per month. The website is a for-profit business, so if you want more, a monthly subscription will eventually kick in.
Extra info: VIN VS License Plate Number
Both VIN and license plate numbers are identifiers of a car. They may tell a lot about a car's history, but they're two separate items serving different purposes and are not to be confused:
What is a VIN
A VIN is a fixed 17-digit sequence of numbers and letters, which looks like this:

It is etched on various parts of a car at the time it's manufactured and stays with the vehicle throughout its life (You can think of it as a birth certificate). Since it's a unique identifying code, it's often used to track down the history of any given vehicle.
How to locate a VIN on a car:
Depending on the brand and model of your vehicle, you can often find a car's VIN on the driver's side dashboard: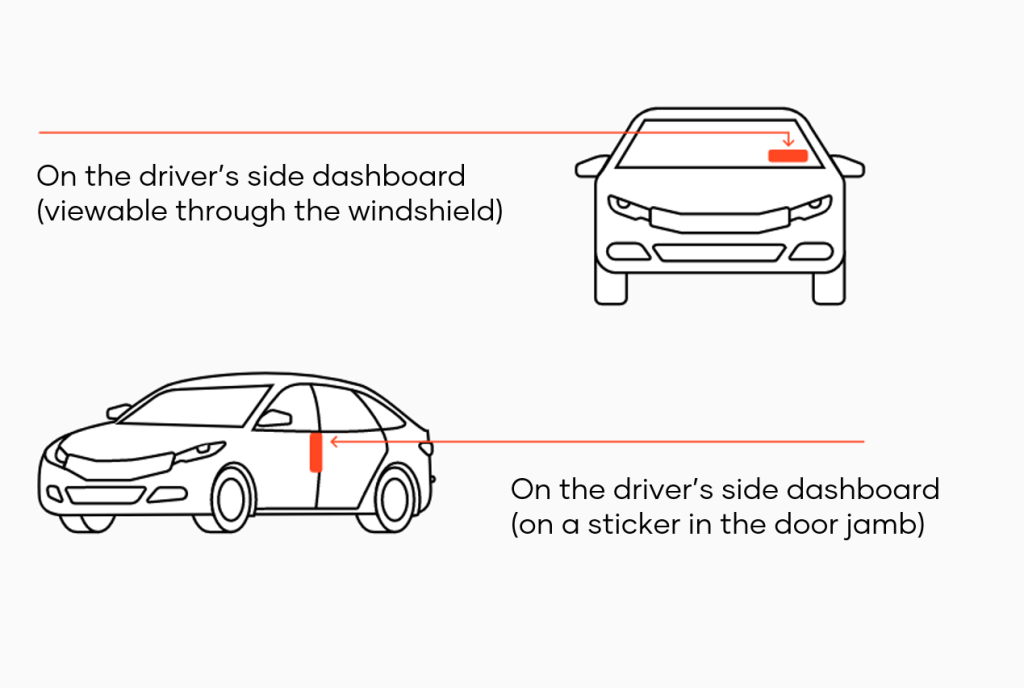 You might also locate a VIN:
On the front of the engine block
On the car chassis, near the windshield washer fluid container
On the rear wheel well, directly above the tire
Under the spare tire in the trunk
On the inside of the driver's door
On the driver's side door post
On the insurance, title, and registration documents.
What is a license plate number?
License plate number, also known as vehicle registration number, is a much shorter alphanumeric sequence that's surface-printed on the number plate.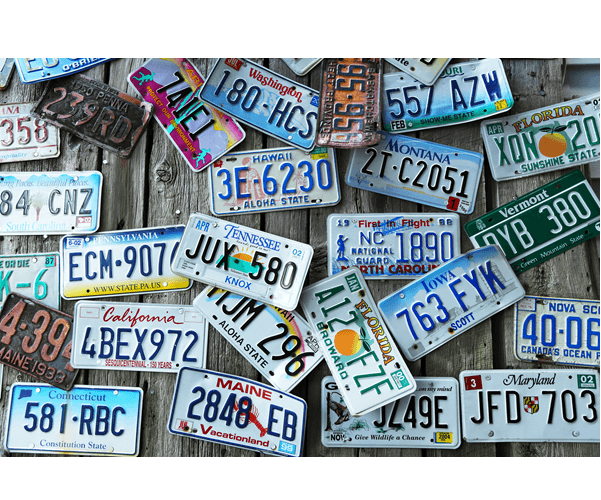 A license plate number is issued upon registration to indicate that the vehicle is licensed to drive on the road. Since it changes when the ownership is transferred, it is often used to identify the registered owner of a vehicle. Other situations where a license plate number changes include personal customization and the owner moving to a different state.
License Plate Lookup
Research a Vehicle by License Plate