Gift Card Steam Free 2022 (No Human Verification)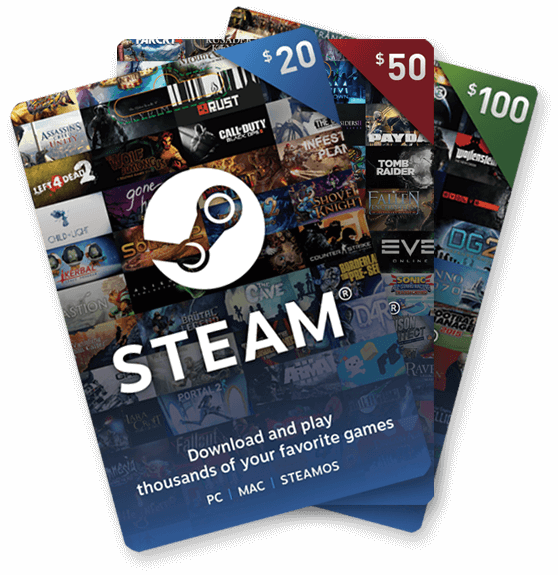 If you're a Steam gamer, I bet you've heard about Steam wallet codes, Steam wallet cards, Steam gift cards. This post has everything you want to know and of course, how to save on Steam is the key point. Read on to know more.
What is Steam gift card and Steam gift card generator
Have you been confused by these names: Steam wallet codes, Steam gift cards, Steam wallet cards? Although they have different names, the purpose is the same — to top up Steam Wallet. The Steam wallet is an exclusive feature found in Steam, and only Steam users can use it.
Steam users can buy a Steam gift card to top up their Steam wallets, then purchase Steam games.
So there come Steam gift card generators. They are usually programs developed by hackers and can generate numerous activation keys. Targeted payware are usually expensive video editors such as Sony Vegas and the famous Adobe products.
Steam gift card generator is pretty much the same thing. They indicate themselves as a magical program that can generate infinite Steam gift cards for an account. And the process is completely free.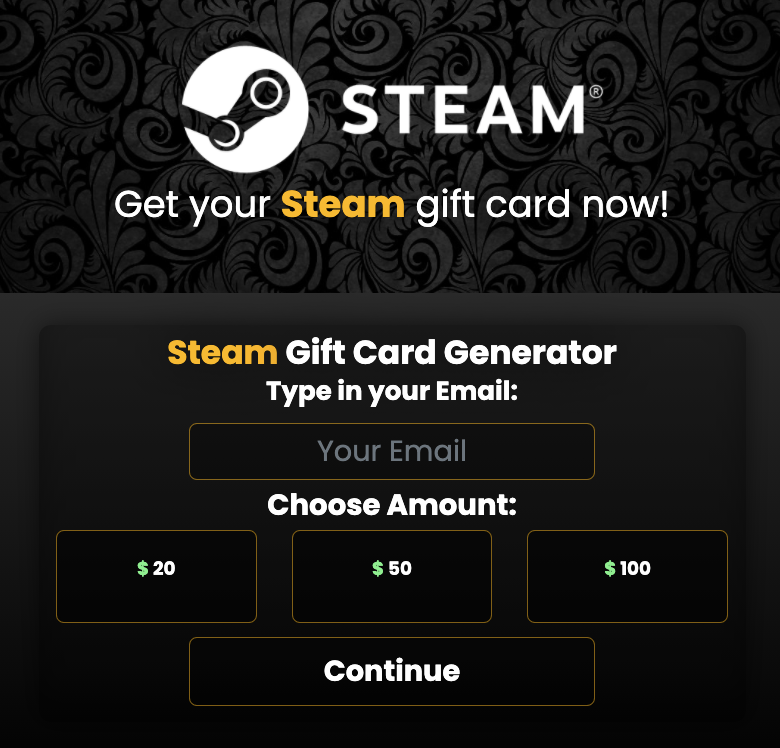 Is the Steam gift card generator really work?
NO! It is illegal and unsafe to use such sites. This kind of method offense Steam's right and they won't let it happen. The generators found on Google are 100% scams. So don't take the bait.
Suppose there's an actual working Steam gift card generator: then why would the "developer" even share it with the others? And why does Steam just sit and let the thing spread on the internet? The answer is generators never work.
So, the Steam gift card generator is a dead end. But don't worry, there're still many ways you can get a Steam gift card for free. And they're 100% legit.
4 ways to get free Steam gift card
Let's face it, what we want is simple: a free Steam gift card. It's possible to get it for free, you just need to spend a little time and effort.
1. Use cash back App to pay for your gift card
You can always earn extra cashback with Coupert by shopping at 7000+ participating stores.
Coupert, a free extension for the browser that will tell you if there're available coupons for the site. This free tool saves your time and eases the process of searching for coupons.
Install Coupert on your browser for free and sign up.
Go to store.steampowered.com and click the Coupert icon on the upper-right corner.
Then you'll see all available coupons. Click Activate to earn cash back on your purchase.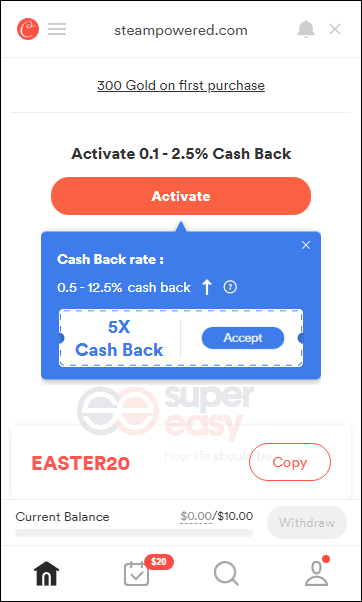 So you'll get a discount AND a cashback through Coupert!
Once you accumulate $10 worth of points, you can withdraw cash to buy a Steam gift card by clicking the Withdraw button on your account page.
You can also try Ibotta or Fetch Rewards to earn rebates by submitting your receipts. It accepts receipts from most of the stores you frequently visit, such as Walmart, Target, Kroger, Walgreens, and more.
2. Take advantage of Microsoft Rewards
Microsoft Rewards pays you for using Bing as the default browser, and every search on it. That's quite simple, isn't it? Moreover, you can find more offers, such as taking quizzes or installing browser extensions.
This method works faster than taking surveys since you don't need to fill out all required profiles, which can take you ages to get started. When you get a Microsoft gift card, you can swap these cards with others to get a Roblox gift card code for free.
3. Receive as a gift
Don't be shy, ask your family or friends to give you a Steam gift card as a present. I would be happy to have one as a birthday present.
4. Through giveaways
Some YouTubers and Discord server owners promote themselves by giving away free Steam gift cards or Steam wallet codes. You can search it on Youtube and follow their rules and wait for the lucky goddess.
In addition, some professional streamers on Twitch might give away Steam wallet codes to viewers/followers. Some Discord servers do the same thing too. But be careful, some servers may be spam.
How to redeem codes
Launch Steam and sign in to your account.
Click your username on the top right corner.
Select Account Details.
Click Add funds to your Steam Wallet.
Click Redeem a Steam Wallet Code.
Enter the code and click Redeem to get the credits.
Conclusion
It's impossible to get Steam gift cards or Steam wallet codes without paying anything except for receiving them as a gift. You need to put some effort into this, your time, your money, or other sorts of things. Don't try illegal ways to get a Steam gift card, don't trust those generators, you're putting yourself at risk.
If you want more information or have suggestions and questions, you're welcome to leave your comments below.
Wish you enjoy the game and have fun.