Free Cell Phone Number Lookup with Name No Charge | 100% Legit
Type in a phone number and find out who it is?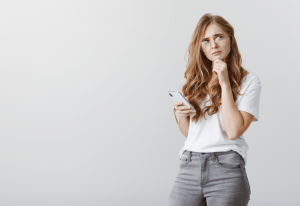 Reverse Phone Lookup
Search for Owner's Name, Address & More!
Have you ever received a call from an unidentified number and wondered who was trying to reach you? A reverse phone lookup can help uncover the mystery. This guide provides legitimate methods to search for the owner of a phone number.
Before getting started, here's a note about trying the methods of performing a phone number lookup mentioned in this article:
While phone number lookups can help identify unknown callers, it is vital to use this information ethically and legally. Here are some important guidelines:
If you discover the owner's name, address, or other personal details, keep this information confidential. Do not share it publicly or use it to harass, stalk or prank call the person. That would be highly unethical and illegal.
Only use the information for lawful, ethical purposes related to your legitimate need to identify the caller. Nothing more.
Keeping these in mind, let's walk through the methods to search for a number owner's name.
How to do a cell phone number lookup
1. Perform a manual search
Initiating a manual search for a cell phone number can be an effective starting point. Here are some tips and techniques to assist you:
a. Start with Google
When it comes to tracking down diverse information, Google is your trusty companion. Begin by entering the phone number into the search box, surrounding it with quotation marks "". This approach ensures that you receive search results that include an exact match of the phone number.

However, there are some downsides. You may run into some issues as I did when googling a number.
As you can see from the screenshot attached above, there are about 76,600 results! Aren't you pissed off when you need to scroll through pages of results and click on each link in order to gather useful information for yourself? I bet you will!
OR…
You may receive this message: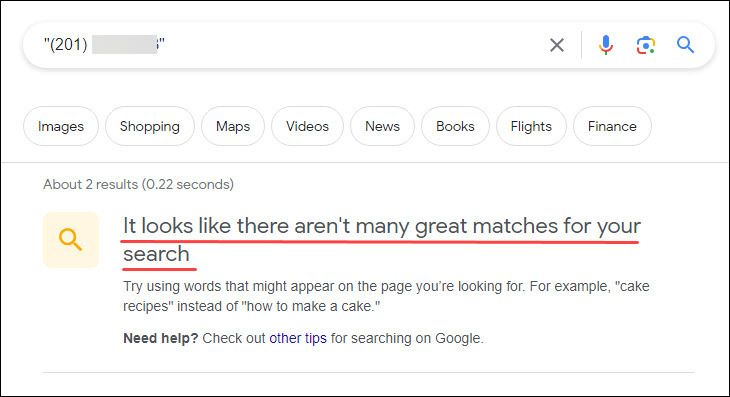 It means that the search engine couldn't find a lot of exact matches for your specific words. It might be because the information they're looking for is not available or widely documented online.
But don't be upset, not all methods are exhausted. Below are some other methods you can try.
b. Explore Social Media Sites
Social media platforms are home to millions of active users, some of whom may share their contact details on their profiles or posts and make them public.
Here's how you can leverage this resource:
Facebook: Navigate to Facebook and input the phone number into the search field. You might come across posts or profiles linked to that particular number.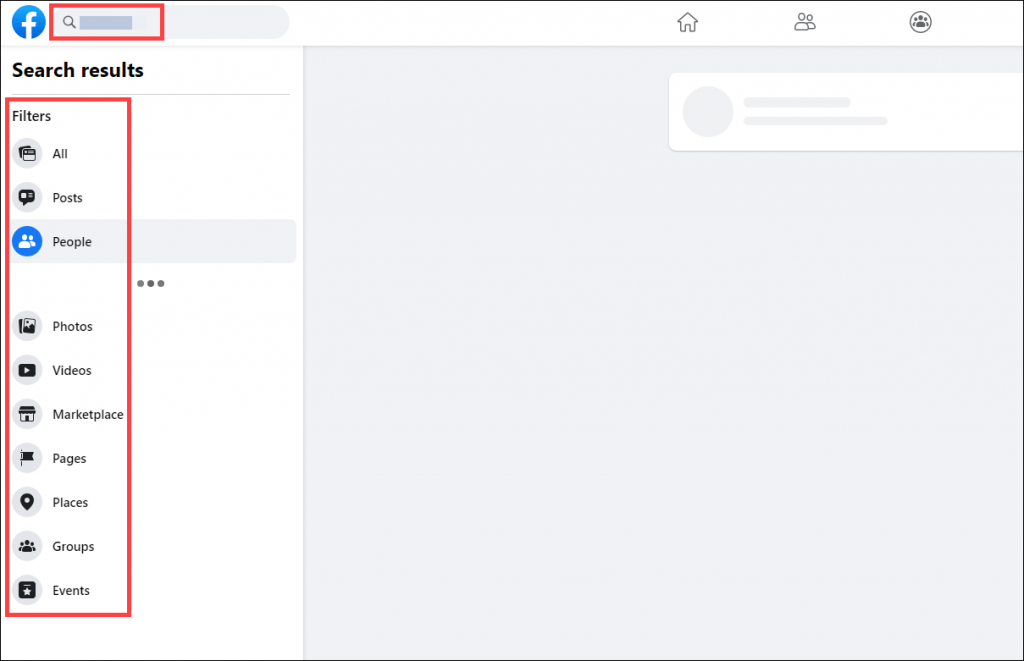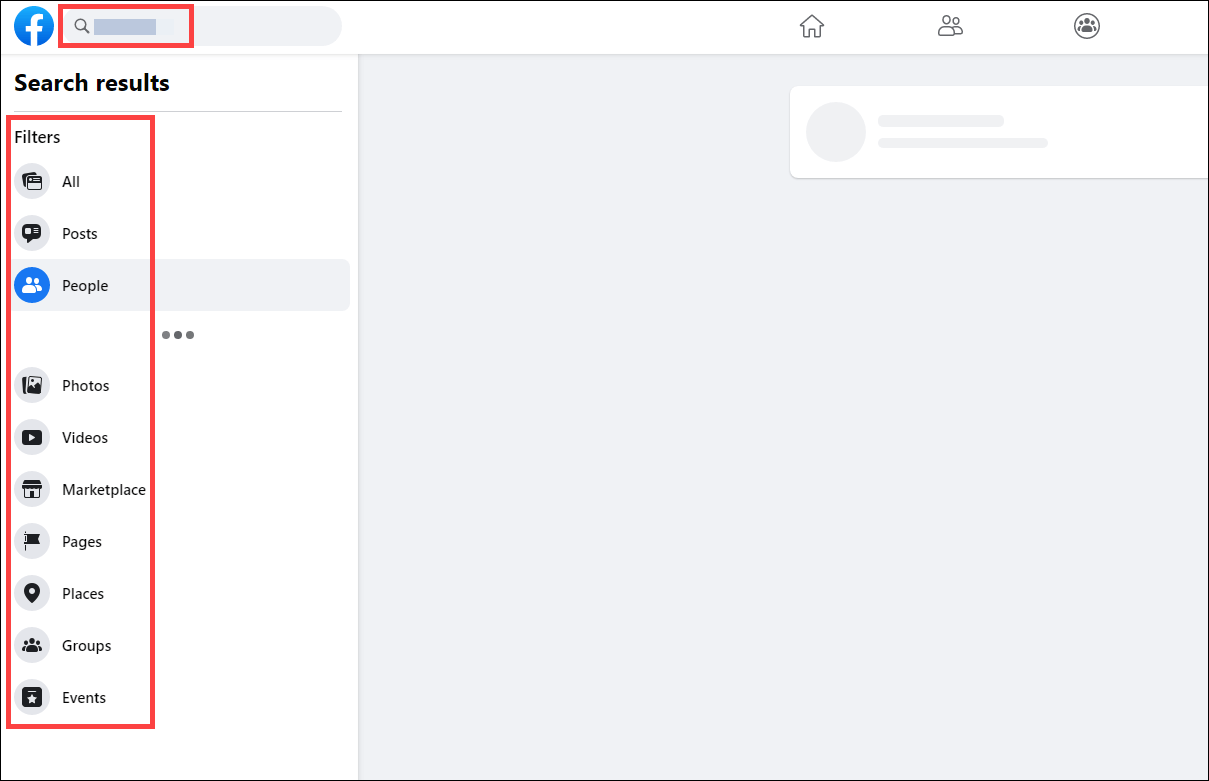 You can try entering the phone number into the search box of each frequently used social media platform and see if you can find any information associated with it.
In the event that your manual search endeavors yield limited results after considerable effort, don't despair. You can turn to a people search service for assistance in your cell phone number lookup, a process that only requires a few mouse clicks.
2. Utilize a phone number lookup service
Reverse Phone Lookup
Search for the Owner's Name, Address & More!
When you receive calls from unknown numbers, want to verify the identity of a caller, or need to find contact details linked to a particular phone number, a phone number lookup service comes in handy. It allows users to gather information about an individual by searching for details associated with a specific phone number.
Compared to a simple Google search, phone number lookup services often provide more comprehensive information, as they aggregate data from various sources. Moreover, these services offer a one-stop solution for you to access this information that otherwise will require you to spend lots of time sorting it out.
Typically, the information provided by a phone number lookup service can include:
Contact info

Names, aliases, phone numbers, and email addresses.

Personal details

Birth information, marital status, education level, hobbies + interests.

Location history

Current address, past addresses, residents, neighbors, etc.

Family & Associates

Family members, household demographics, birth records, and marriage records.

Court records

Criminal records, DUIs, sex offenses, and more!

Social media accounts

Social media, usernames, dating sites.
When entering the search query "free phone number lookup", you should get loads of results claiming to offer services free of charge. Are they truly free?
Are free phone number lookup services truly free?
Indeed, some sites won't charge you a fee to access the information. However, it's important to be aware that there may be associated drawbacks or downsides to consider.
Annoying ads/Redirecting you to another site
When you visit their page, probably there are advertisements negatively affecting your user experience. When trying to see more details, they might redirect you to another site, which is, most of the time, NOT FREE.
If you don't really mind it, however, you're good to go.


Limited information available
Have a look at the screenshot attached below. I did a lookup on a site that offers services for free and it only shows quite limited information, which is not really helpful for me to find the details of a number owner.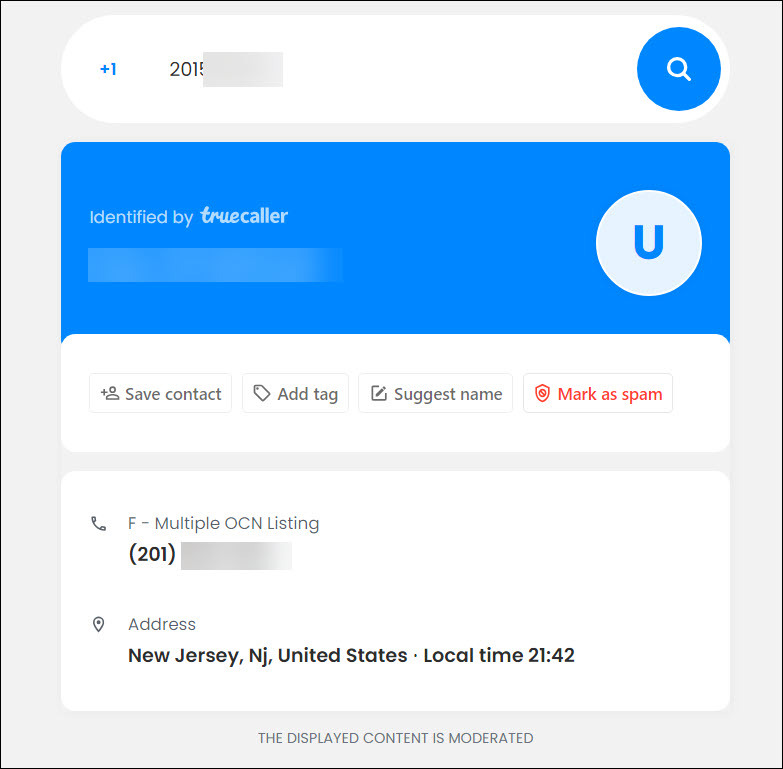 If you're looking for a seamless process to conduct reverse phone number lookups and you want to find more details about that number owner, you can choose a paid service. Below are some trusted services you can try.
How did we choose a phone number lookup service?
Before showing you the list of paid options, we would like to let you know how they become our choice.
First, we know legitimacy is crucial. So all of the services we mention above are legit people search engines that provide users with access to records.
Second, we prioritize user experience. Now that you opt for the paid services, you want a seamless search experience without the intrusion of annoying advertisements, providing a straightforward and uninterrupted service. And this is how Intelius, BeenVerified, and Spokeo work.
Third, we understand the wealth of information matters. The services we tested offer an extensive amount of information, each with a distinct focus on providing diverse and specialized data.
Now check the options below.
Intelius – Satisfy your curiosity with detailed reports
Intelius is the one that yields comprehensive search results, which are obtained from various data sources.
Users can expect detailed reports encompassing not only the owner's name and address but also additional data such as criminal records, social media profiles, and employment history. This extensive coverage makes Intelius a valuable resource for those seeking in-depth insights.
A message from a user:
—————— " ——————
It helped me figure out who I was actually talking to . . .
–Robin S.
Doing a phone number lookup on Intelius is simple:
1) Visit Intelius.com.
2) Enter the digits into the search bar and hit Enter.
3) Patiently wait for it to search its data sources. Once a report is ready, purchase a membership plan to view the report.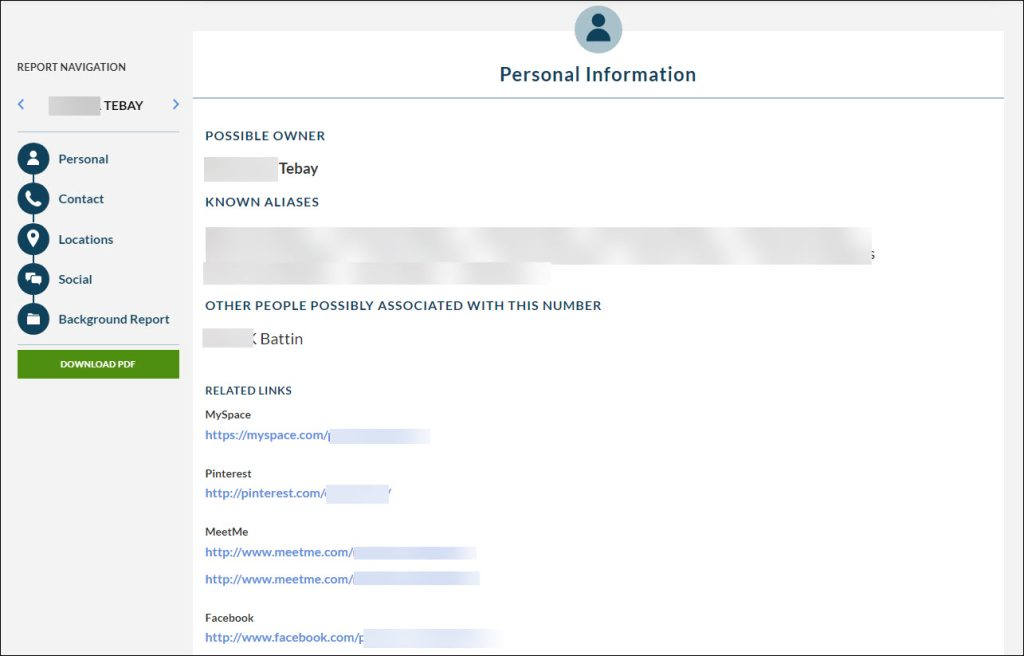 Need Assistance?
Tool-Free: (877) 564-3253
BeenVerified – Trusted people search engine to access billions of records
When it comes to uncovering the person behind spam calls and protecting yourself from phone scams, BeenVerified comes into play. In addition to giving you access to the person's details, BeenVerified also reveals whether there are comments associated with that number, helping you figure out whom you might be dealing with.
Get started with the following steps to run a reverse phone number search on BeenVerified:
1) Head to BeenVerified's reverse phone number lookup page.
2) Enter a phone number with the area code in the search box.
3) Wait while BeenVerified assesses the potential owner's name, address, and other background information.
Once a report becomes available, you will need to select a suitable membership plan to access it. Within the report, you'll find comprehensive details about the phone number's owner.

Below is the sample report. Your reports may contain more or less information.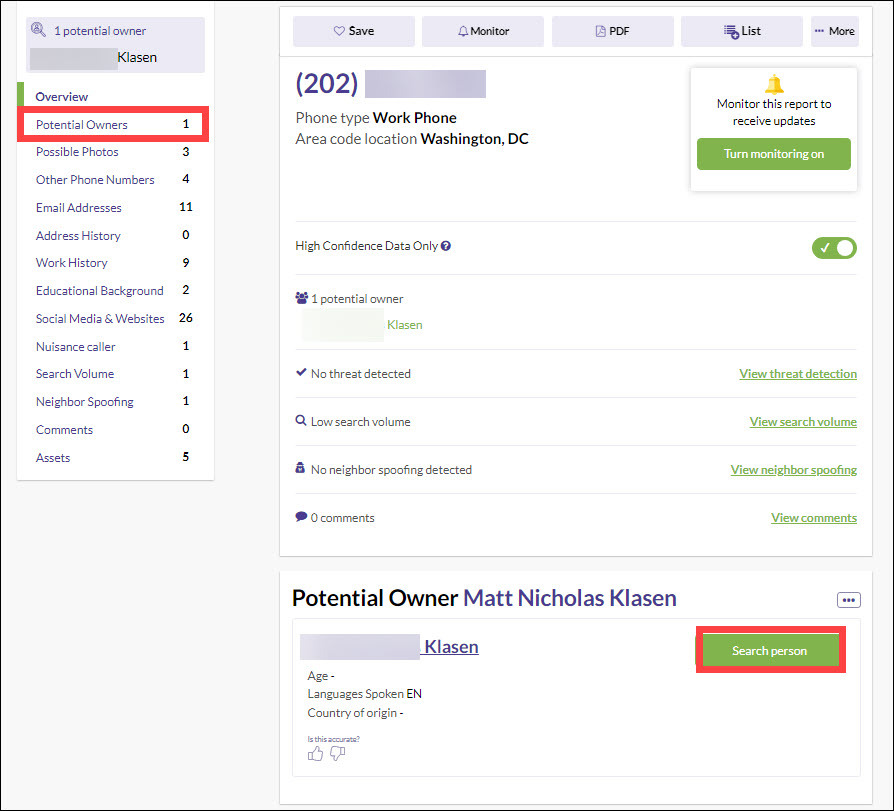 Got Questions?
Spokeo – Dig deep into someone's online profiles
If you've ever watched episodes of MTV's Catfish: The TV Show, Spokeo may not sound unfamiliar to you. It's a handy tool that allows you to search records associated with a landline or cell phone number so that you can gain insight and quickly identify who's calling or texting you.
What sets it apart from other phone number lookup services is that it enables users to dig really deep into someone's social media profiles. It searches 120+ social networks, including the most popular sites such as Facebook, Twitter, and Instagram. If you're intrigued to connect with someone on social media platforms, Spokeo may be your best pick.
To do a reverse phone number lookup:
1) Go to the Spokeo homepage.
2) Type in a landline or mobile phone number. Then click on SEARCH NOW.
3) Await Spokeo's search results. You can use filters to refine your search.
4) Select your match and click VIEW DETAILS to access a detailed report containing an abundance of information.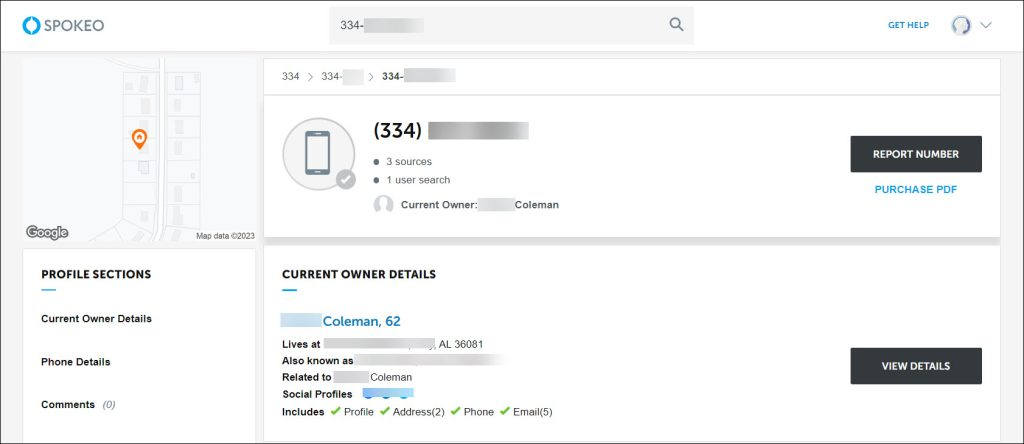 Need Help?
---
We hope that the methods outlined in this comprehensive guide prove instrumental in uncovering the identity behind an unknown phone number. Should you have any ideas or questions, please don't hesitate to share them in the comments section below. We are committed to providing prompt responses to all inquiries.
*featured image by cookie_studio – www.freepik.com
*All product names, logos, brands, trademarks and registered trademarks are property of their respective owners.
The methods in this article provide you with easy access to public record information, but without a guarantee for accuracy and may include links to websites not listed as a Consumer Reporting Agency (CRA). Information acquired from these bodies is illegal to be used for employment, housing, credit, and other purposes alike, according to laws such as the Fair Credit Reporting Act (FCRA). If you're not sure whether your use of our methods is appropriate, click here for details.