Time to jump in-game! But before starting your journey, don't miss a gift code. By using a valid gift code, you'll get free goodies such as gems and diamonds.
In this post, we've compiled the full list of working gift codes for you plus the way on how to redeem them.
Table of contents:
Working codes
Below are the codes that are currently available.
KANVYN redeem this code and get 25 gems
Expired codes
Below is the full list of codes that are not working any more. So stop trying.
KANFSD (expired on March 1st, 2021)
KANQZP (expired on February 22nd, 2021)
KAN162 (expired on February 15th, 2021)
KANMIP (expired on February 1st, 2021)
KANYN2 (expired on Jan 25th, 2021)
KAN8UI (expired on Jan 18th, 2021)
KANJ1Q (expired on Jan 11th, 2021)
KANU72 (expired on Jan 04th, 2021)
How to redeem a code
The way to redeem a gift code in FRAG Pro Shooter is pretty straightforward. Here are the steps you can take:
1) Go to the game and tap on the SHOP tab. Then scroll down to the bottom and tap on Enter Gift Code.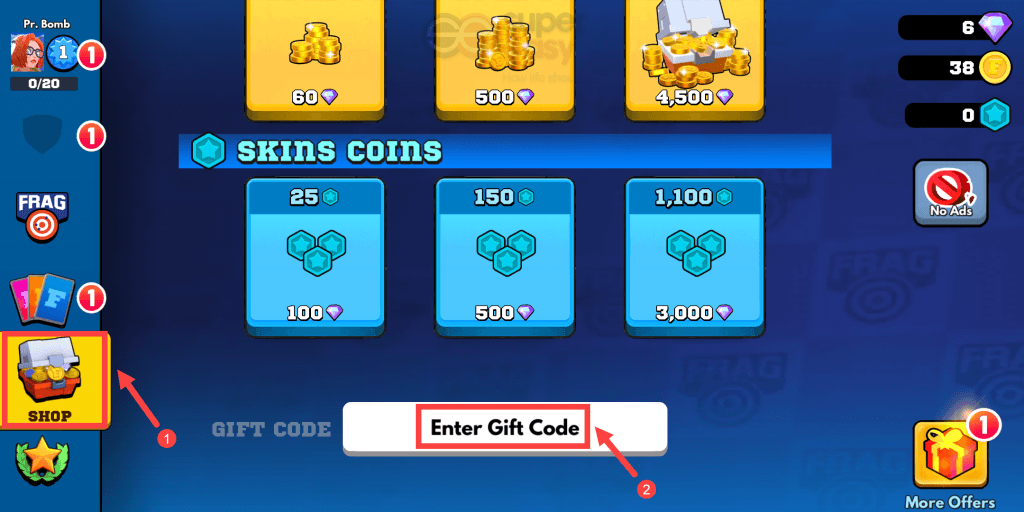 2) Input the code you got and you'll receive some sweet rewards.