FIXED: Twitch Black Screen Issue | 2022 Guide
Twitch is a live video streaming platform that is owned by Amazon. Twitch is one of the top streaming platforms for gamers where they stream their live game with comments. However, you may encounter black screen issues when you use it on Google Chrome. Don't worry. This post is going to show you some feasible fixes to solve the issue.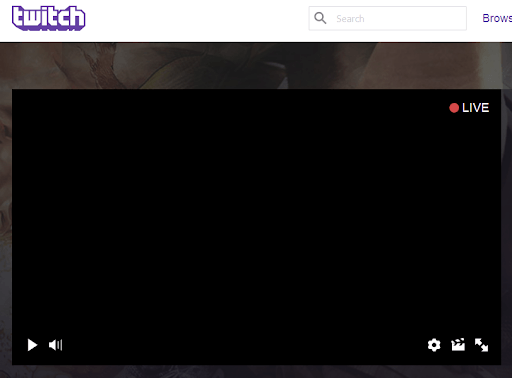 Well, before trying any fixes, check your network connection first. If there's nothing wrong with your network, you can narrow down the issue to your computer or browser.
Fix 1: Flush DNS
Flush the DNS is an easy, simple but effective way to solve Twitch black screen issue. Windows automatically stores the IP addresses of the websites you visit, next time it would be faster. But if this cache becomes outdated or corrupt, it can cause issues.
Press the Windows logo key + R key to open the Run box.
Type cmd then press Ctrl+Shift+Enter to open an administrator Command Prompt.
Note: Don't press Enter or click OK as that won't open the command prompt in administrator mode.

Type ipconfig /flushdns and press Enter on your keyboard.

Check your Twitch, the black screen issue should be fixed. If not, move to the next fix.
Fix 2: Change your Google DNS settings
All websites and applications make use of DNS (Domain Name System) to resolve website names and other addresses in their operations. The DNS address is usually used as the default one provided by your ISP. If Twitch is unable to fulfill the requests properly, you might experience the black screen. Below the method on how to set Google's DNS as your DNS server.
Go to Control Panel. You can press the Windows logo key + R key to open the Run box, type control panel in the box, and press Enter.

Set Control Panel view by Category. Then click Network and Internet.

Click Network and Sharing Center > Change adapter settings.

Right-click on the internet you're using and select Properties.

In the Networking tab, under This connection uses the following items, select Internet Protocol Version 4 (TCP/IPv4) and then click Properties.

Select Use the following DNS server addresses. Enter with the IP addresses of the Google DNS servers:
For IPv4: 8.8.8.8 and/or 8.8.4.4.

Fix 3: Allow Flash player and Java script
You may encounter Twitch black screen issue when the flash player or JavaScript is not allowed in the browser. So you can fix the issue simply by adding them in the allow list.
Open Chrome. Type chrome://settings/content in the address bar and press Enter.
Locate JavaScript and Flash under the Content area. Click on them to turn on the switch button one by one.

Fix 4: Disable hardware acceleration
Hardware acceleration is a very common module used to enhance the performance of web pages. It allows your browser not only rely on the CPU but also GPU to improve the load on the operating system. In most cases, it will speed things up. But sometimes hardware acceleration can bring about unexpected issues. So, try disabling hardware acceleration on your browsers to see if the Twitch black screen issue persists.
On your Google Chrome, click the menu button in the upper-right corner. Then select Settings.

In the search bar, type hardware. Then turn off the toggle next to the feature Use hardware acceleration when available.

Reopen your Chrome.
See if the Twitch black screen issue is resolved. If not, move to next fix.
Fix 5: Clear Chrome cache and cookies
The cache and cookies stored by Chrome can sometimes prevent it from running smoothly. Try clearing Chrome cache and cookies regularly to see if it fixes your problem. Here is how:
Open Chrome.
On your keyboard, press the Ctrl, Shift, and Del keys at the same time. Then, click Clear data.

Relaunch Chrome.
Fix 6: Contact Twitch support
If the above fixes don't work, you can contact Twitch support, either on Twitter or go to their official webpage. If you're experiencing a black screen on the site, let them know ISP and location.
That's it! Hope this post could help you fix the annoying black screen issue. If you have any questions or suggestions, you're welcome to leave comments below.