[Fixed] How do I Stop YouTube Video Buffering
Don't want to encounter YouTube buffering again? Click this link and get these useful tips. These tips can help you stop YouTube buffering.
Watching a YouTube video to relax is a common way for people around the world. But it could be annoying to have YouTube video buffering now and then. This post gives you several tips to improve your watching experience.
Try these fixes:
You don't have to try them all; just work your way down the list until you find the one that works for you.
Fix 1: Restart your Internet modem and router
Sometimes the instability of the internet could cause YouTube video buffering. If it's your internet problem, all of your devices would have the same issue. Yes, you can just wait a minute, but when the buffering occurs randomly, you'd better restart internet modem and router.
Fix 2: A soft reset on your network
A soft reset can refresh your router and modem so that they can perform well. Usually pressing the power button on your router would perform a soft reset.
You can follow the instructions from your router manufacturer's official website.
Fix 3: Reduce the quality of the video
Reducing the quality of video sounds not pleasant, but this method can decrease bandwidth to stop buffering. You can change the video quality in settings.
Click the gear button and choose the Quality.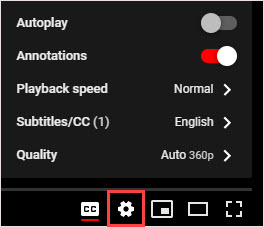 Fix 4: Increase your bandwidth
The internet speed is the biggest limitation for YouTube video buffering. If you're tired of the low speed, you can change your Internet Service Provider or change your service plan.
But if you don't want to change ISP, there's another method you can try–get a VPN.
A good VPN (Virtual Private Network) can lead you passing by the ISP to reduce the speed loss and avoid the restrictions. And help you avoid the YouTube buffering issue. It can protect your privacy as well.
You can use the VPN you already have, if you don't have one, it's recommended to use NordVPN.
NordVPN can bypass geo-restrictions to get all add-ons desired, keeps you protected from snooping eyes, and secures your data to keep your online activity private. It's safe and easy to use!

Download NordVPN in your device.
Run NordVPN and open it.
Connect to a server in a chosen location.

Fix 5: Reset your network adaptor and TCP/IP
A possible cause for the video buffering issue is something wrong with the network adaptor or TCP/IP settings. So resetting your network adaptor and TCP/IP may fix this problem directly.
Press the Windows logo key + R to open the Run box.
Type "cmd" and press Ctrl + Shift + Enter together to run as administrator.

Type netsh winsock reset and press Enter.
Type netsh int ip reset and press Enter.

Reboot your computer and connect with your network.
If this method doesn't work, go to method 6.
Fix 6: Release and renew your IP address
Sometimes this Internet connectivity issue happens because of the change of the IP address. So in order to let Windows get a new IP from DHCP server, release and renew our IP address may help you connect to the Internet again.
Press the Windows logo key + R to open the Run box.
Type "cmd" and press Ctrl + Shift + Enter together to run as administrator.

Type ipconfig /release and press Enter.

Type ipconfig /renew and hit Enter.

Reboot your computer and connect with your network.
Fix 7: Chang/Upgrade the browser and Adobe Flash
If you're using a browser to watch YouTube, you could change a browser to see whether it fixes the buffering issue. Also, update the browser is a good option.
YouTube is a video streaming site. In this kind of sites Adobe Flash is part of working components. When you're running the outdated Adobe Flash version, it may cause video buffering. Therefore, update your Adobe Flash Player to the latest version can help avoid the video buffering problem.
You can go to the Adobe Flash Player official website, download and install the latest version.
---
We hope this post can meet your needs. If you have questions or suggestions, please leave a comment below.