EpicVIN vs Carfax – How To Get Unlimited Vehicle Reports (2023)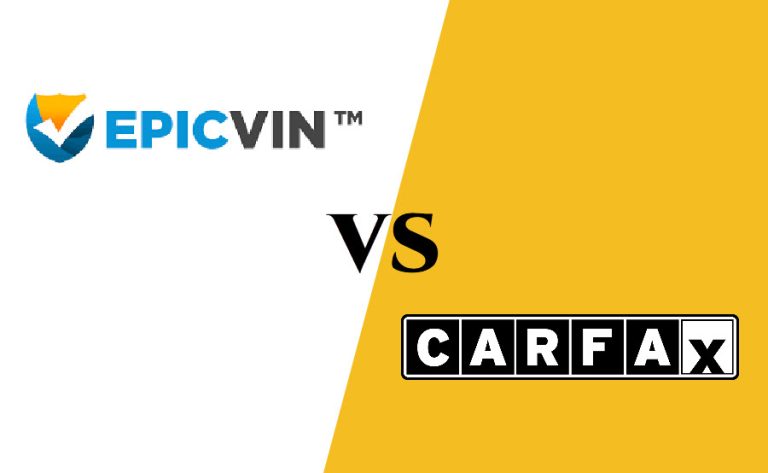 Vehicle History Search
Enter VIN Number To Get A Full Vehicle Report.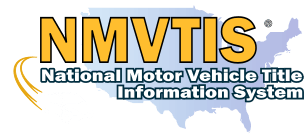 Approved NMVTIS Data Provider
When purchasing a used car, it's important to put the vehicle history search on your check list. Nothing is better than mastering the real and accurate vehicle records and market value by yourself.
What to look for and how to check when buying a used car?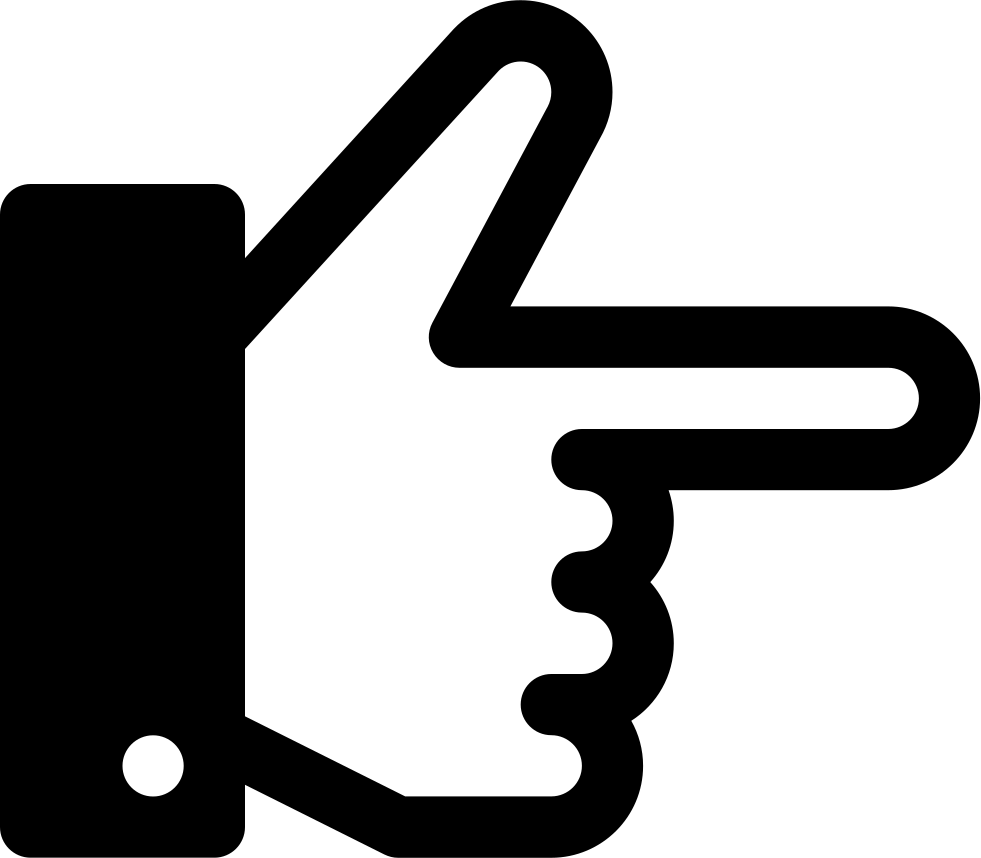 See the check list and guide here.
Carfax is the most famous vehicle search site now in the industry, while EpicVIN comes in the game new but has gained great increase in the market share. What services do they provide and which one best meet your needs? We offer you a comprehensive review over the two star products to help you make a better decision.
Why do we seek for Carfax alternatives?
The history of Carfax dates back to 1984. It has accumulated a wide range of resources that make it the leading brand in the industry. But alongside comes the highest pricing. One single report on Carfax costs you $44.99. So if you're on a tight budget and want to look up not just one car, Carfax might not be your best choice.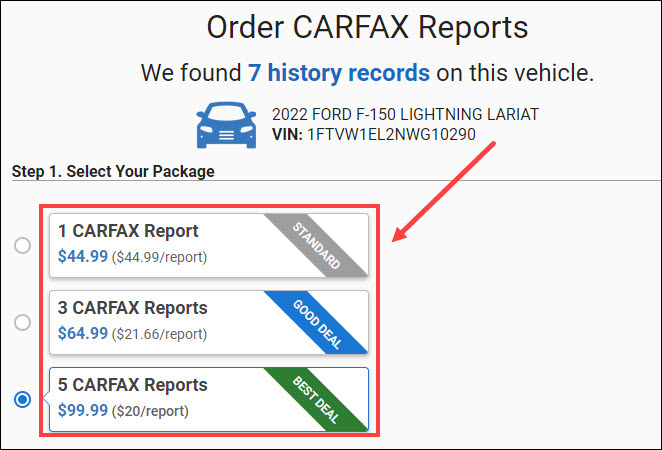 But it does offer a platform to sell used cars that they have cooperation with. And these cars come with a free Carfax report. You may save your time and effort by picking your car directly on this platform. However, it may also limit your choice range, and the vehicles here can be more expensive.
Is EpicVIN as good as Carfax?
Founded in 2015, EpicVIN has grown rapidly and earned millions of trust in the vehicle search market. And surprisingly, you may find the service from EpicVIN even outstrips Carfax at some points. We'll comb through the 7 major advantages of EpicVIN in comparison.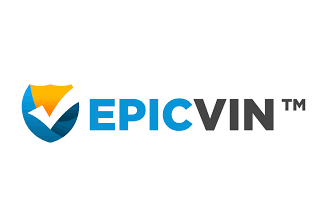 Approved NMVTIS Data Provider
√ Damages, recalls, salvages, ownership history, market analysis & more
√ Unlimited reports for only $4.99 in a 3-day trial
1. More cost-effective starting from $4.99
The most appealing advantage of EpicVIN is clearly its pricing. Carfax offers 3 kinds of packages and all of them are metering charging. One single report charges you $44.99. Whereas by EpicVIN you can choose whichever way you like: to pay for a subscription for unlimited reports during that time, or to pay per view. And the cheapest offer cost you only $4.99 for 3 days of unlimited vehicle search.
| EpicVIN | Price |
| --- | --- |
| Unlimited reports for 3 months | $98.97 ($32.99/mo) |
| Unlimited reports for 1 month | $49.99 |
| Unlimited reports for 3 days | $4.99 |
EpicVIN subscription packages
| EpicVIN | Price | Carfax | Price |
| --- | --- | --- | --- |
| 1 report | $14.99 | 1 report | $44.99 |
| 4 reports | $28.17 ($7.04 per report) | 3 reports | $64.99 ($21.66 per report) |
| 16 reports | $86.34 ($5.4 per report) | 5 reports | $99.99 ($20 per report) |
Pay-per-view packages in comparison
2. Approved NMVTIS data provider
NMVTIS (National Motor Vehicle Title Information System) is the only governmental source for versatile vehicle history information. So the vehicle history reports from NMVTIS-approved providers are usually more reliable and with more details. Carfax is one of the approved commercial data provider for NMVTIS, while EpicVIN is not only on the list, but can access NMVTIS data for both commercial and public customers.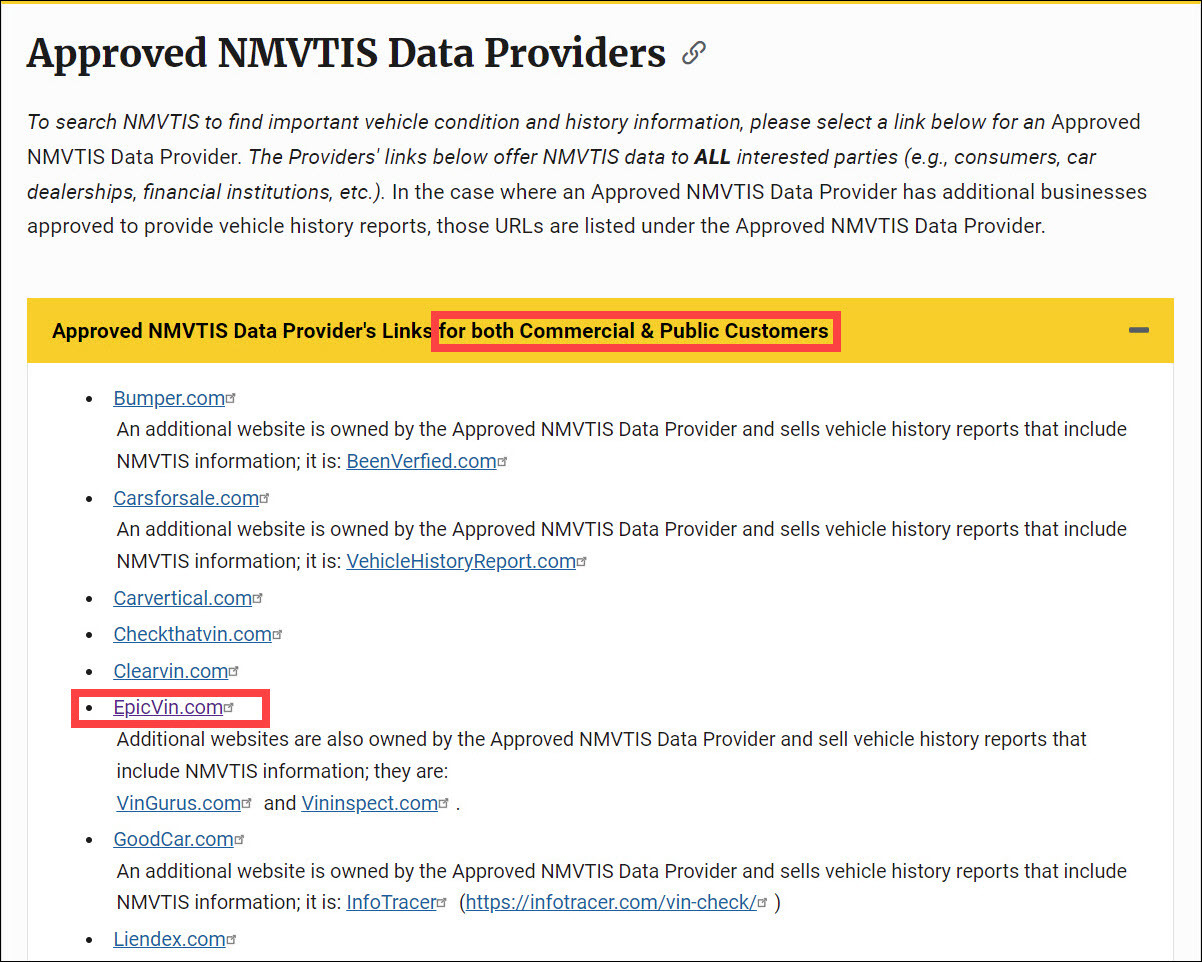 3. Featuring 15 categories of Information
EpicVIN sorts out all information by 15 categories, and Carfax by 7. So when you're looking for a specific item or aspect, it's easier to locate the relevant details in EpicVIN.
| EpicVIN | Carfax |
| --- | --- |
| Outline | Market value |
| Ownership history | Outline |
| Vehicle specifications | Ownership history |
| Similar cars in your area | Title history |
| All history events | Additional history |
| Safety recall check | Detailed history |
| Stolen vehicle check | Warranty check |
| Junk / Salvage / Insurance records | |
| Odometer check | |
| Title history information | |
| Major title brand check | |
| Other title brand check | |
| Vehicle damages | |
| Sales history | |
| Market price analysis | |
Report features in comparison
4. More informative vehicle report
Compared with Carfax, EpicVIN actually reports about more aspects of a vehicle.
When it comes to the information they both provide, EpicVIN digs deeper into details. For example, it checks through 46 title brands and 10 points in odometer. For theft reports it searches in 70+ trusted databases.
Apart from basic information they both supply, like the ownership history, accidents, recalls, thefts and salvages, etc. EpicVIN also offers vehicle photos, insurance records, detailed ownership cost, and way more details in sales history, market analysis and odometer analysis.
5. Similar cars in your area
This is the special feature that only EpicVIN provides. When you search for a certain vehicle, its algorithm will recommend you similar cars near you that you might also have an interest in. The recommendation is calculated according to price, model and all other factors in a vehicle history report. When you're considering buying a used car, this function can help you find more potential targets that suit your needs accurately.

6. Better UX design
The information display in EpicVIN is more user-friendly. You'll see details about the topic that probably would raise your concern in each specific category. And all the events are sorted out clearly on a timeline in All history events. The content includes many vehicle photos, diagrams and charts, etc. And it highlights important data or information with bold letters and different colors.
While the modules in Carfax line up lineal in tables. You can see all the records mostly in pure words. It gathers all the details in Detailed history, and leaves only general descriptions in other modules.
7. Blockchain technology for better protection
When you search for vehicles online, you may leave tons of digital footprints. And it's normal for us to concern about the safety of that large amounts of personal data. Here lies the technology strength of EpicVIN: it uses blockchain to encrypt the massive data transmission on its webpages and thus enhances the data protection to a level where it's hardly possible to decode your traces.
Are there other good alternatives?
Apart from EpicVIN, you can actually find more alternative vehicle search tools for Carfax that offer similar services at a better price. Here we introduce you to 2 products that we also tested and found them a good deal for replacing Carfax.
1. BeenVerified
BeenVerified is a famous people search service with a strong vehicle search feature. It's also an approved data provider of NMVTIS. It accesses not just vehicle information from governmental and top industry sources, but also millions of public personal records. Its vehicle history report is especially abundant in vehicle specs and safety records.
1) Go to the vehicle search page of BeenVerified.
2) Enter VIN number and click Search Now.
3) Wait now for BeenVerified to search its database and generates the report. You'll see all the details about the car you're searching in 14 organized categories. Check the information you're concerned with.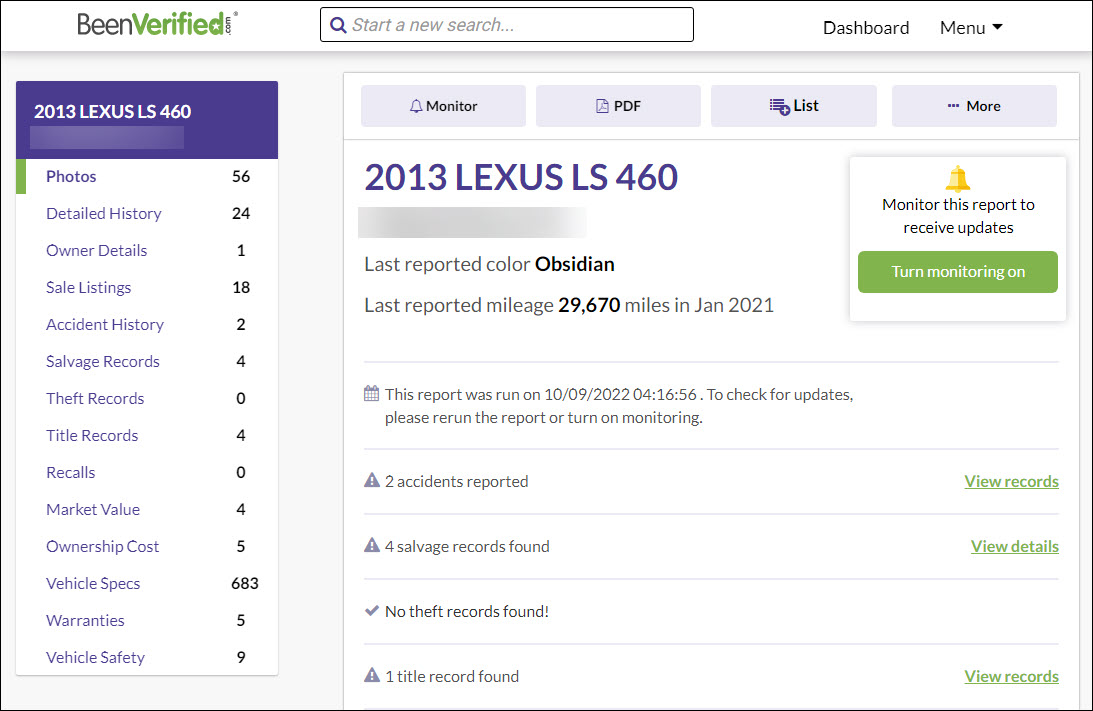 2. Bumper
Bumper is a NMVTIS-approved vehicle search tool with a long history. It provides vehicle history details in 15 aspects, including accidents, recalls, thefts, salvages, ownership history and so on. And it cooperates with 50+ insurance companies to offer you not just detailed insurance records, but also easy insurance comparison and discount channels.
1) Open the Bumper vehicle search page.
2) Select a search type and enter VIN number / license plate / year, make, model, and click SEARCH.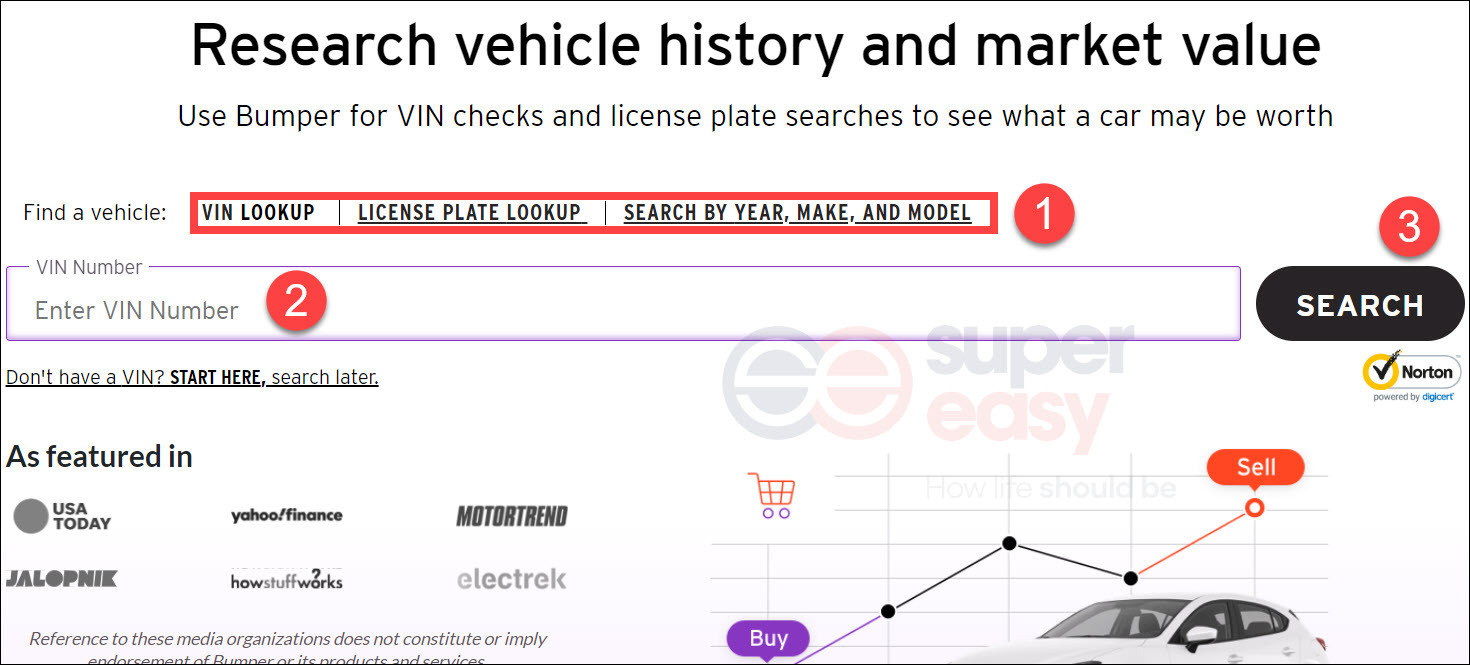 3) Wait till Bumper generates the report for you. Explore whichever module of information you need to know.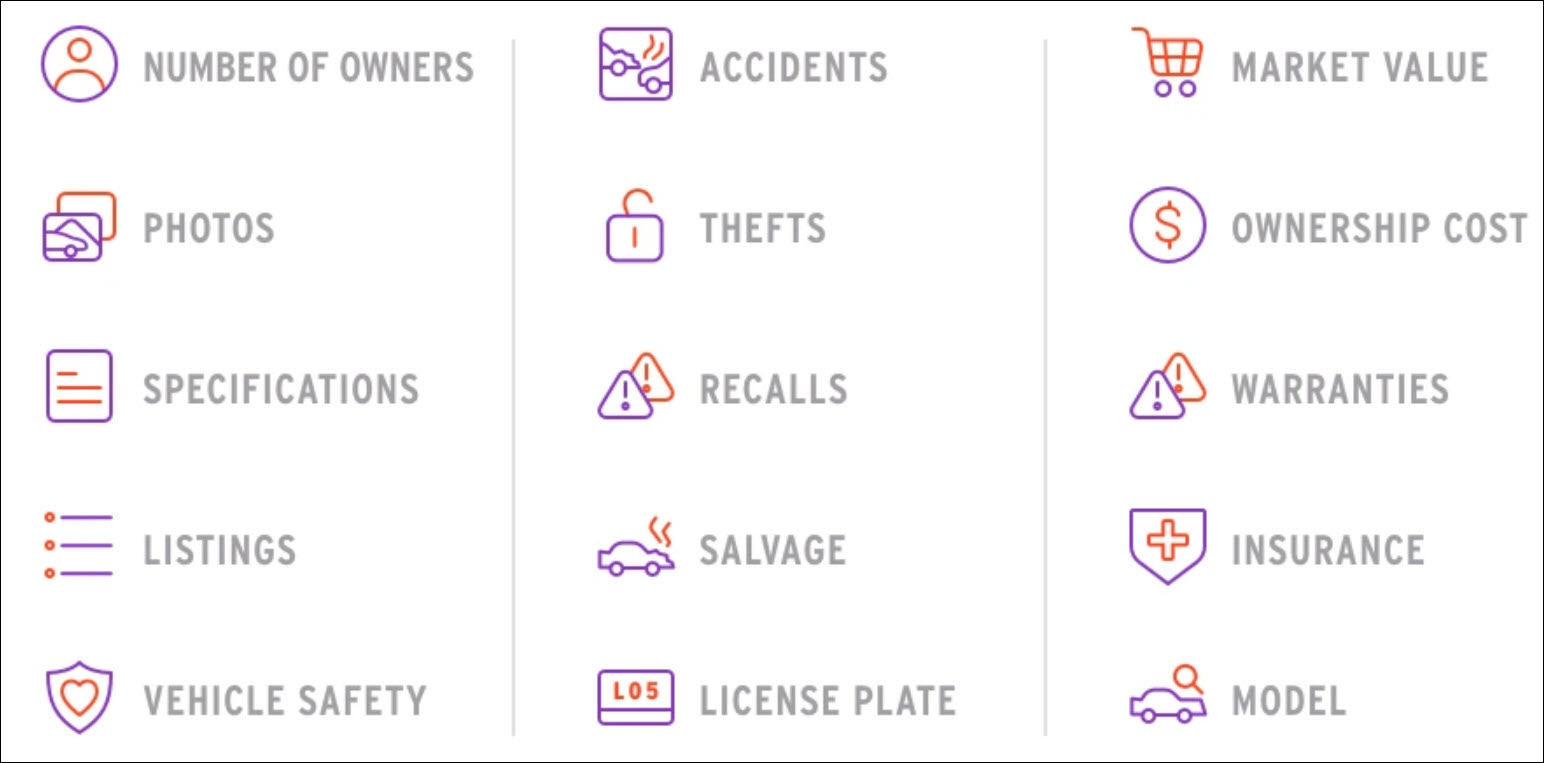 ---
Vehicle History Search
Enter VIN Number To Get A Full Vehicle Report.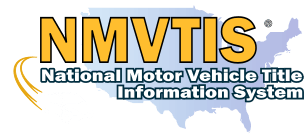 Approved NMVTIS Data Provider