EpicVIN Report – Official NMVTIS Data & Vehicle History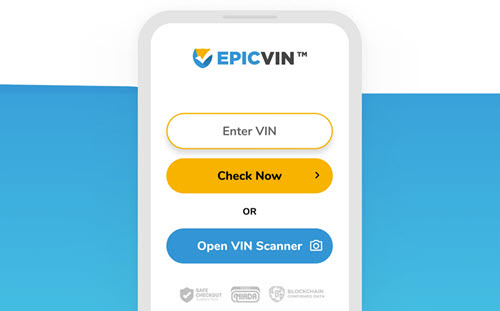 VIN Lookup
Enter a VIN to unlock vehicle history report
EpicVIN is a leading vehicle report providers approved by NMVTIS, a national database to prevent vehicle frauds. Delivering a wealth of information, an EpicVIN report helps you learn more about a desirable vehicle and make informed decision when buying or selling a used car.
How to get EpicVIN reports?
It's straightforward to obtain a vehicle history report from EpicVIN. All it takes are only two steps.
1. Go to the EpicVIN website.
2. Choose your preferred search option by VIN or license plate. Fill in the field and click Check.


3. Wait a few minutes as the report generates. Once done, you'll see all the relevant records including:
Vehicle Specifications
Safety Recall Check
Title History
Sales History
Ownership History
Junk/Salvage/Insurance Records
Title Brand Check
Market Price Analysis
Each EpicVIN report is $14.99. For larger amounts, there's a discount: 4 reports for $28.17; 16 reports for $86.34.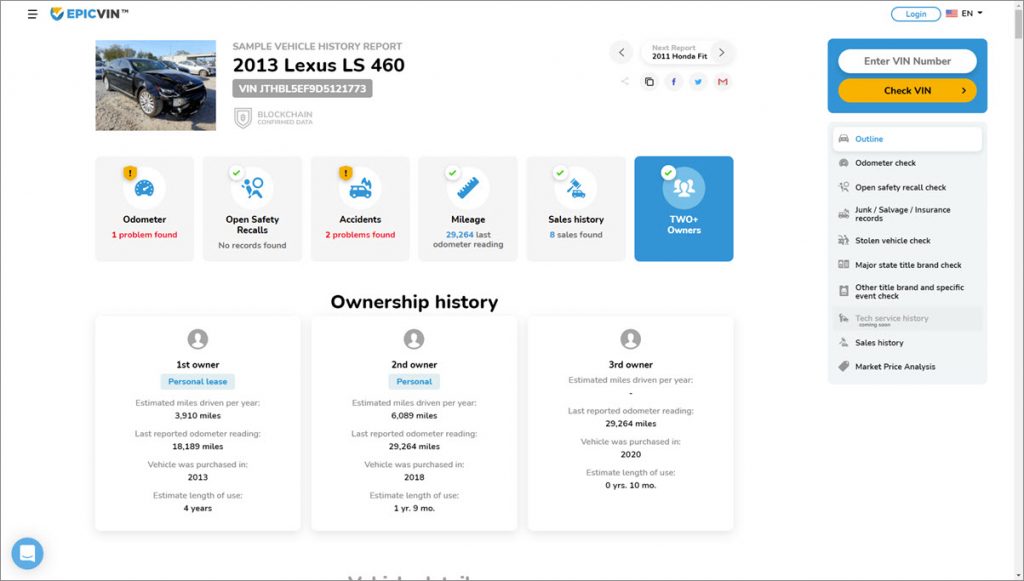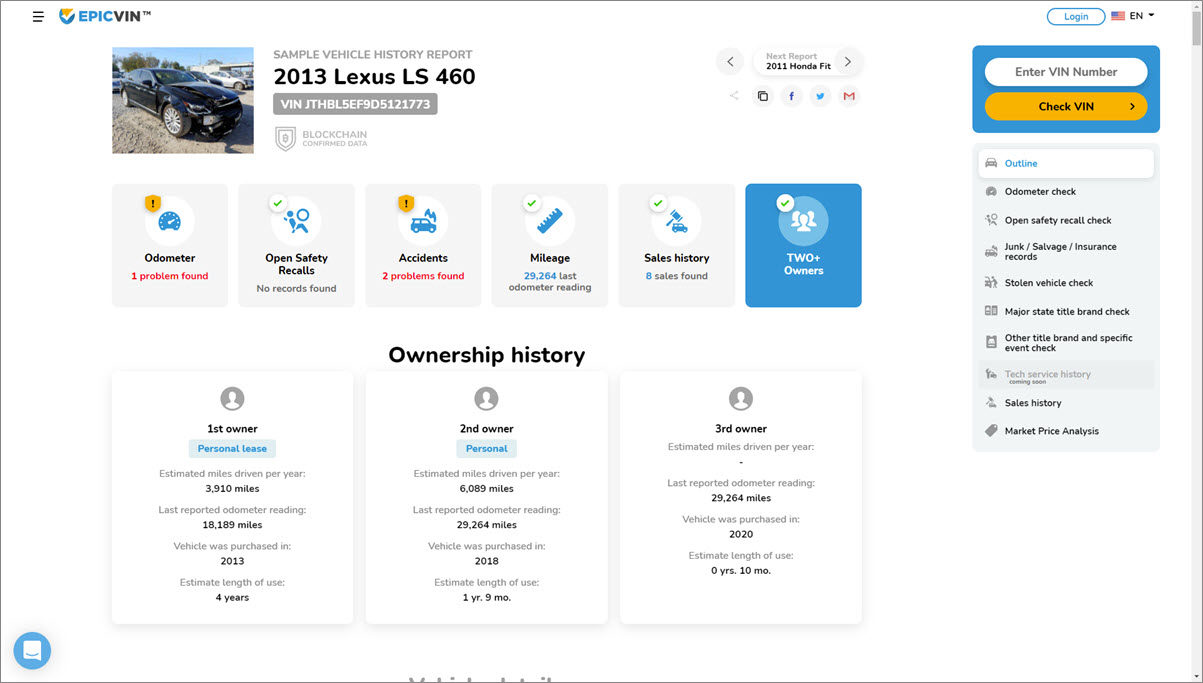 5 Best EpicVIN Alternatives
While EpicVIN boasts a vast selection of vehicle records, it's not a perfect choice if you require multiple reports for comparison. Instead, you may choose an affordable EpicVIN alternative below.
Option 1 – BeenVerified
BeenVerified is a powerful search engine for you to research people, vehicle, and property information in your daily life. By collecting millions of data points from authentic sources, it enables you to dig deep into a vehicle without hassle.
1. Go to the BeenVerified vehicle search page.
2. Enter a VIN or license plate number and click Search.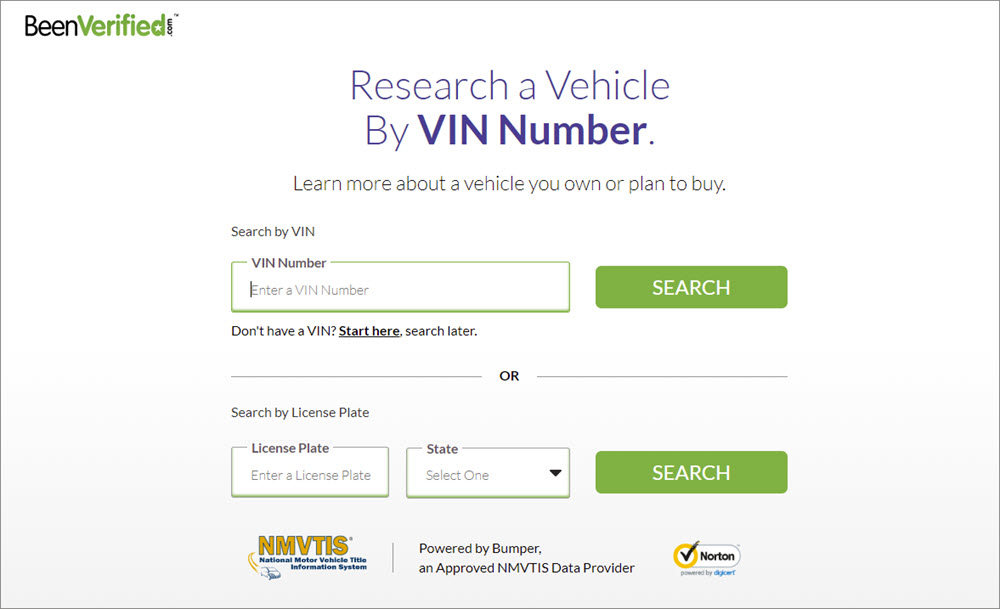 3. BeenVerified covers as much information as that in EpicVIN reports. You may find vehicle specification, accidents, salvage and theft records, recalls and warranties, safety ratings, ownership cost, sales listings, and market value.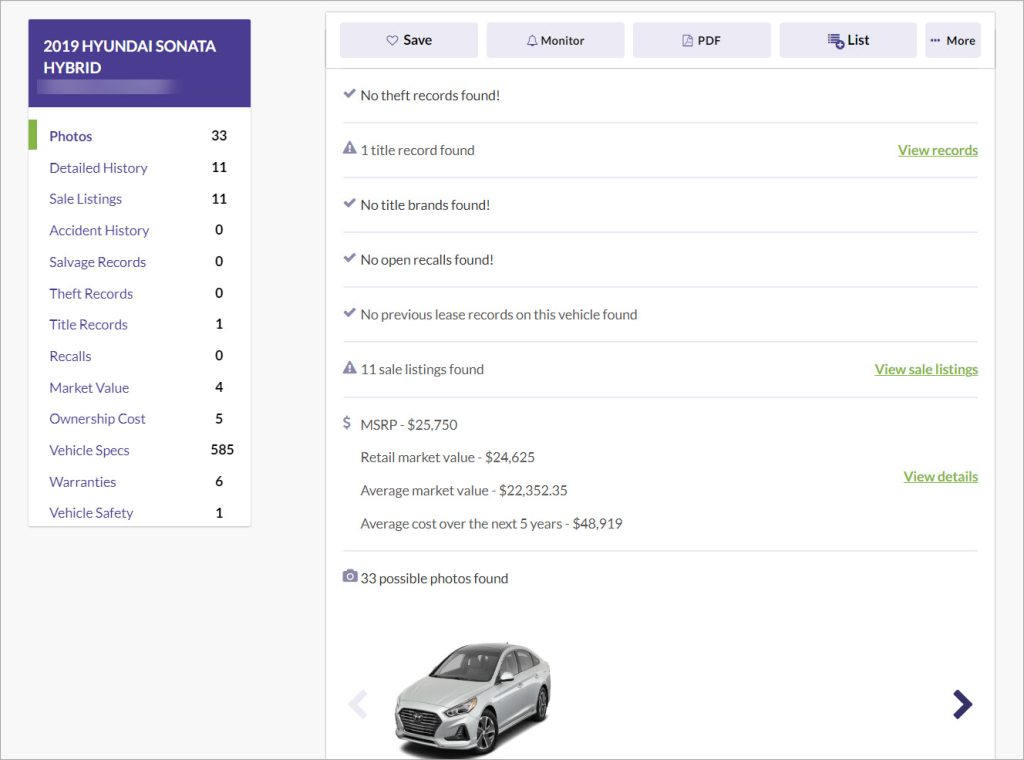 By subscribing to BeenVerified, you can get 100 VIN reports per month and download them as PDFs. Besides, various search utilities come with the membership, allowing you to background search a person, look up unknown calls, or check a property.
Pros:


Cheaper pricing plan ($26.89 for 100 reports along with all-website access)
Cons:


No single report purchase
---
Option 2 – Bumper
Like EpicVIN, Bumper is also a reputable NMVTIS-approved vehicle data provider. It aims to make car buying easier and empower buyers and sellers with valuable insights into a car's past, condition, and value.
1. Go to Bumper.
2. Start a search by typing in the VIN or license plate of a car.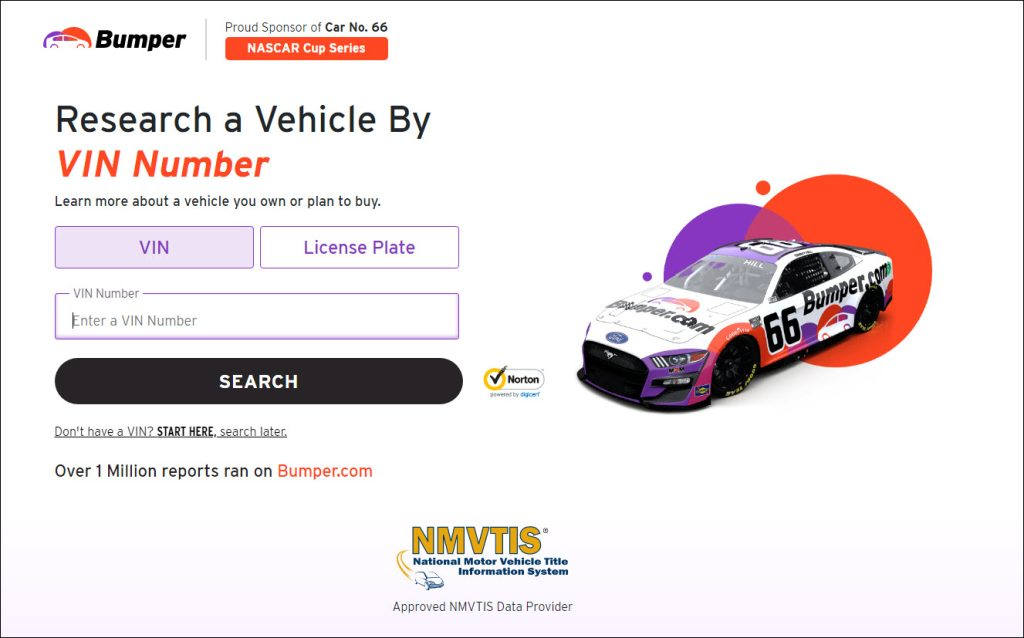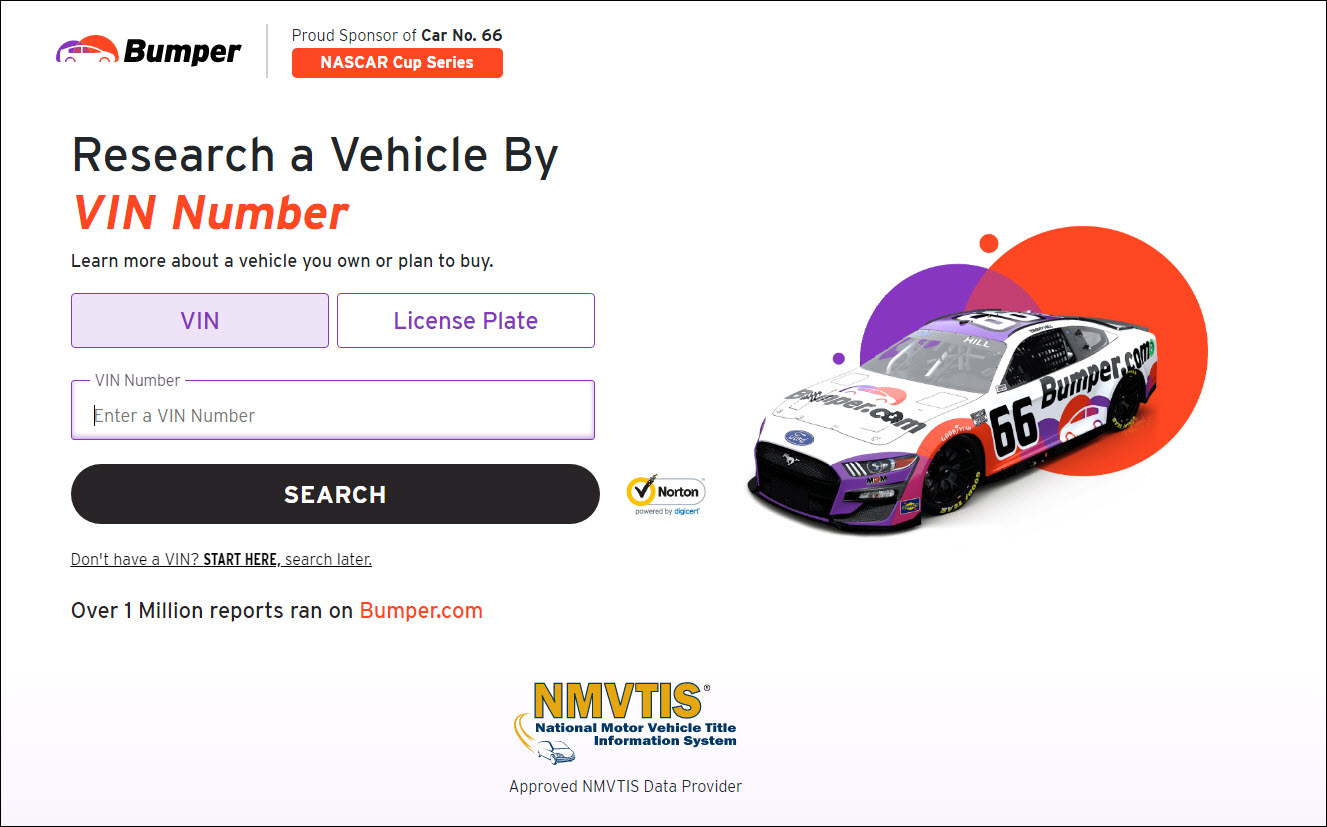 3. The scanning process may take some time. The report is detailed and user-friendly, presenting 15 different sections of records throughout the vehicle's lifespan.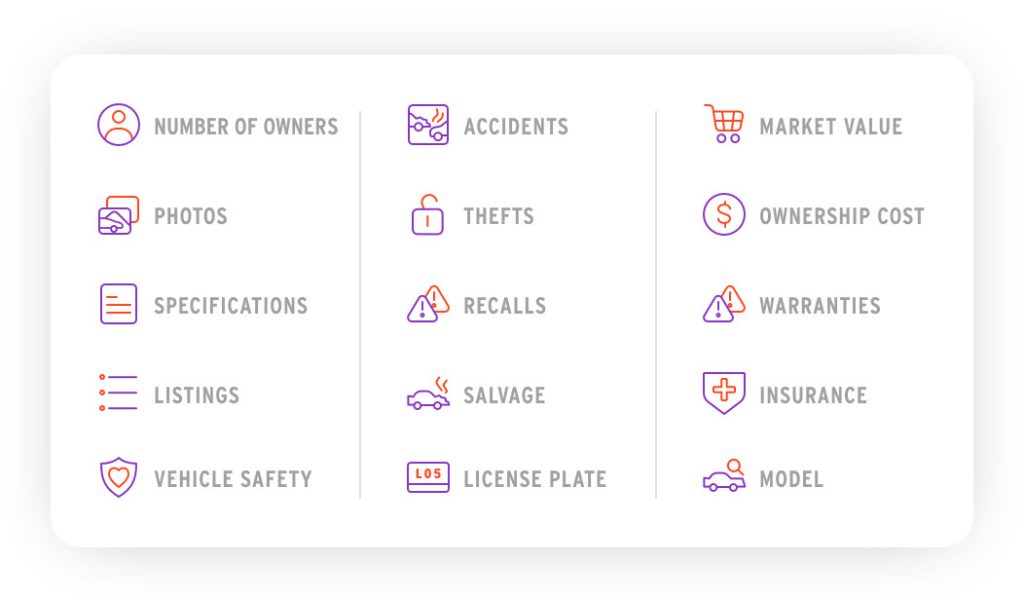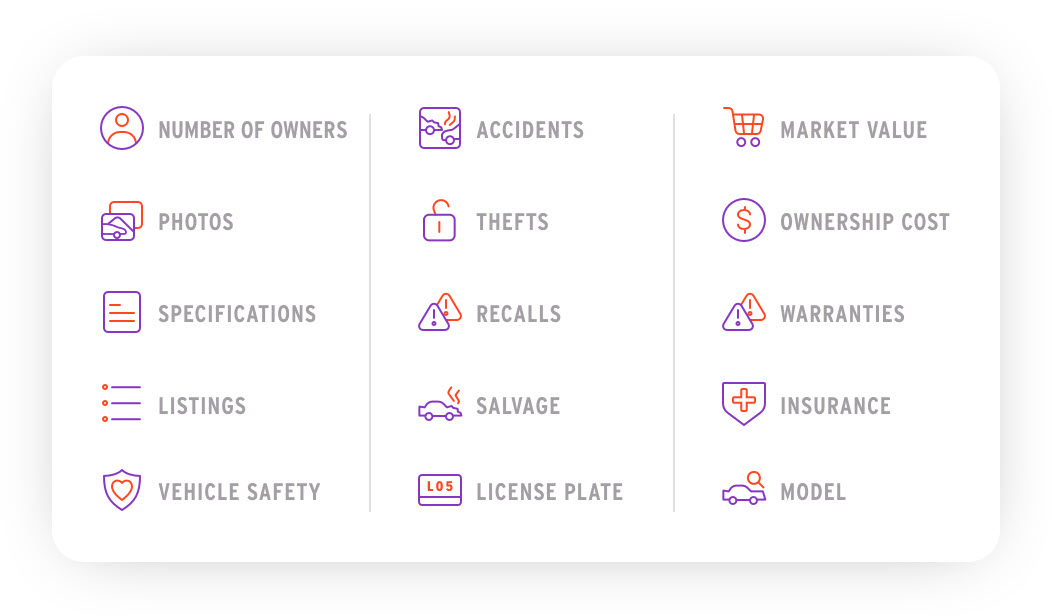 Pros:


Cheaper pricing plan ($26.89 for 100 reports along with all-website access)
Cons:


No single report purchase
---
Option 3 – Autocheck
Powered by Experian, AutoCheck is a trustworthy VIN lookup service that offers full-scale vehicle history reports. Upon entering a VIN or US license plate, it will show the vehicle's title brand, accident records, damage events, and odometer readings.
1. Visit the AutoCheck website. Then input a VIN or license plate number.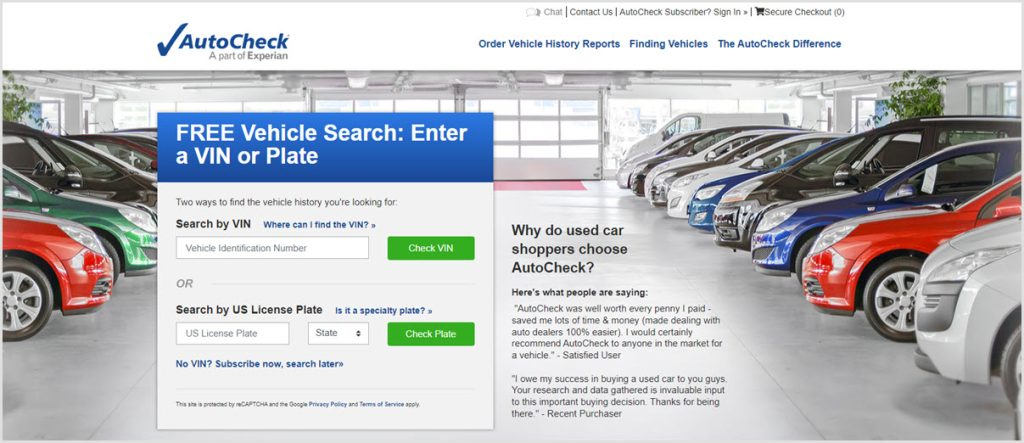 2. You'll have to pay to read the full report. Compared to the EpicVIN report, AutoCheck may not provide maintenance and service records as well as sales-related info.
It's worth mentioning that AutoCheck features a unique free score system. It assesses the predicted reliability of a vehicle on a rating scale of 1 – 100, making it easier for you to compare vehicles of similar age and class.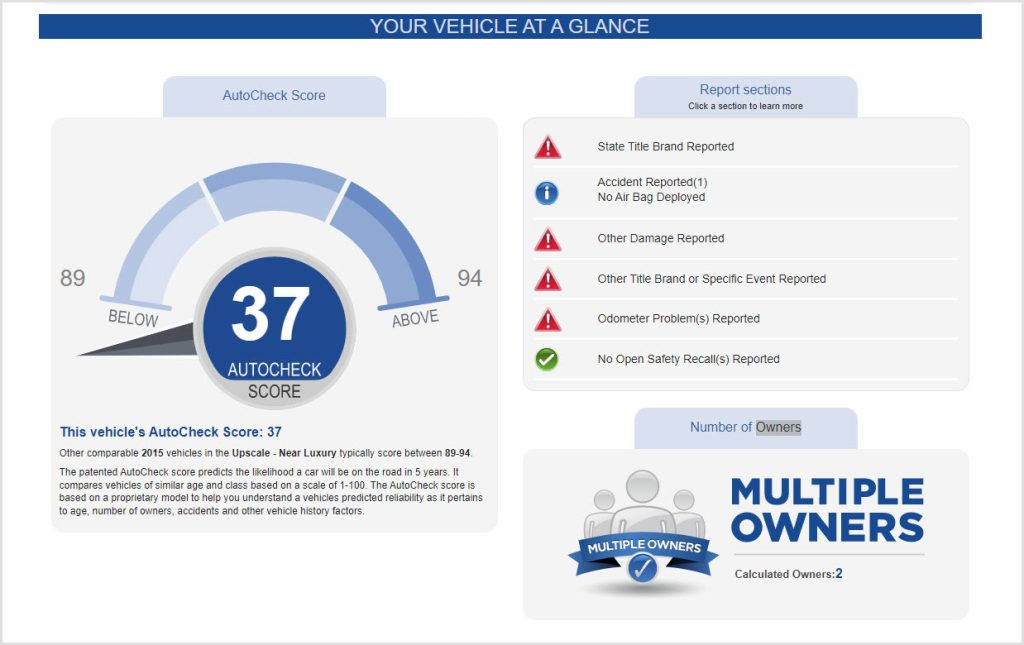 Pros:


Unique scoring system for straight comparison
Cons:


Price is more expensive than competitors


You can get 5 reports at lower prices, but only within 21 days
---
Option 4 – VinAudit
With a single report for $9.99, VinAudit is also an ideal choice for you to obtain comprehensive vehicle history reports of EpicVIN-like quality. Being an official data provider for NMVTIS, it partners with government agencies and industry leaders. Boasting a solid database and user-friendly support, it enjoys a 4.5 rating on Trustpilot.
1. Head over to the VinAudit homepage and search with a VIN.

2. Open the report and check out the necessary information.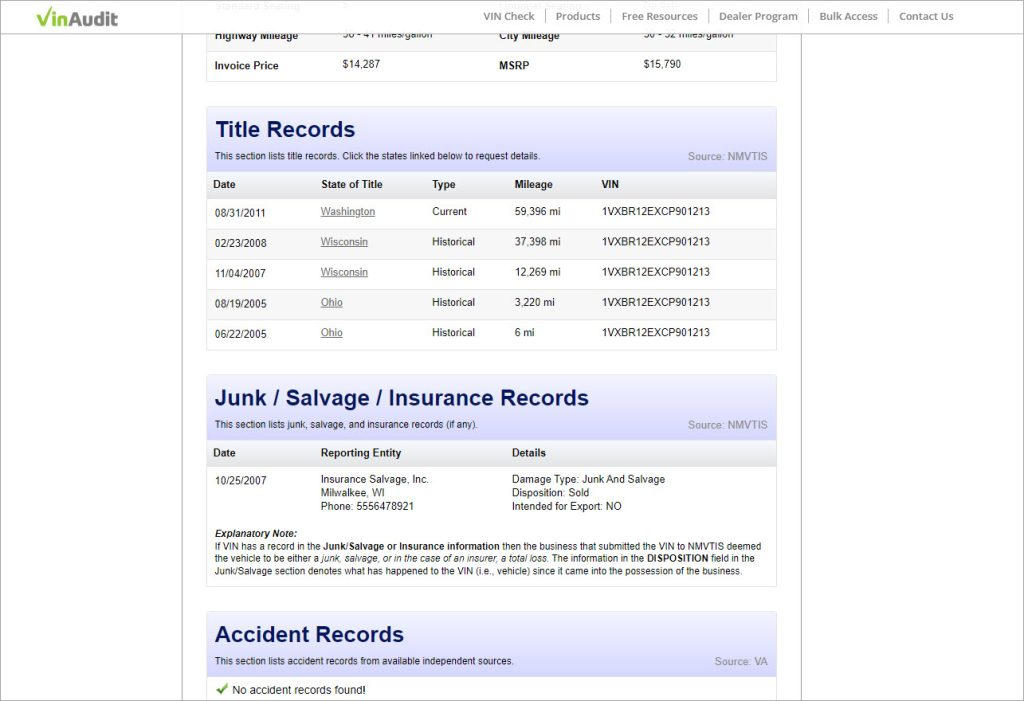 Pros:


Discounts for multiple reports


Approved NMVTIS data provider
Cons:


No license plate lookup


Some information is not accurate and up-to-date
---
Option 5 – VINsmart
VINsmart is dedicated to delivering reputable and updated vehicle history information, from title and recall history to estimated values. It's not only an approved NMVTIS data source but also the only one on the market to include actual vehicle valuations from J.D. Power and Blackbook. Most VIN check services don't cover data from Blackbook.
1. Navigate to VINsmart.
2. Feed in a car's VIN and click Get Report.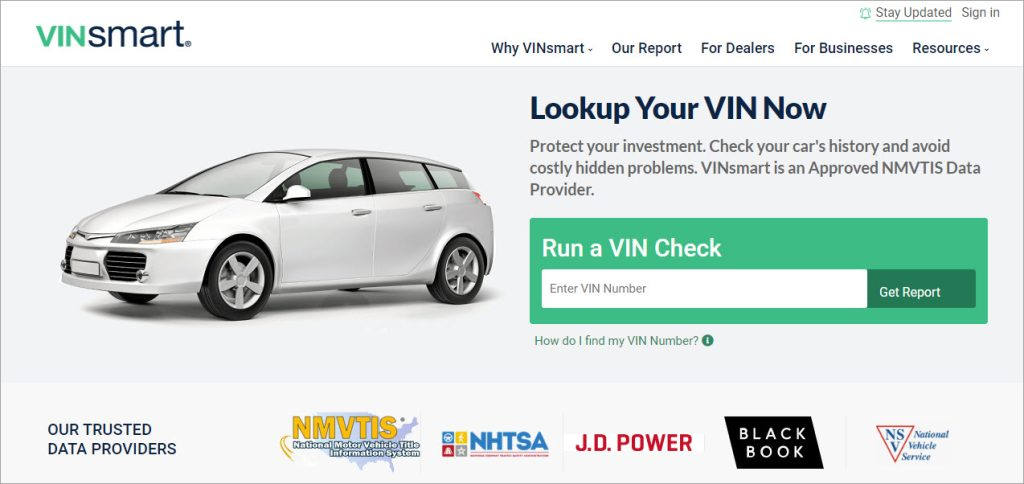 3. It will immediately start scanning possible records and data and organize a neat report within a couple of minutes.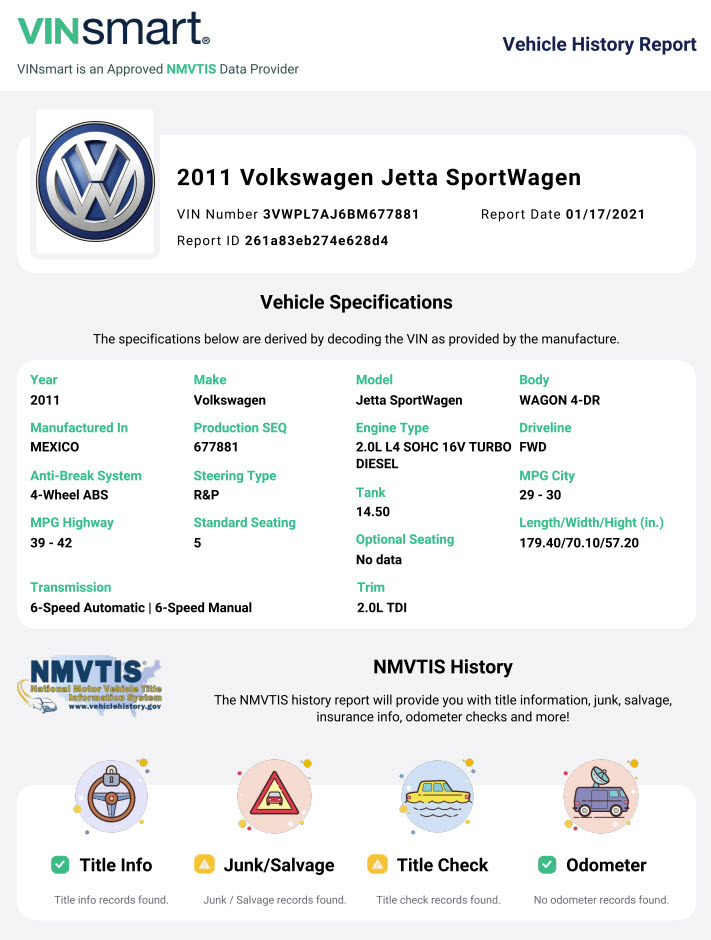 Pros:


Detailed vehicle valuation data from J.D. Power and Blackbook


Affordable pricing for single reporting


The purchased report credits never expire


Refund available
Cons:


No license plate lookup


Information may be incomplete
Conclusion
An EpicVIN report is of great help for individuals to learn about a car's details. If it's a bit pricey for you, we recommend BeenVerified and Bumper, which charge a monthly subscription (less than $20) and allow you to run dozens of searches.
There are also some free official tools you can refer to. For example, NICB's VINCheck lets people check if a car is stolen or has been declared as a total loss due to damage or collision. And NHTSA is a hub for checking a vehicle's safety recalls.
---
Hopefully this post helps. If you have any questions or suggestions, please feel free to leave a comment below.