[Solved] Discord Not Working
If you're experiencing Discord not responding, crashing or not opening issue, take a deep breath and try the solutions below. The information here is a general guide to help you rule out common causes of Discord not working issue.
Try these fixes:
You may not have to try them all. Just work your way down the list until you find the one that works.
Fix 1: Restart your computer
If you're running multiple programs on your computer, it's very likely that your PC memory is overloading, and fails to support Discord. In this case, the quickest fix it restarting your PC.
Restarting your computer will turn off all programs and processes completely. Please make sure there is no unsaved file on your PC.
If Discord fails after the reboot, move on to the fix below.
Fix 2: Run Discord as an administrator
Discord may require administrator privileges to perform certain functions. To see if this is your problem, try running it as an administrator. Here is how to do it:
1) Close Discord.
2) Right-click the Discord icon and select Run as administrator.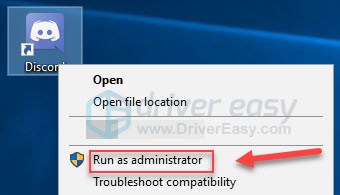 3) Click Yes.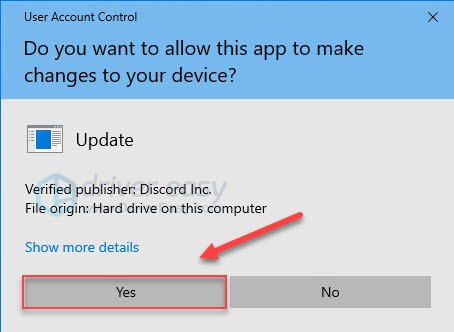 If your problem still exists, try the fix below.
Fix 3: Disable your antivirus temporarily
Your problem is sometimes caused by interference from antivirus software. To see if that's the problem for you, temporarily disable your antivirus program and check if the problem persists. (Consult your antivirus documentation for instructions on disabling it.)
If Discord works properly after you disable the antivirus software, contact the vendor of your antivirus software and ask them for advice, or install a different antivirus solution.
Be extra careful about what sites you visit, what emails you open and what files you download when your antivirus is disabled.
Fix 4: Delete Discord cache files
Corrupted cache files can also cause Discord issues. To see if that's the issue for you, try clearing Discord Roaming data. Here is how to do it:
1) Close Discord.
2) On your keyboard, press the Windows logo key and R at the same time.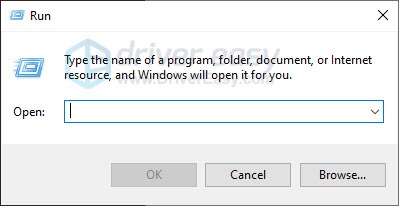 3) Type %appdata% and click OK.
4) Right-click Discord, then select Delete.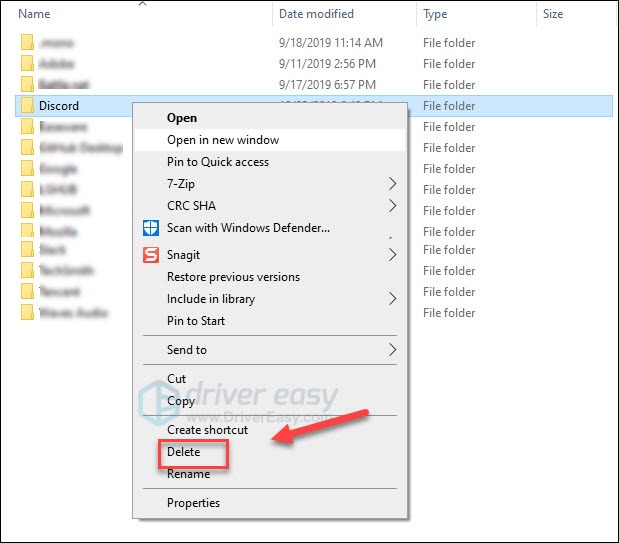 5) Relaunch Discord to test your issue.
If Discord still won't work, move on and try the fix below.
Fix 5: Update Discord
Discord's developer releases regular updates to fix bugs. It's likely that a recent update is causing your issue and a update is needed to fix it. Follow the instructions below to update Discord:
1) On your keyboard, press the Windows logo key and R at the same time to open the Run dialog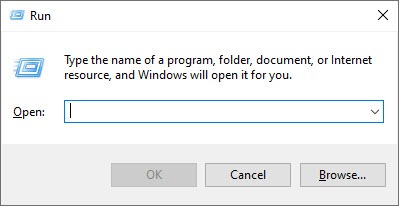 2) Type %localappdata% and click OK.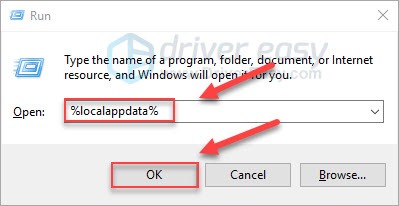 3) Double-click Discord.

4) Double click Update.exe and wait for the update process to be complete.

5) Relaunch Discord.
If this didn't solve your issue, try the fix below.
Fix 6: Reinstall Discord
This issue occurs if Discord is not properly installed on your PC, or if certain Discord files are corrupted. In this case, reinstalling Discord is very likely the solution. Here is how to do it:
1) On your keyboard, press the Windows logo key. Then, type control and click Control Panel.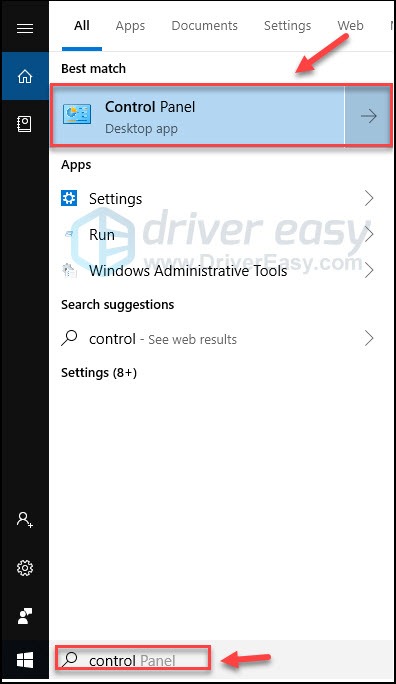 2) Under View by, click Category, and then select Uninstall a program.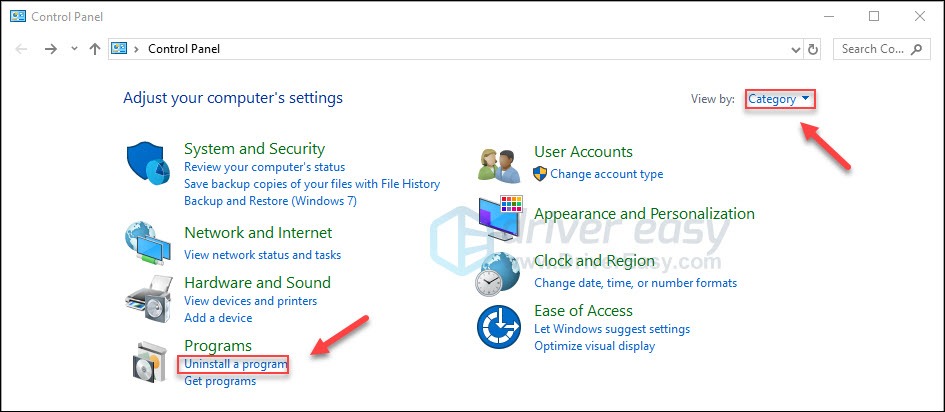 3) Right-click Discord and click Uninstall.

4) Download and install Discord.
Hope this article helped in resolving your problem. Please feel free to leave a comment below if you have any questions and suggestions.