Data Recovery: Top Software Tools for Easy File Retrieval Free in 2023
Data loss can be a devastating experience, leading to the loss of valuable files and memories. Fortunately, data recovery software tools offer a solution to retrieve lost data and restore peace of mind.
In this comprehensive review article, we'll introduce you to some of the best data recovery software tools available. Each tool has been tested by many users and has garnered high ratings for its performance.
Recoverit Data Recovery Free

Ultimate Data Recovery Solutions
Recover your data with Recoverit, a professional and easy software. 7*24 support. Clean and safe. Data recovery since 2003.
Recoverit is a data recovery software developed by Wondershare, and its pros and cons are outlined below:
Pros
Cons
1. User-Friendly Interface

The software features an intuitive and user-friendly interface,
making it easy for both tech-savvy users and beginners to navigate and use effectively.
1. Recovery Limitations

The free version has some limitations on the amount of data that can be recovered,
which might be restrictive for extensive data loss scenarios.
2. Deep Scan Capability

The deep scan option increases the likelihood of recovering more files, especially in cases of severe data loss.
2. Advanced Features

Some advanced features may be available only in the paid versions of the software,
limiting the capabilities of the free version.
3. Wide File Format Support

Recoverit supports a broad range of file formats (such as documents, photos, videos, and emails),
ensuring compatibility with various types of lost data.
4. Preview Before Recovery

The preview function allows users to view recoverable files,
ensuring they recover only the data they need, saving time and disk space.
5. Free Version

Recoverit Data Recovery Free is available at no cost,
making it a budget-friendly option for users looking for basic data recovery needs.
To recover deleted files quickly and securely, follow this 4-step guide:
Step 1:
Download and install Recoverit.
(Also available for macOS. )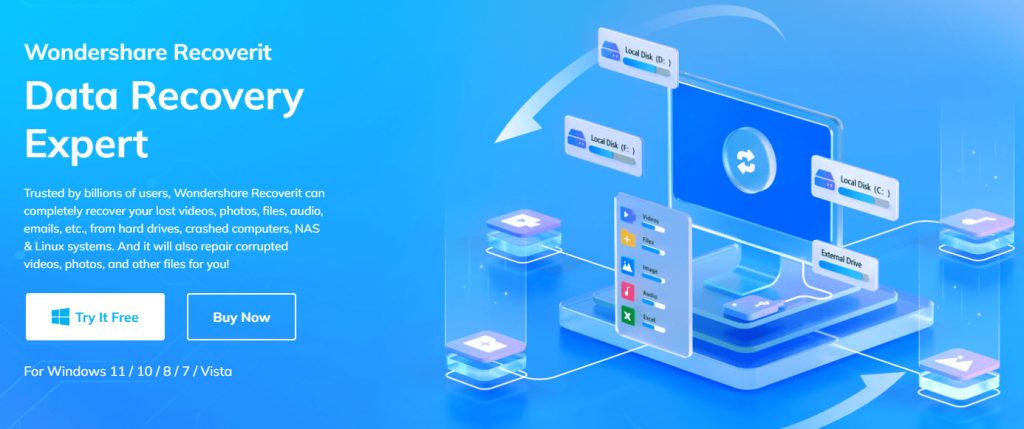 Step 2:
Launch Recoverit and choose a location to start data recovery.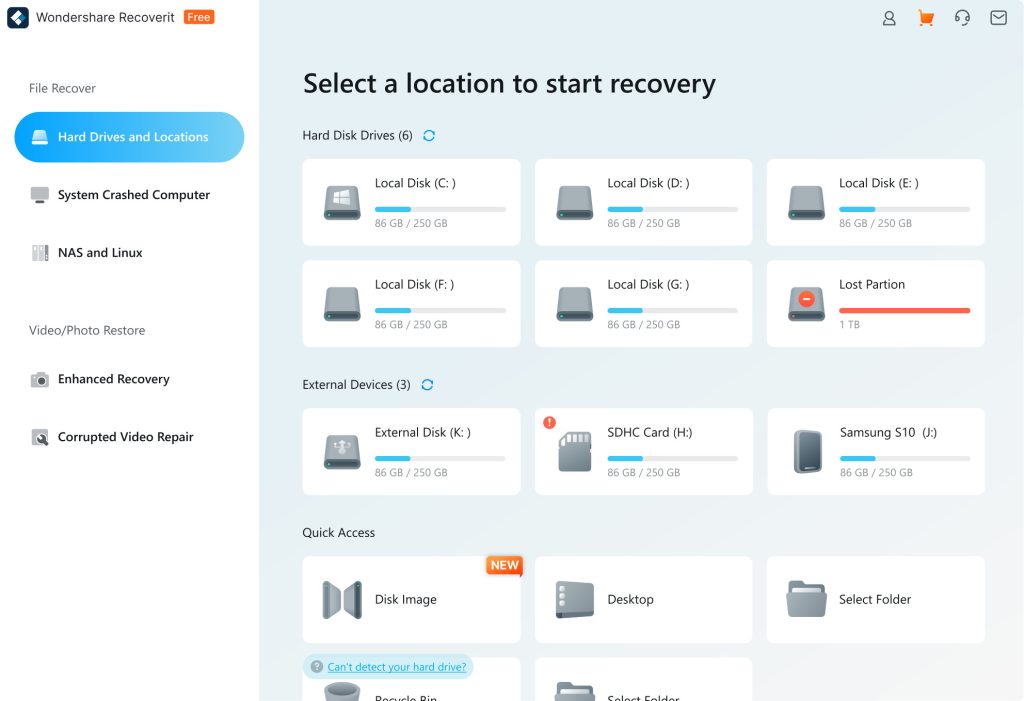 Step 3:
Patiently wait for it to scan the data storage all around for your lost or deleted files.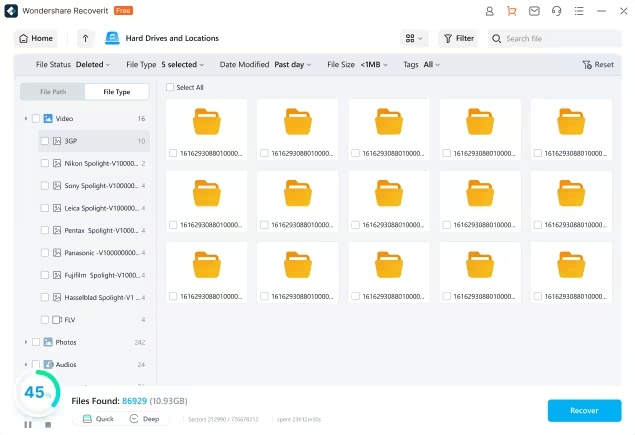 Step 4:
When finished, it should show you a free preview of the results. Click Recover to get all your data back.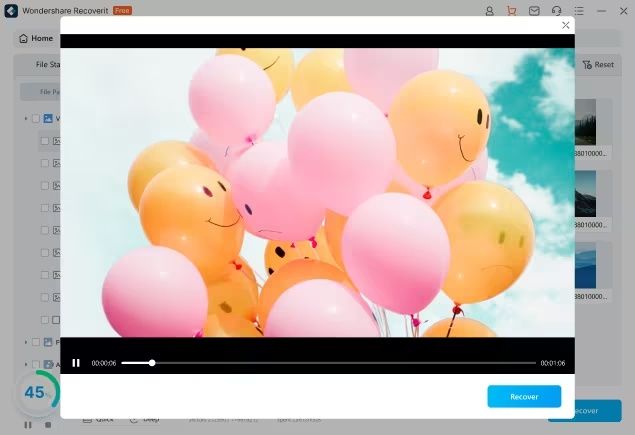 Stellar Data Recovery Free

Best Undelete Freeware
Trusted by Fortune 500 companies, Stellar is a one-stop solution for data recovery needs.
Stellar Data Recovery is a standout software known for its versatility and comprehensive features. Below we'll outline its pros and cons.
Pros
Cons
1. Versatility

Stellar Data Recovery Free's extensive file format support (including documents, photos, audio, videos, outlook email files, and more)
and deep scan capability make it a versatile solution for various data loss scenarios.
1. Limited Recovery

Similar to other free software, the free version of Stellar Data Recovery has some limitations on the amount of data (up to 1 GB of files for free) that can be recovered,
which might be restrictive for extensive data loss situations.
2. User-Friendly Interface

With its intuitive design, users can navigate the recovery process with ease,
regardless of their technical expertise.
2. Scanning Time

The deep scan option may require some time to complete, especially on larger drivers,
which could be a potential drawback for users seeking quick recovery.
3. External Device Support

Stellar allows users to recover data from external storage media,
making it convenient and flexible.
4. Real-time Preview

The real-time preview feature empowers users to verify the recoverable files,
ensuring accurate data retrieval.
5. Encrypted Drive Data Recovery

Stellar empowers users to regain access to encrypted files and folders
that have been accidentally deleted, lost, or become inaccessible due to various reasons.
To utilize Stellar's Data Recovery features, all you have to do is:
Step 1:
Download and install Stellar for free.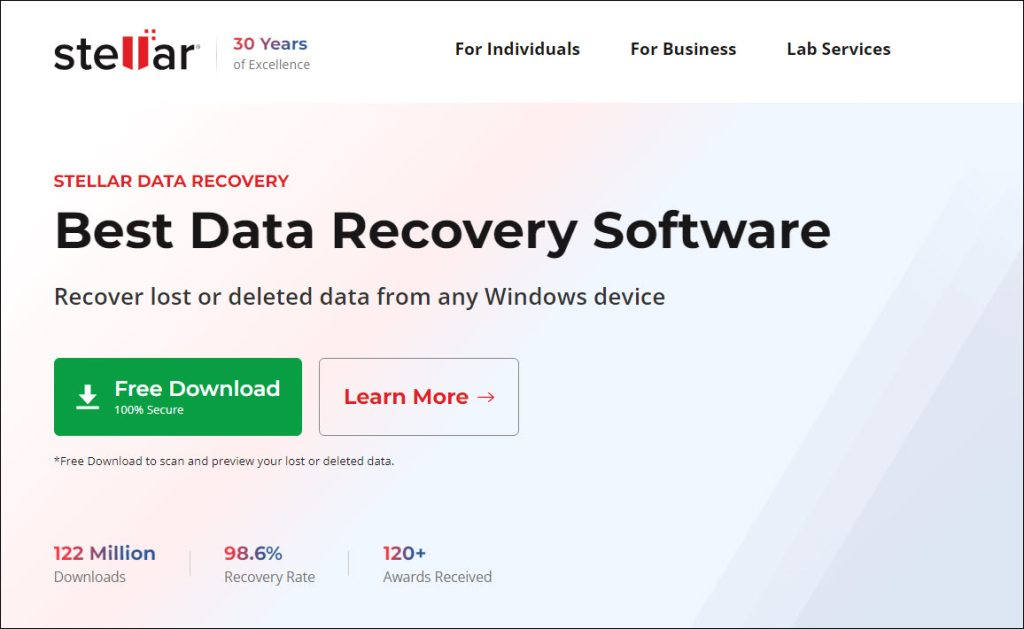 Step 2:
Launch the app. Then select your file type.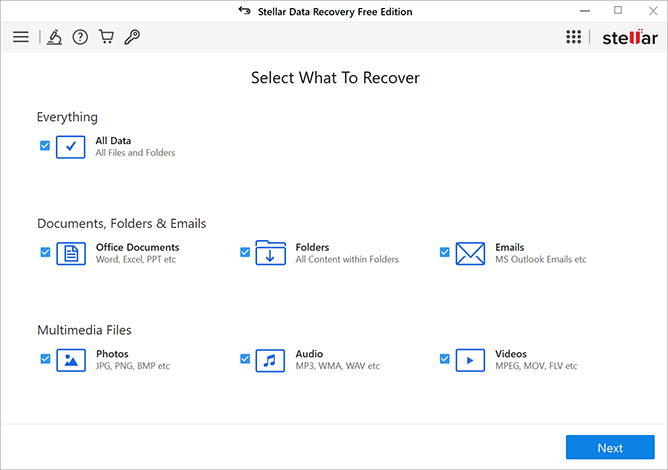 Step 3:
Select your folder location or drive volume, then click Scan.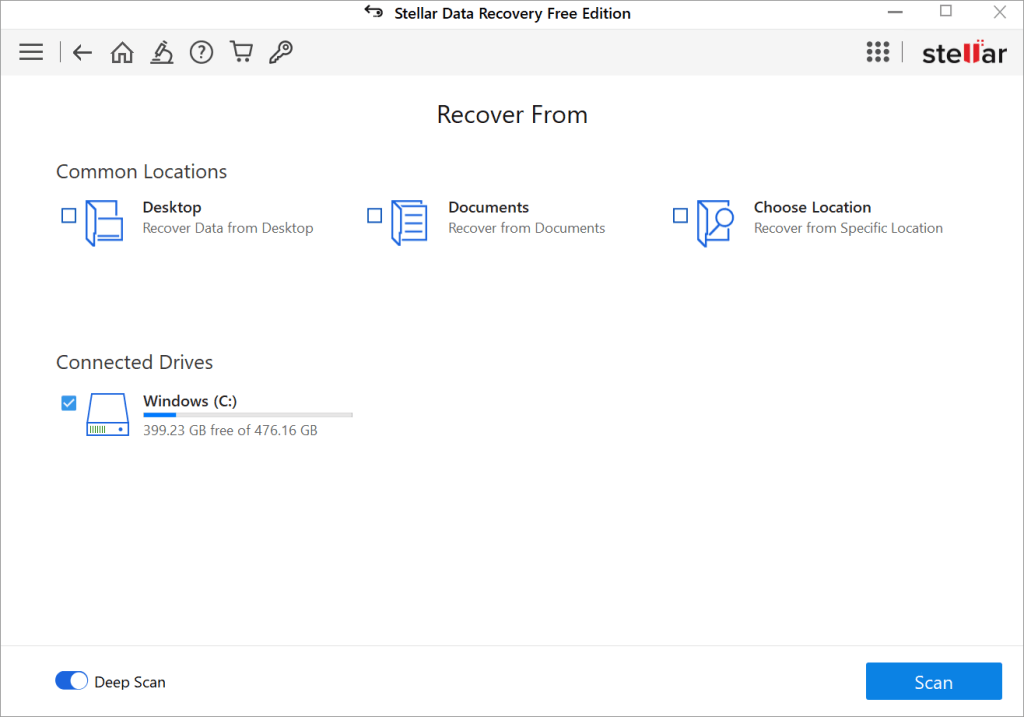 Step 4:
After the scan, click Recover to save your recovered data.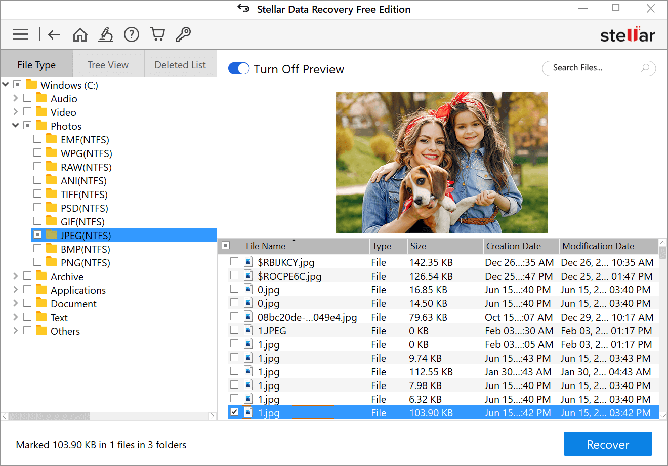 EaseUs Data Recovery Free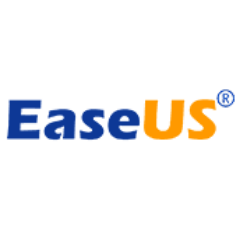 Award-Winning Data Recovery Software
Top-rated data recovery software. Instant download. No tech skills are required. Effective & Quick. Read-only.
EaseUS is also a popular choice known for its user-friendly interface and comprehensive file recovery capabilities. And below are its pros and cons.
Pros
Cons
1. Comprehensive File Recovery

EaseUS restore deleted files in 1000+ file types,
making it versatile for users who need data recovery in different scenarios.
1. Recovery Limitations

The free version has a recovery limit, and users may need to upgrade to the paid version for extensive data recovery needs.
2. Deep Scan and Quick Scan

EaseUS has quick and deep scan modes that come with advanced algorithms,
providing users with great flexibility and efficiency in the recovery process.
2. Interface Customization

Limited customization options may not be available for users who use the free version of EaseUS.
3. Recover Lost Partitions

EaseUS partition recovery software is particularly valuable for users
who are in need of retrieving data from accidentally deleted or formatted partitions.
4. Preview Before Recovery

Similar to most data recovery software, EaseUS allows users to preview recoverable files before initiating the recovery process.
And recovering deleted files on EaseUS is easy-peasy:
Step 1:
Download and install EaseUS Free Data Recovery Software.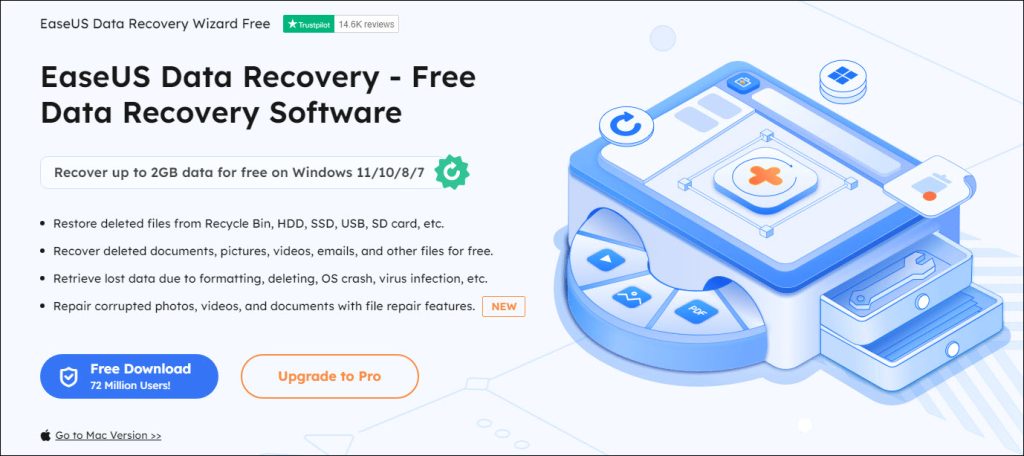 Step 2:
Open the app. Then select a location to start.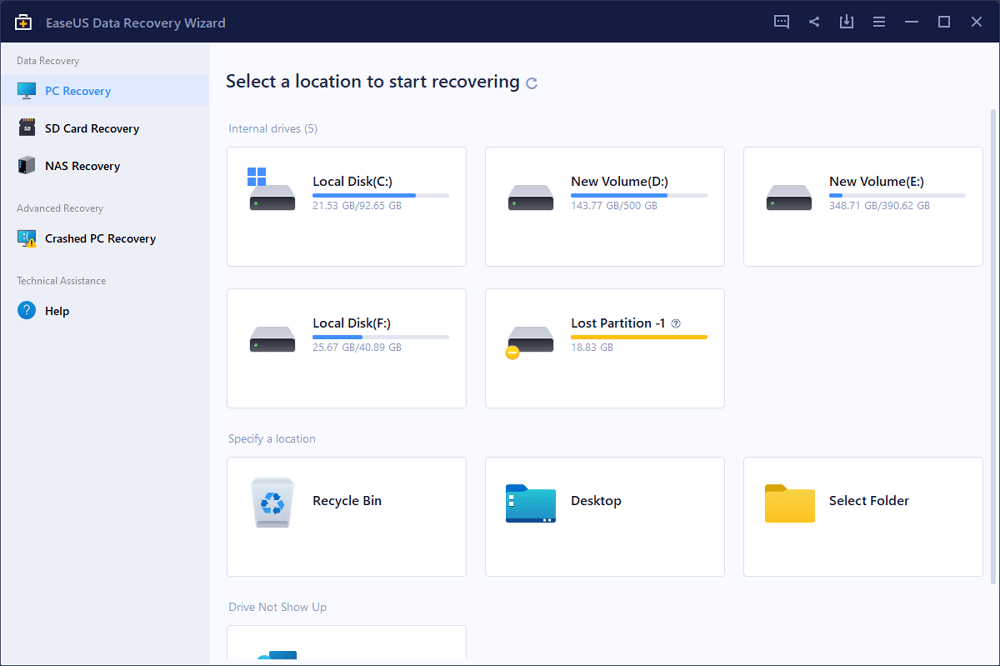 Step 2:
Scan to retrieve your data. Then wait for it to complete.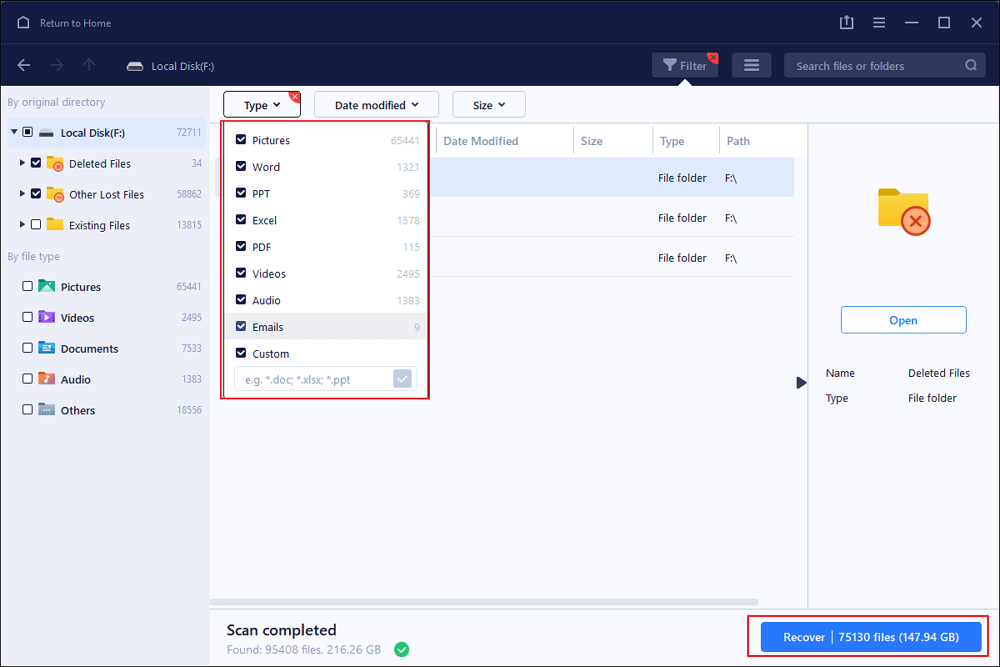 Step 3:
Once the scan is complete, you should be able to see the preview of the specific recovered files before recovery. Till then, recover the files you need by following the on-screen instructions.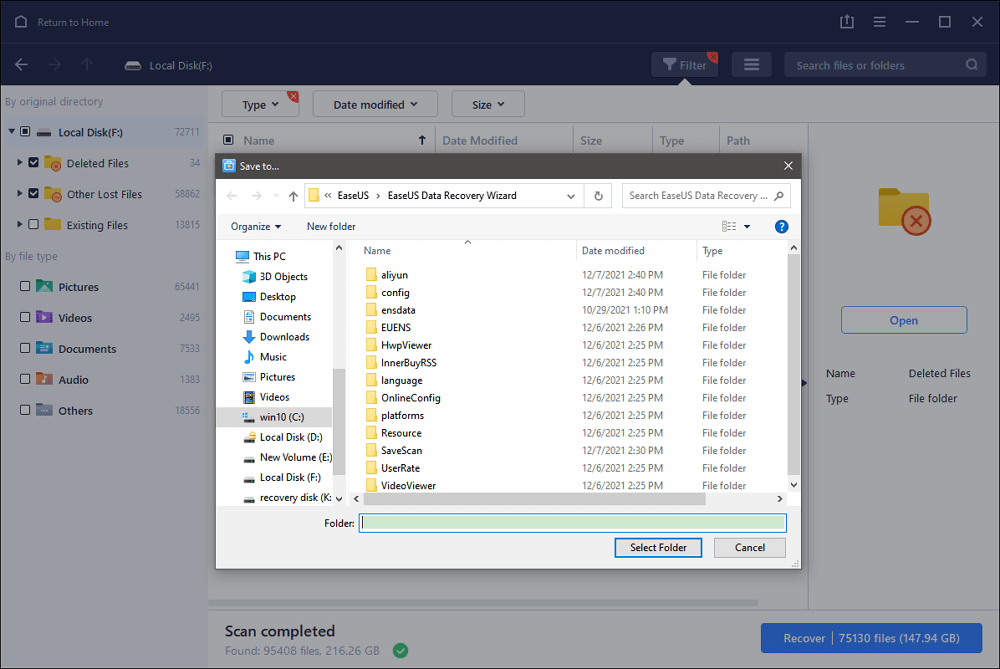 ---
To conclude, Recoverit, Stellar, and EaseUS allow users to recover files of different formats for free. But the free versions would have the amount limits and lack the ability to repair corrupted videos. Decide which one can best suit your needs based on the features, and pros and cons of each.
If you have any ideas or questions regarding the data recovery software, feel free to drop us a line in the comment section below. And we'll get back to you ASAP.