CheckPeople Opt Out | How to remove info from checkpeople.com
CheckPeople is a people search site that people would use to access an individual's public data including a phone number and address.
Undoubtedly, it comes in handy when you need to track down a person. But when it comes to the situation where your own data is exposed to its subscribers, you should stay vigilant. If a scammer gets the hold of your info, your privacy is put at risk. So you should try to remove yourself from CheckPeople. Below we'll detail two methods to do this. Your personally identifiable information is tracked and sold every day without you knowing, putting your privacy at risk. Run a free scan to see which data broker sites are exposing your info.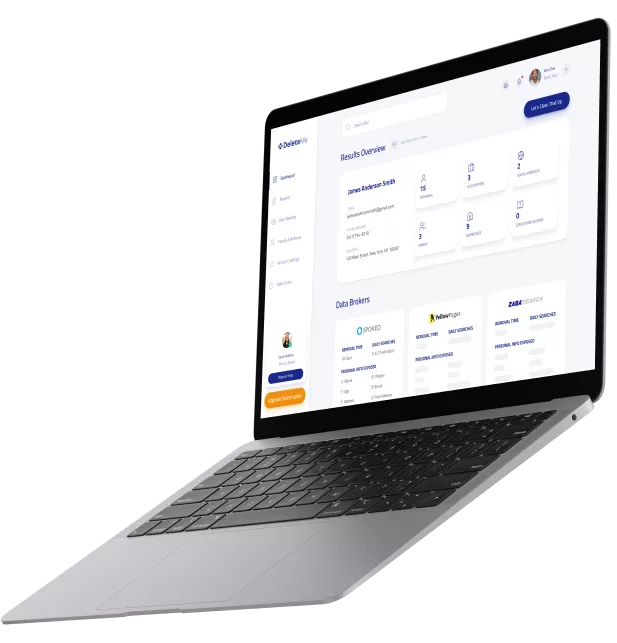 Method 1: Delete your info from dozens of people search sites
Maybe you just came across the CheckPeople site and found that your personal data has been exposed. But have you ever confirmed whether there are other people search sites like TruthFinder and Spokeo that have got the hold of your information? There could be a high chance! To have peace of mind, you should run a free scan on DeleteMe.
DeleteMe is an online reputation service promising to remove you and your family from the top people search sites, using a combination of automation and direct human intervention. A removal report is sent in 7 days and it continues to remove your data quarterly.
How does DeleteMe free scan work
Step 1
Visit the free scan page, enter your name and location.
Step 2
The scan tool is now searching for your personal information found on different data broker sites, including CheckPeople.
Step 3
Here you'll see what info each data broker has on you.
Step 4
To opt out of all data brokers at once, join DeleteMe and the rest is a breeze. Besides, your info is removed all year long.
Method 2: Manually remove yourself from checkpeople.com
If opting out from checkpeople.com is just what you need and you're pretty comfortable with the manual process, you can follow the step-by-step guide below. You're provided with an opportunity to remove your information from the checkpeople.com people search results, without having to be a member.
Go to the CheckPeople opt out page.
Fill out the form and complete the CAPTCHA verification, then click SEARCH to search for your information.


Scroll through the page and find your entry. Once you find yours, click on the REMOVE RECORD button to the right of it.


Input the information as required and click SUBMIT REQUEST.


Then you should receive a message saying that Your record has been successfully removed. Your request will take effect within 5-7 days of submission.


After that, you can follow up to ensure that your record was removed. Simply use their people search tool to search your name to see if there are still results coming up. If you need any assistance or you find that your record hasn't been removed, contact their support team:
support@checkpeople.com
Tool free: 1-800-267-2122
---
So this is the full guide to remove your information on CheckPeople. Hope you find it helpful! For any questions or ideas regarding the data broker sites' opt-out, feel free to write them down in the comment section below. We'll get back to you ASAP.