Check Vehicles Recalls by VIN with Free Car Report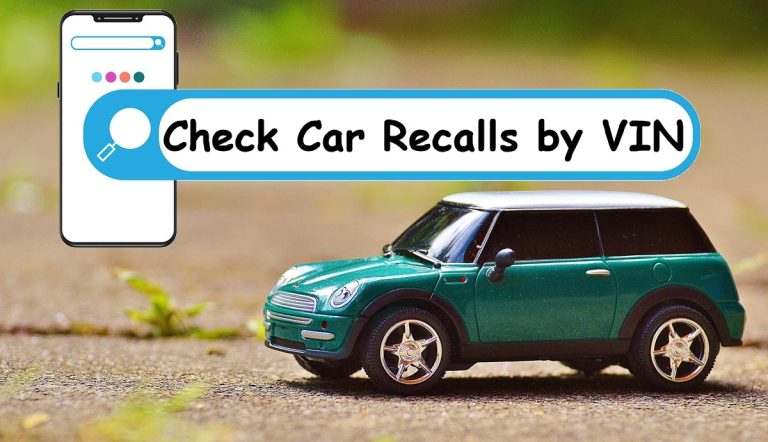 Vehicle Recalls Check
Get vehicle recall records, traffic history, market value & more!
Vehicle recalls should never be ignored as it relates to your safety tightly. If you have no idea what it is and how to check recalls by VIN, this post may offer you some hints in this field.
How to Check Car Recalls by VIN
What's vehicle recall and when is it notified?
A vehicle manufacturer or NHTSA (National Highway Traffic Safety Administration) is the one who issues recalls. They're responsible for determining that a vehicle or part of it (eg. car seat, tire) poses an unreasonable risk or fails to meet minimum safety standards. When it occurs, it's the time you receive the recall notification.

Why should you check recalls?
Check Recalls by License Plate
Research a Vehicle Recall Records, Accident History & More.
Recall means safety risk. Car safety involves your safety and everyone's safety. Checking your vehicle recalls regularly can reduce the possibility of putting yourself and your loved one at risk.
You may find it hard to receive notifications, especially if you're using an older or used vehicle. It could be pretty difficult for manufacturers to find and alert you.
With a recall, getting your vehicle fixed is totally free. However, if you ignore it, it might cost you a fortune when things get worse.
Before buying a second-hand vehicle, it's a must to know about its specifications and potential risk.
How to check recalls by VIN?
You can learn about recall notifications through public disclosure, such as social media, manufacturer's websites, and government websites. But it may be time-consuming and exhausting for you to keep an eye on all those sites.
Here we introduce 3 convenient tools to help you check recalls by VIN easily and quickly. VIN (Vehicle Identification Number) is usually located on the lower left of your car's windshield. Or you can find it on your car's registration card or insurance card.
Option 1 BeenVerified
Praised "Excellent Support & Service" by SiteJabber, BeenVerified is your go-to option for public data search. It's a data expert with over 100 million searches performed, helping people search by name, vehicle, phone, email, etc.
More than recall history, you can know about this car's theft records, warranties, specifications, and so on by its VIN lookup service. A detailed report containing all information (when available) will be generated within a few clicks:
1. Go to BeenVerified vehicle search website.
2. Enter your 17-character VIN and hit Search Now.
3. Wait for the algorithm to run the search and return reports to you.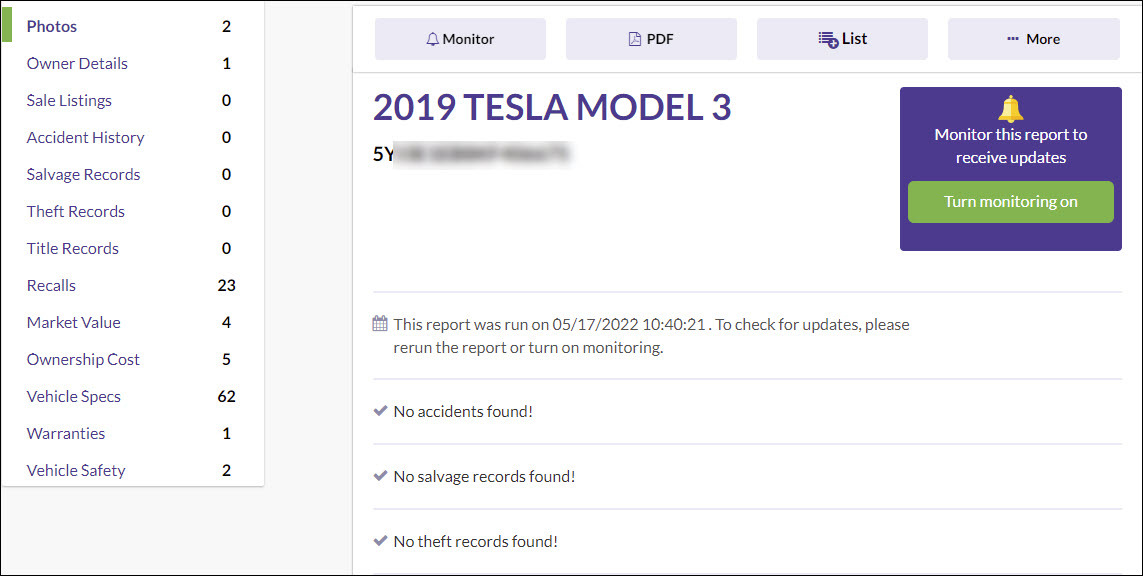 Option 2 Bumper
Bumper is highly specialized in vehicle searches. Many people use it to monitor their own cars and help sell and buy vehicles. Committing to being a game-changer in vehicle searches, Bumper enables you to do vehicle recall checks by VIN. In addition, it can potentially provide a vehicle's accident history, market value, cost of maintenance, and more with a VIN lookup tool. Here's how:
Go to Bumper official website for checking car recall. Enter a VIN number and click SEARCH.

This helpful tool will scan its enormous database and provide you with all the available recall records of the vehicle.

Option 3 EpicVIN
EpicVIN aims to reduce uncertainty and fraud in the automotive sector. It gathers detailed information about vehicle specifications, accidents, thefts, recall history, and so forth from official government sources. This tool boasts a massive amount of data and VIN records of more than 350 million. Since 2012, it has been offering comprehensive vehicle history reports to customers.
Go to EpicVIN's official website.
Enter VIN number and hit Check VIN.

The report will be ready in minutes. You can check the recall history of this vehicle among many other information.

What to do with recalls?
When you notice an open recall of the vehicle, contact your local dealer to have the vehicle serviced. They will fix the recalled part or portion of your vehicle for free. If a dealer refuses to do so, you can notify the manufacturer or file a complaint with NHTSA.
Hopefully, this post can be helpful in guiding you to perform a recall check by VIN for your vehicle. After all, safety comes first. Don't hesitate to grab the full details of your vehicle.