7 Best Cell Phone Number Lookup with Name | BeenVerified Phone Number Lookup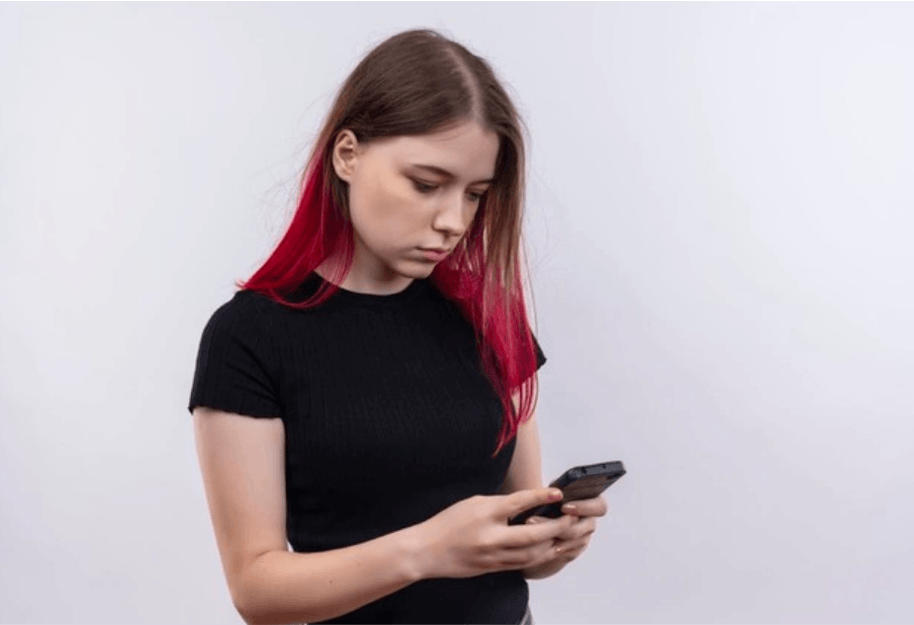 Enter Any Phone Number
Search for the owner's real name, current address, pics and more!
Who owns this phone number? To identify a caller, you can use a reverse phone number lookup to find out the answer. You'll see many websites that provide this service, but if you want to find the one that suits you, read this post.
1. BeenVerified ( Editor's choice)
What information do you want to get from cell phone number lookup? The name of the person who owns the phone number. What else? The address, email address, maybe acquaintances? BeenVerified can provide all of this information and more to help you dig in. It's one of the best reverse phone number services that are easy-to-use, accurate, reliable, and 100% legit in the market.
1) Go to the BeenVerified.
2) Select a search engine according to the information you have. If you have the phone number, click Phone Lookup. Enter the cell phone number and click SEARCH.


3) Wait for a few minutes and you should see a detailed report that contains the information you need.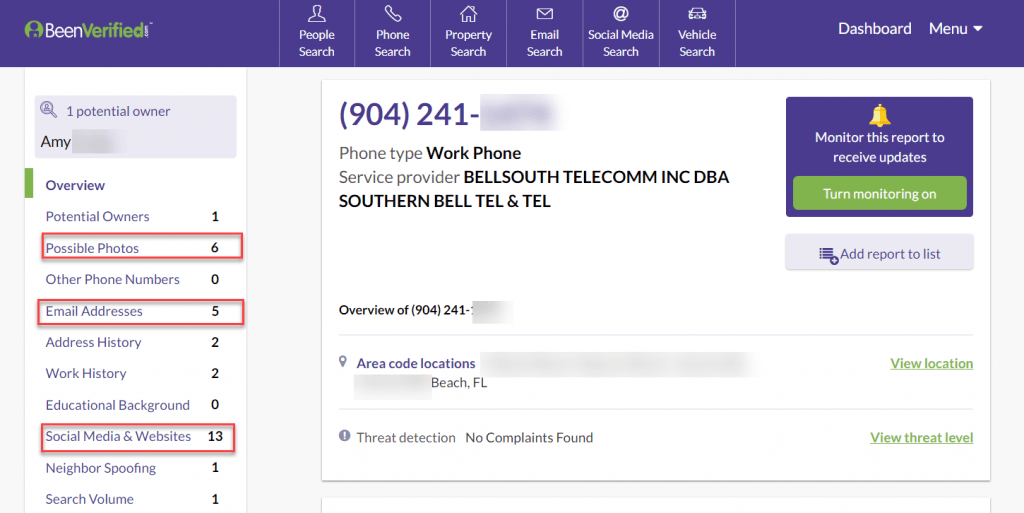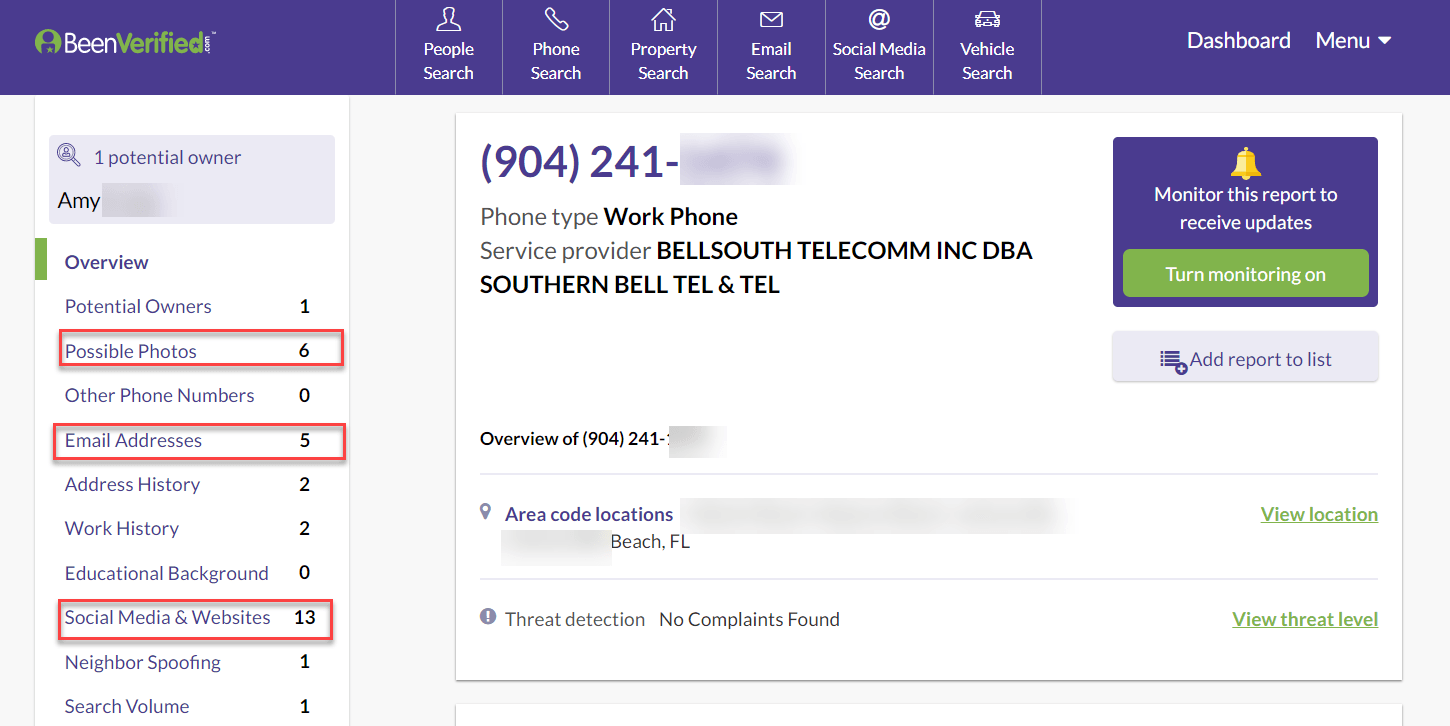 2. PeopleLooker
This is the easiest way to search for a person's name from a phone number. PeopleLooker is a powerful people search tool that specializes in searching phone numbers. By entering the phone number, you should be presented with a detailed report including the full name, current addresses, marriage information, social media profiles, court records, and more.
1) Go to PeopleLooker.
2) Enter the phone number or other information you have and hit Search.

3) Wait for PeopleLooker to search the databases. Once done, you'll see a detailed report associated with the information you input.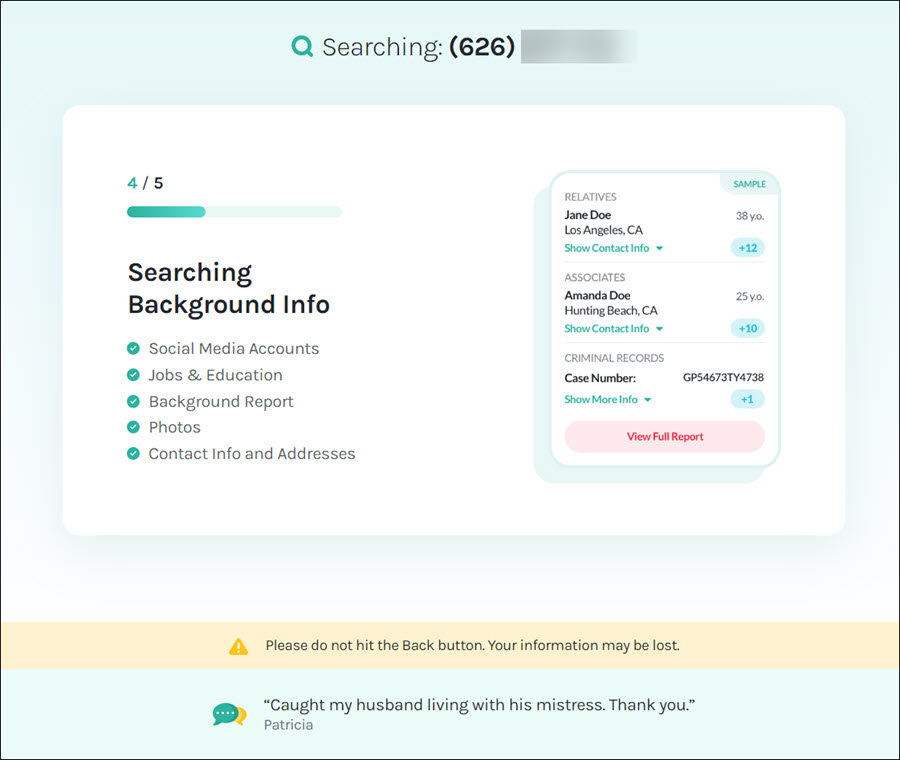 3. Spokeo
Spokeo might be the most famous brand in the cell phone number lookup market. Because even AT&T recommends Spokeo to help you identify a caller. Spokeo can look up wireless, landline, and Voice Over Internet Protocol (VOIP) phone numbers. Spokeo will search through millions of phone records to find the owner of the cell phone numbers. You can get the person's name, address, and more in seconds.
1) Go to the Spokeo official page.
2) Click PHONE and enter the phone number. Then hit SEARCH NOW. Spokeo also provides name, email and address as a search option.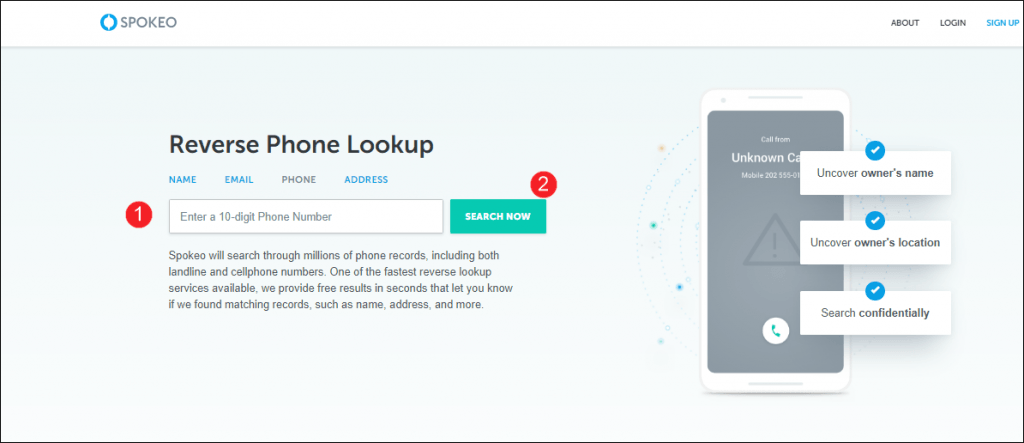 3) Click UNLOCK FULL RESULTS. Then click CONTINUE on the new page. You can see it provides a 7-day Spokeo Membership Trial for free in the left panel.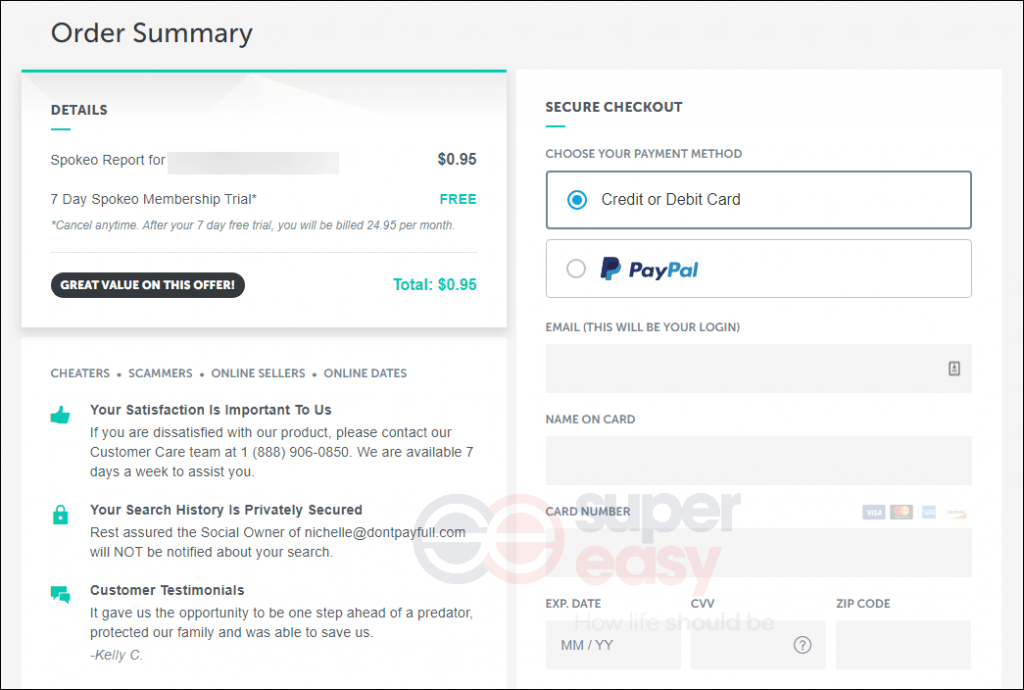 4) You'll get a report that contains a huge amount of information associated with the phone number.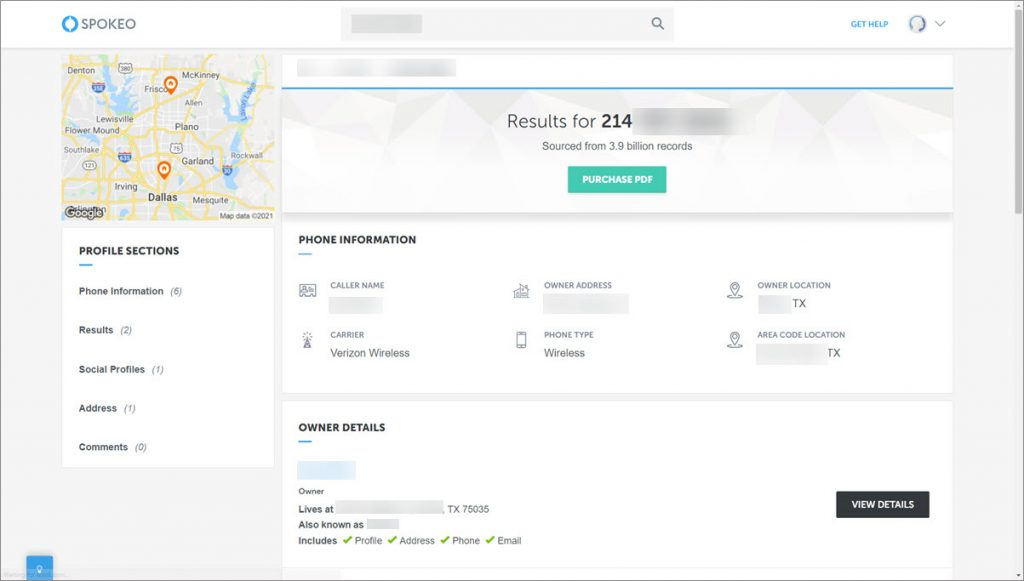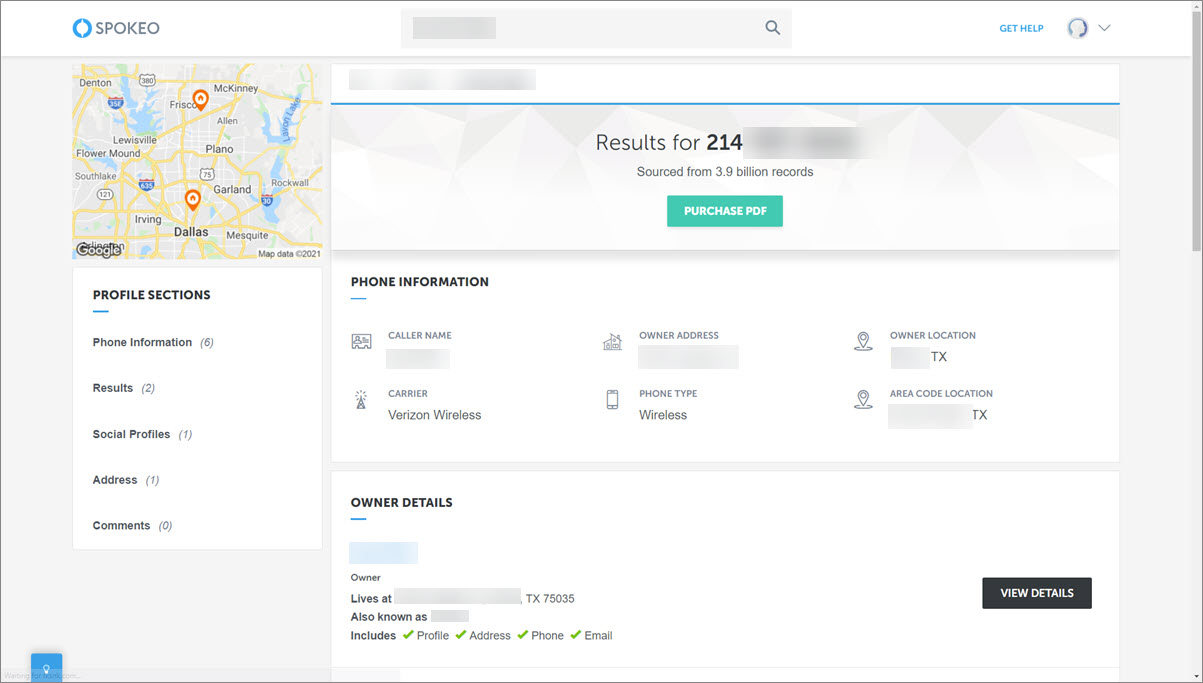 4. PeopleFinders
PeopleFinders is another well-reputed people search engine that allows you to find people online easily and quickly. It would help you dig out in-depth information about the person. The lookup address won't require you to sign up (which means no logs of your search), and the process is quick – all it takes is just a couple of minutes.
1) Go to PeopleFinders.
2) Choose the search option and enter the information you have.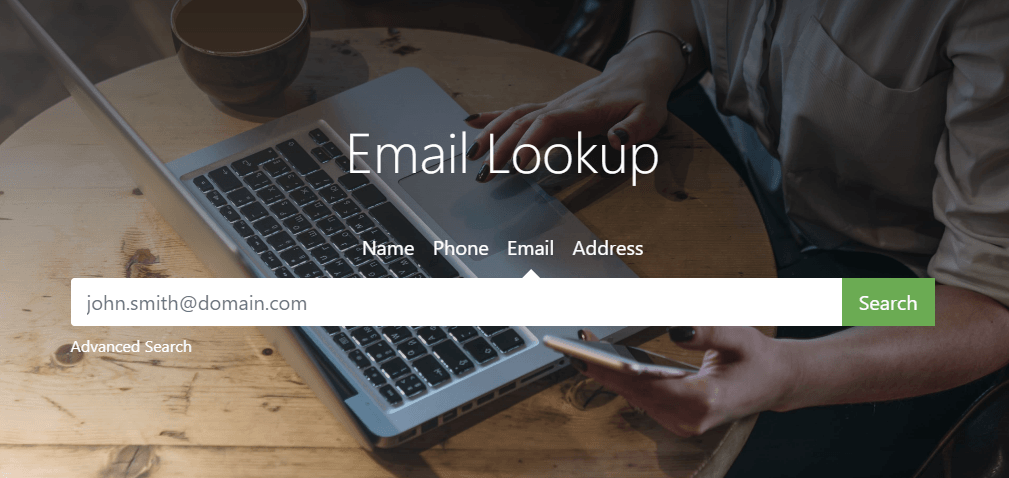 Hint: You can also click Advanced Search to narrow down your search and get more accurate results.
3) Wait a while as PeopleFinders generates a report of all up-to-date information about the people you're looking for.
5. Social catfish
SocialCatfish.com not only provides reverse image search but also provides cell phone number lookup. It's a website that helps people avoid potential catfishing scammers and frauds. Its database collects vast suspicious numbers from government and non-government sources, so you can get the most publicly available results in one place.
1) Go to SocialCatfish.com.
2) Click Phone and enter the phone number. Then click Search.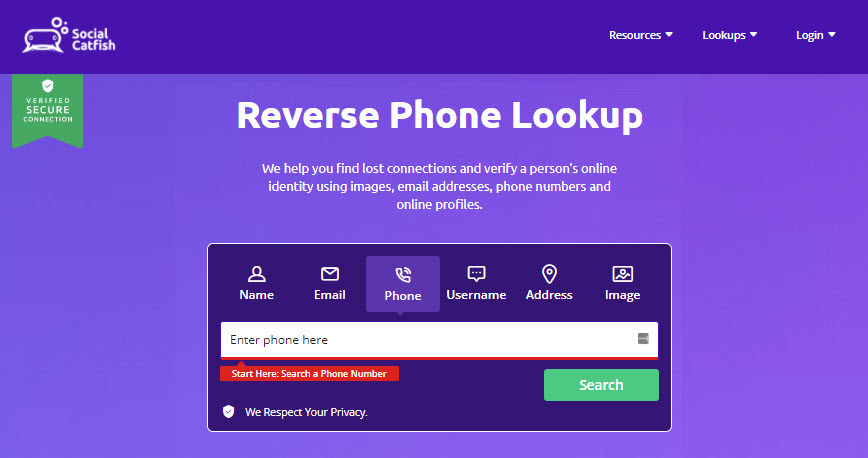 3) Wait a second you'll get a search result. Check the report to see if it's a spoofing call.
6. Online search
Search on your browser is the easiest way to find the answer, and it's free! Most people have left his/her trail on the internet and it is possible to find the owner of the cell phone number by searching online.
Simply type the person's phone number in the search bar, hit Enter, then see what turns up.
If you're greeted with "It looks like there aren't many great matches for your search", it means the search engine cannot find a result for your search. Then you can decide to turn to reverse phone number lookup or give it up.
7. Social media platform search
Social media has collected so much personal information that not many people realized yet. Therefore, you can use the phone number to search on the social media platforms such as Facebook, Twitter, Instagram and etc.
However, I won't recommend this method, because it's a time-consuming process and you may find nothing in the end. Besides, the process is kind of complex, so it doesn't suit people who are in a rush or get tired of searching.
But if you don't care about these disadvantages, you can start with LinkedIn and Facebook. These 2 platforms are widely used around the world with photos, phone numbers, and other information. In case, if the person has a Facebook account or LinkedIn account, then it's a bingo! You can get the location and other info of that person by viewing his profile.
---
That's all about how to do a cell phone number lookup, both free or paid. Hope this post would help, if you have suggestions or questions, you're welcome to leave a comment below.