Carfax Value by VIN – Check How Much a Used Car is Worth
Value Check by VIN
1. Enter VIN 2. View Report
Approved NMVTIS Data Provider – Just Enter a VIN Number
When it comes to buying or selling a used car, knowing its value is essential. Understanding the car value helps in negotiating a fair price and making informed decisions. In this article, we will explore Carfax, a trusted vehicle history reporting service, and how it can be used to check the value of a used car. In addition, we'll show you some alternatives to Carfax Value.
Carfax value by VIN
To check the value of a used car and learn more about it with a comprehensive vehicle history report, you can simply input the VIN (Vehicle Identification Number). You would also need to enter your Zip Code. Then follow the on-screen instructions to get the results.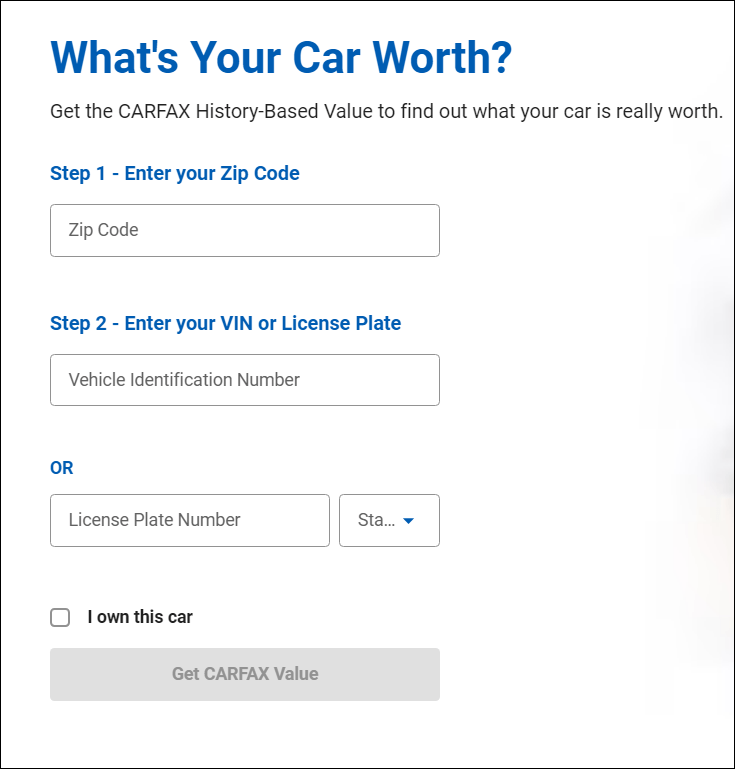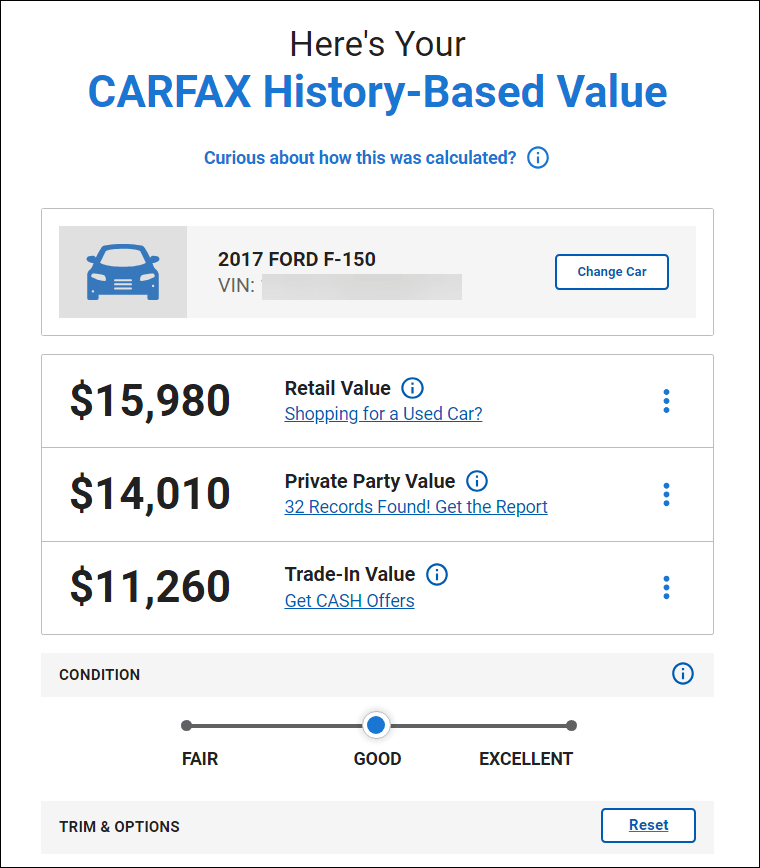 As a well-known provider of used car history reports, Carfax is an excellent starting point to get an idea of a car's current value. It takes the following factors into account when providing used car values, which provide a more complete picture of what a car is worth:
Year, Make, Model, and Trim
Standard and Optional Features
Vehicle Condition
Number of Owners
Accidents History
Service History
Registration History
Open Recalls
Vehicle Use (Rental, Fleet, Personal)
In addition, you can access the following information when available:
Accident Data

Accident history
Damage severity
Damage location/ Point of impact
Records of damage repair
Airbag deployment
Structural damage
Service History

Oil changes
Tire rotations
Open recalls
Brake rotor replacement
Transmission replacement
Safety inspections
Type of Use

Personal vehicle
Rental vehicle
Leased vehicle
Commercial vehicle
Used as a taxi
Used as a police vehicle
Ownership History

1, 2, or 3+ previous owners
States/Provinces owned in
Length of ownership
Last reported mileage
Odometer rollback
Flood or lemon title
To learn more about what's included in a Carfax Vehicle History Report, check this page →.
Other sites to check a car's value and get a Vehicle History Report
Simply getting a rough estimation of a used car on Carfax won't cost you a dime. However, if you want to dig deep into a car's details, you'll need to pay for a report. Here's the pricing:
$44.99 for a single Carfax report
$64.99 for three Carfax reports
$99.99 for six Carfax reports
It's expensive. If you're looking for affordable reports, we've got you covered here! Below we'll introduce two sites where you can acquire vehicle history reports and access car value information that won't break the bank. They are powered by Bumper, an approved NMVTIS data provider.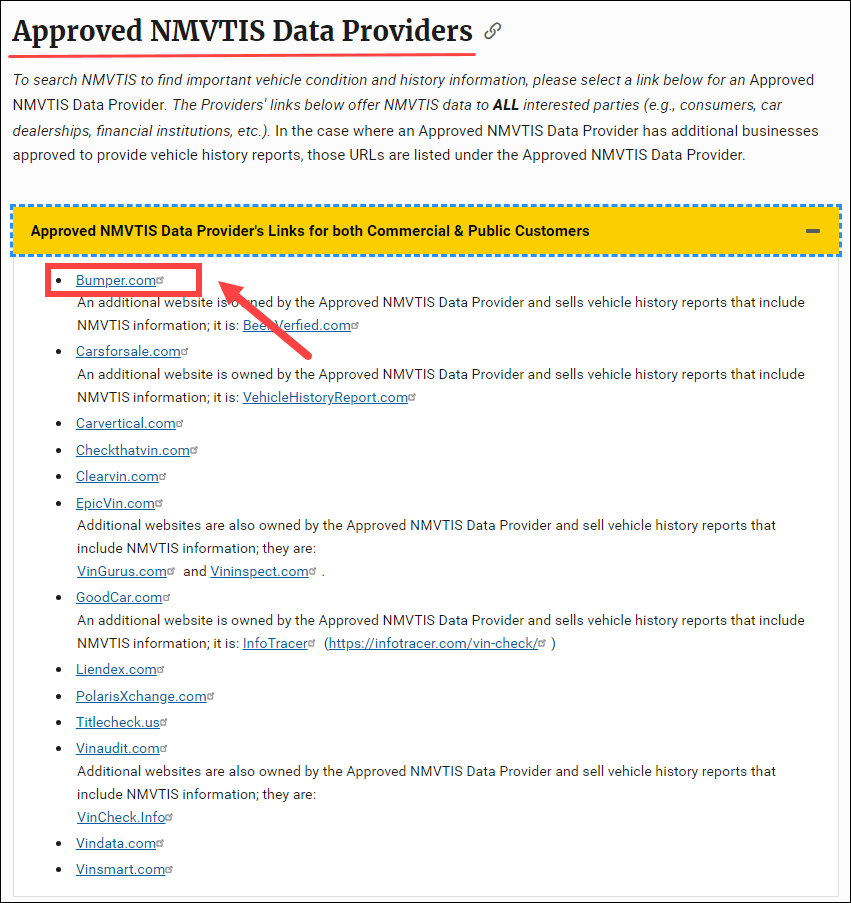 Read below to learn how you can obtain a report at an affordable price.
Option 1: BeenVerified
Why BeenVerified?
BeenVerified makes things easier. And with 10+ years of data expertise and more than 100 million searches performed, BeenVerified should be the place where you can perform VIN lookups. It aggregates public record information from a wide range of sources, providing a one-stop service.
Whether you're selling a car, buying a car, or owning a car, you may access all the necessary information on BeenVerified. In addition, you also get access to BeenVerified's other popular tools, including people search, address search, and much more.
To perform a VIN lookup, all you have to do is enter the VIN number and click Search. If you don't have the VIN, search by license plate.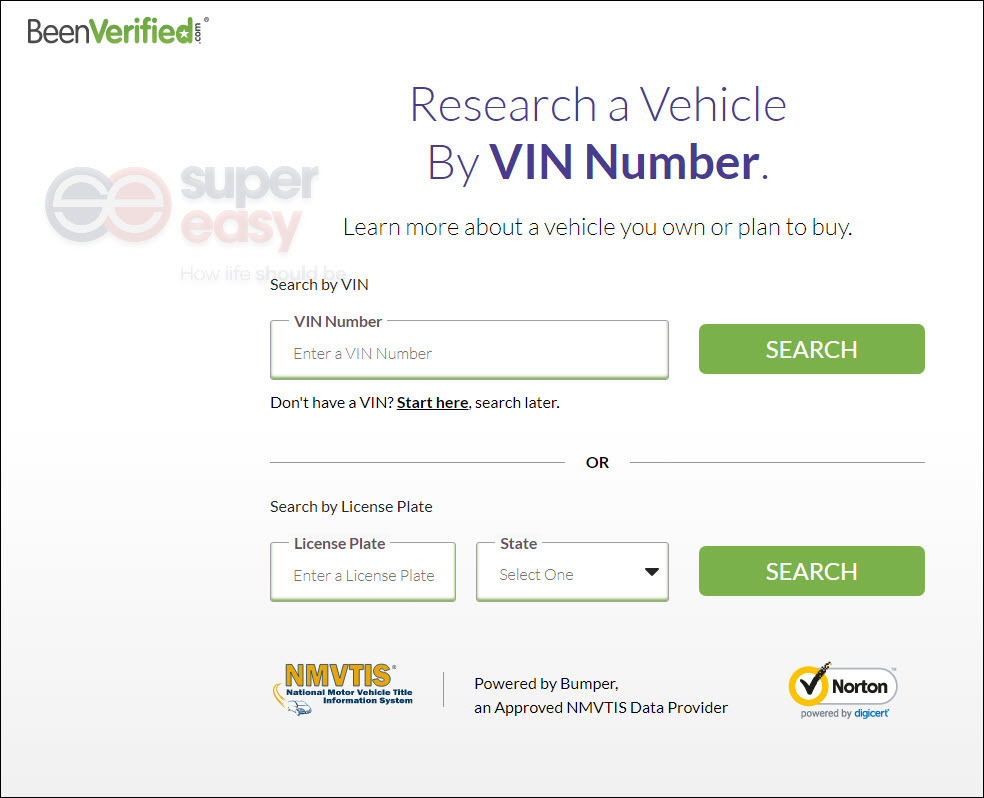 Then wait for BeenVerified to search its database and find the information that's helpful for you. Once a report is ready, open it.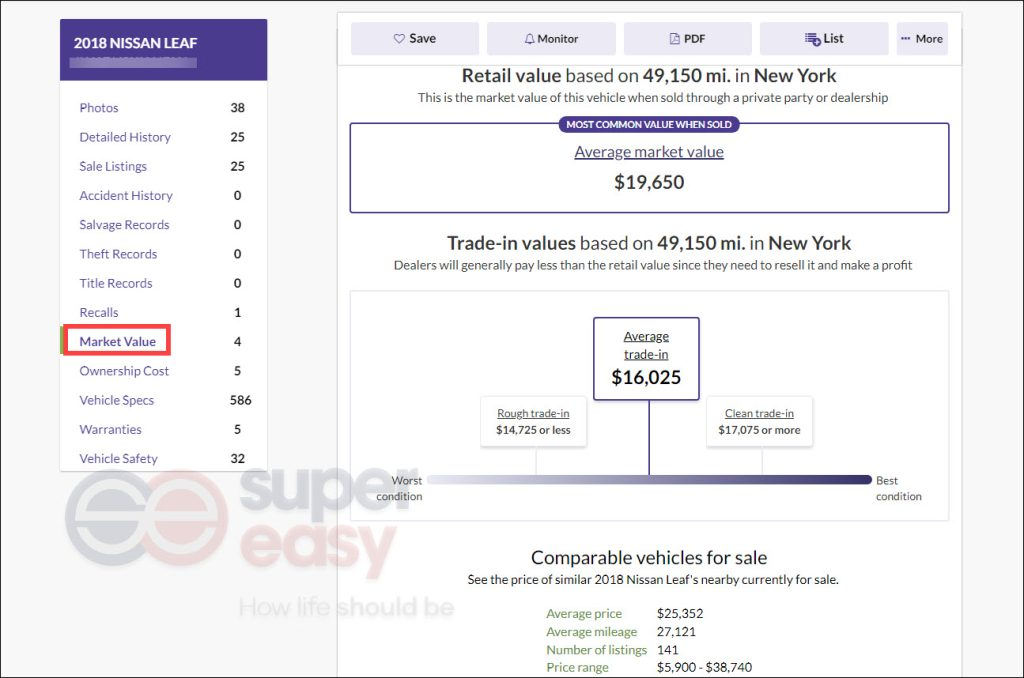 If you have any problems during your searches, feel free to contact their support team, available 7 days a week over phone or email:
support@beenverified.com
1-866-885-6480
Option 2: Bumper
Why Bumper?
Bumper offers a comprehensive range of market values, providing a holistic view of a vehicle's worth and trade-in value based on its condition. Its market value data is extensively utilized by professionals and dealerships in the industry. By using Bumper, you can easily compare a vehicle's value, taking into account its history, ownership, and various other factors.
Powered by government agencies such as NMVTIS and NHTSA, in addition to local data from your state's Department of Motor Vehicles, Bumper VIN lookup should be your choice to look up a car's accurate and most up-to-date information. To do this, simply enter the VIN into the search box and click SEARCH. If you have a VIN, select LICENSE PLATE LOOKUP and provide the information as required.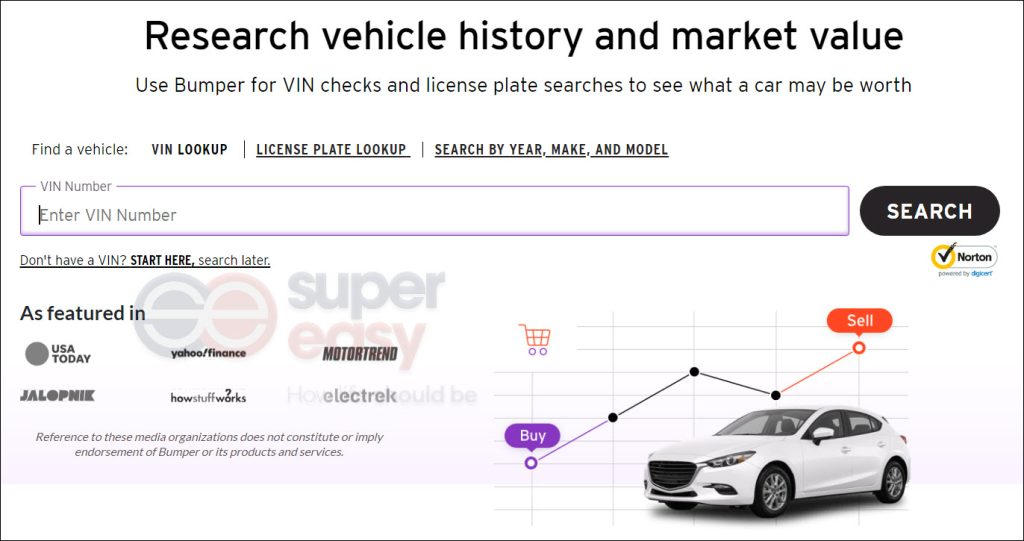 Then patiently wait for it to gather all the information available and combine it into a report. Once ready, unlock the report and locate the section where it displays useful information.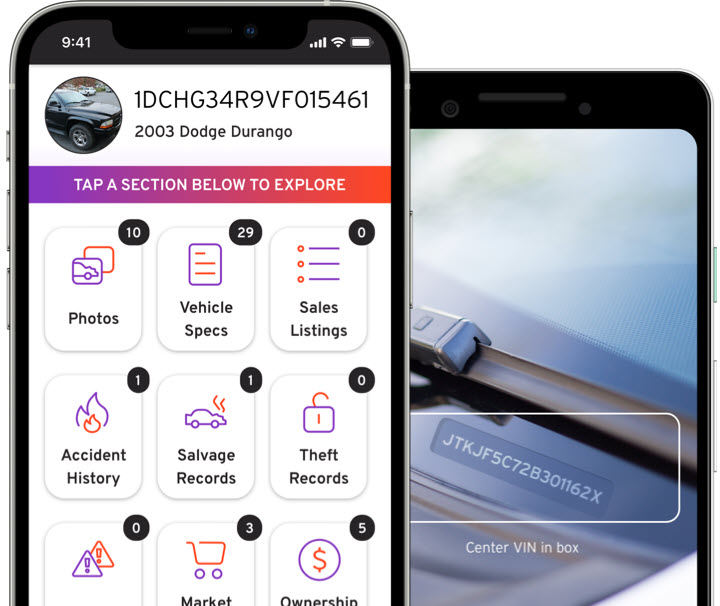 If you encounter any issues while using Bumper, do not hesitate to reach out to their support team.
support@bumper.com
1-332-225-9745
Wrapping up
When buying a used car, knowing its value helps in negotiating the price. Armed with this knowledge, you can ensure that you're not overpaying for the vehicle. Similarly, as a seller, knowing the value of your car enables you to set a reasonable asking price that attracts potential buyers.
To access this sort of information, you can enter the VIN (Vehicle Identification Number) or license plate to get a report from Carfax. Alternatively, you can run a VIN lookup or license plate lookup on BeenVerified or Bumper. Both of them are approved NMVTIS data providers and give you access to comprehensive vehicle history reports.