5 Best Standing Desks for Home Office | 2023 Guide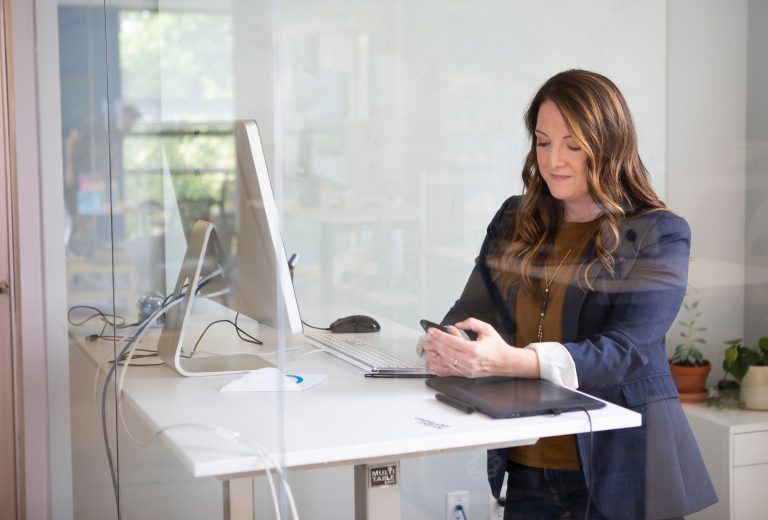 You might need to work for long hours each day, but you don't have to do it seated. Sitting for too long takes a toll on your health, causing back pain, neck stress, and even chronic diseases like diabetes. A standing desk allows you to change your postures regularly and flex your body while you're working. If you're looking for one, we're here to help. Read on to find the 5 best standing desks that we love.
5 Best Standing Desks for Home Office
To help you shop wisely, we reviewed many best sellers on the market and came up with these 5 of the best.
UPLIFT V2 Standing Desk is one of the customers' favorite desks for either their office or home. It is very stable and won't move even if you're a heavy typer or are constantly switching modes during the day. And it comes with a 15-year warranty that saves you much trouble if anything goes wrong. The desk also offers a greater variety of attractive customization options, allowing you to change it to your liking.
Note – Some people might find these customization choices a bit confusing. Also, the desk is sturdy, hence a little heavy (149 lbs for 30×60"), so you might need extra help to assemble it. Overall, it's a lovely piece.
---
Vari Electric Standing Desk is available in a variety of sizes and finishes and is one of the easiest to put together, according to customers' feedback. The desk has two T-style legs for improved stability that allow it to lower all the way down to 25 inches, which is friendly to petite people. Also, the movement of the desk up and down is smooth and consistent, with few noises.
Note – The desk has fewer customization options than competitors. But that might be good news for those who find it difficult to choose.
---
Fully Jarvis Standing Desk is equipped with dual motors that offer an industry-leading lifting capacity of 350lbs, making it sturdy and stable. And it's desktop is made with bamboo grown in sustainable forests, free from pesticides. Also, the desk goes up and down silently and smoothly across its entire range. It's well-built and attractive and can be customized in a number of ways.
Note – It's not as easy to put together as the Vari Desk. And it doesn't have as big a height range as competitors, but it can support up to 350 lbs.
---
VIVO Electric L-shaped Standing Workstation is a perfect choice for people who'd prefer a spacious desktop to put all the stuff. You can put it in the corner. The energy-saving controller comes with customizable settings for desired user heights and programmable alarms for helpful reminders to stand or sit throughout your busy day. Also, its quiet and fast motors make it rise fast and stably.
Note – Some drilling is required to put the desk together, so you might need extra tools and help.
---
VIVO Standing Desk Converter is one of your best budget choices, especially when you don't have much room for a brand-new desk. Unlike a heavy desk, the small converter (44 lbs) can be moved around easily. Also, it comes with a keyboard tray, minimal assembly, and a strong lift assist, making it indeed user-friendly.
Note – The keyboard tray might not be high enough for tall people (over 6 ft), even when the converter is put at the max height.
How to assemble a standing desk
Compared with other kinds of furniture, a standing desk is not very difficult to put together even on your own. With some careful reading of assembly instructions and spare time, you can enjoy the satisfaction of DIY. Here are a few tips to quicken your assembly work.
1. Prepare accessories and tools
Almost all of the quality standing desks in the e-market come with all the tools, screws, and wires you need. You just need to take them out and arrange them into groups.
2. Read the user's manual
Carefully read the user's manual that comes with your desk, where you'll find the assembly instruction. Then follow it to finish the process.
3. Watch assembly videos

If a text & picture description is too abstract for you, try watching the assembly video instead. A place to find them is YouTube. Simply type into the desk brand, name, and 'assembly', it will pull out tons of videos that help you visualize the task.
4. Order an assembly service
If you don't have the time and effort to assemble your desk or any furniture that is coming to your doorstep, you can order an assembly service from platforms like Amazon.
Also great
To pair with your standing desk, we also selected some highly rated gadgets that customers believe to be useful.