The Best Security Cameras Without Wi-Fi: Secure Your Space Without the Internet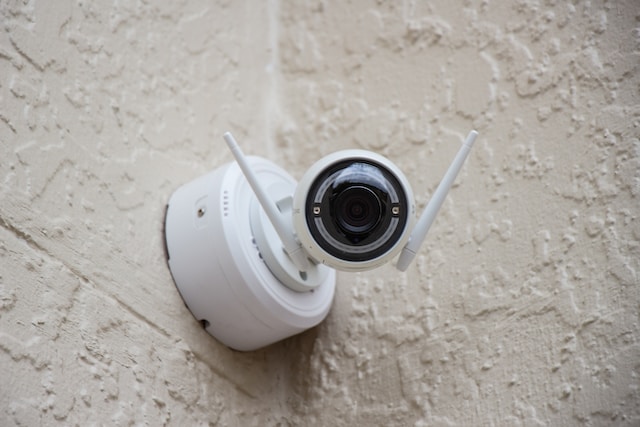 As the internet is part of our daily lives, almost every electronic device relies on Wi-Fi or internet connectivity, and there are thousands of products to choose from. On the other side, there are fewer choices for people who want outdoor security cameras without Wi-Fi. Don't worry, we see your needs and spend days searching on the internet and selecting the best security cameras without an internet connection or Wi-Fi for you.
Check Your Neighborhood Safety
Enter your address and find out more about your new community.
3 Types of security camera without Wi-Fi
No matter why you need a surveillance camera that doesn't use an internet connection, you're certainly away from Google Nest and Ring cameras. They can't work without Wi-Fi.
We've seen some posts suggesting connecting cameras with phone hotspots. However, we don't think it's a viable solution for two reasons. First, connecting a security camera to a phone hotspot means the phone has to stay close to the camera all day. Additionally, the phone needs to remain active all day, which seems unrealistic. Second, unless the phone has unlimited data usage, the cost could be significant.
1. Use cellular data cameras
4G cellular data usage security cameras are a great option when you're off-grid. You can take it anywhere you, the product flexibility and ease of use are the reasons to recommend it.
Arlo Go
The Arlo Go is a 4G LTE-powered security camera that doesn't rely on Wi-Fi for connectivity. It operates independently, making it an excellent choice for remote locations or areas with unreliable Wi-Fi.
We highly recommend it because it's easy to set up without wire so you can mount it wherever you are. Its integrated spotlight and color night vision let you see more at night. You're allowed to store and review videos with a microSD card. What's more, it offers HD video quality.
Pros
Cons
Cellular connectivity via 4G LTE.
Requires a cellular data plan.
HD video and night vision.
Higher upfront costs.
Wire-free installation.
MicroSD cards are sold separately.
Waterproof.
Reolink Go
Reolink Go is one of the best options that we recommend. The Reolink Go allows you to insert a SIM card into it and that can provide a network by itself. Then you can enjoy peace of mind in any place with no WiFi, or even no power. All the features you may need for home security are available, including real-time alerts, push notifications, remote live viewing, and onsite motion recording.
Because of its solar-powered battery, you can lower the frequency of charging the battery.
Pros
Cons
Cellular connectivity via 4G LTE.
Requires a cellular data plan.
2K 4MP Super HD and night vision.
Data isn't unlimited.
Wireless Solar-Powered
Come with a 32GB SD card & free 7-day Cloud service
2. Use POE cameras
Power over Ethernet (POE) cameras have a stable power source and enhanced security because they can't be hacked through Wi-Fi. They do require an initial investment of time for installation, but they should fulfill your needs. 
IP camera
Among PoE cameras, we recommend you choose an Internet Protocol (IP) camera. It is a digital video camera that can transmit and receive data over a network or the internet to a network storage device or store onboard the camera. An IP camera retains the functions of traditional analog cameras and adds networking functions to this basis, making them more flexible and versatile.
Usually, IP cameras are paired with NVR, and for users who have a big property, the NVR security camera system would be a great option.
But IP cameras can still work independently without NVRs, just like the security cameras with SD cards. You can connect an IP camera with a wired network via an ethernet cable to a computer, laptop, TV, or even your phone.
Reolink smart IP camera supports 24/7 continuous, smart human/vehicle detection, and scheduled recordings. All the videos can be saved to the microSD card, Reolink network video recorder, (NVR), or FTP server. You can choose a way you like to store and view videos.
Pros
Cons
HD video and night vision.
MicroSD cards are not included.
Smart human/vehicle detection.
Power supply is not included. To operate it, you'll need either a POE NVR host or a 12V power adapter.
Easy setup.
According to Amazon reviews, the POE IP camera is good with the proper big POE router to control but doesn't work nicely for a single camera setup.
NVR kit
The NVR kit is a security camera system that can record 24/7 but doesn't rely on Wi-Fi. It is combined with 3 things: IP cameras, ethernet cable, and NVR.
NVR stands for Network video recorder. The NVR is a video storage device that is paired with IP cameras to create a video surveillance system. According to your needs, the NVR camera system can be a small one or a big one that connects thousands of IP cameras.
Without the Wi-Fi function, you give up features on mobile apps and push notifications, but you can set the NVR to beep when motion is detected.
You can choose the size and channel of NVR according to your needs. Usually, an 8-channel NVR kit is good to go.
Reolink NVR kits support local live viewing, beep alerts, motion recording, scheduled recording, or 24/7 recording, with no network or WiFi. It includes a 4K 8CH NVR with 2TB storage and, 4pcs wired IP cameras. This system provides high-resolution video and can store footage locally on the NVR.
If you want to check out what's happening out there, just connect your NVR to a monitor, and then you can see the live feeds of all channels right on your TV screen. And with the built-in HHD in the NVR, you can save all the recordings locally.
Pros
Cons
No internet connection is needed.
Requires an NVR.
High-resolution video.
Limited remote monitoring options without internet.
Expandable camera system.
Local storage on NVR.
3. Try hidden cameras
When you search "no Wi-Fi security camera" on Amazon, you'll see 4G cellular cameras, security system cameras, and hidden spy cameras. They don't support Wi-Fi, and they are easy to use: simply insert a micro SD card to record the video and you're good to go.
Take EDIACE HD 1080p Body Camera as an example, it features motion detection. It will record a video when people or animals move close to it. When they stop moving, the camera will enter into standby (60-day standby time) and power-saving mode.
That's all about security cameras without Wi-Fi. You can compare these types of cameras and find the one that meets your needs.
Put camera signs/security signs
There are different opinions on whether adding signs deters bad guys. Discussions on Reddit show different results. A user said a family put up a sign and hasn't had a trespasser since. And there is a user who said they won't stop the thief. They still come to check the car doors to steal things and try to break into the building.
Conclusion
While Wi-Fi security cameras are prevalent today, there are still viable options for those looking to secure their spaces without internet connectivity. The best security cameras without Wi-Fi cater to various needs, from traditional analog cameras to 4G LTE-powered devices and complete NVR systems. Your choice ultimately depends on your specific requirements, whether it's remote monitoring capabilities, video quality, or budget constraints. Prioritize your security needs, and you can find a suitable non-Wi-Fi security camera that ensures your peace of mind.
The methods in this article provide you with easy access to public record information, but without a guarantee for accuracy and may include links to websites not listed as a Consumer Reporting Agency (CRA). Information acquired from these bodies is illegal to be used for employment, housing, credit, and other purposes alike, according to laws such as the Fair Credit Reporting Act (FCRA). If you're not sure whether your use of our methods is appropriate, click here for details.