5 Best Meal Delivery Services For Weight Loss – 2023
How to eat a better and healthy meal may be one of the most annoying and challenging parts of your journey to lose weight. Seeking the right recipe, then doing grocery shopping, cooking and cleaning takes a lot of time and effort. So are there easy and nutritious meals for people who stay on diets? YES! In this post, we've put together the 5 best and most affordable meal delivery services for weight loss.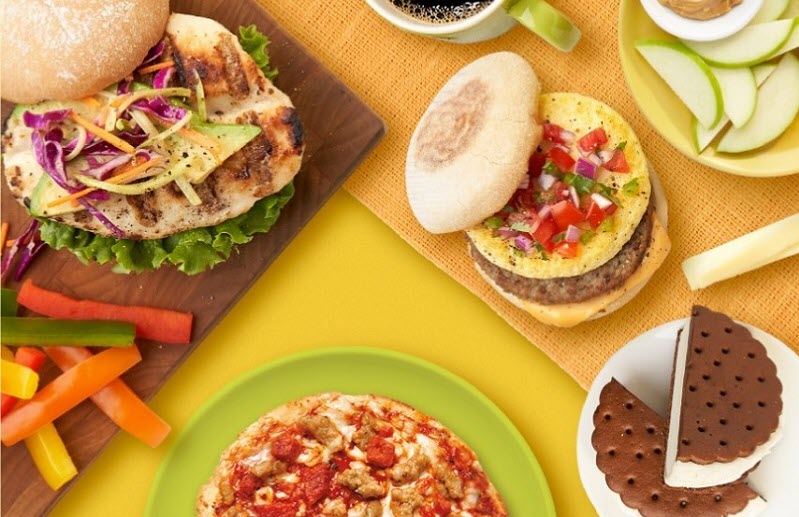 Best weight loss meals from Nutrisystem
Get a month of fully-prepared breakfasts, lunches, dinners and snacks.
Top 5 weight loss meal delivery programs
The best food delivery services should be convenient and affordable while easy to stick with. Below we've reviewed several popular meal delivery programs and chosen the top 5 to meet your weight loss needs.
1. NutriSystem – Best pre-made weight loss meals
Established in 1972, NutriSystem is a reputable meal delivery service built for weight loss. It delivers pre-packaged meals with the essential intake of fats, carbs, fiber and protein but low calories and sodium straight to your door. You don't have to cook by yourself but heat them and eat.
The Nutrisystem plan is easy to follow. It guides you to eat 6 meals each day, including breakfast, lunch, dinner and snacks between each meal. You'll get all the 28-day food with one-time shipment, which is free. The program is expected to help you lose 1 to 2 pounds per week.
Nutrisystem foods are ordered monthly. But if you've tried the food and don't like it, you can ask for a full refund within 14 days.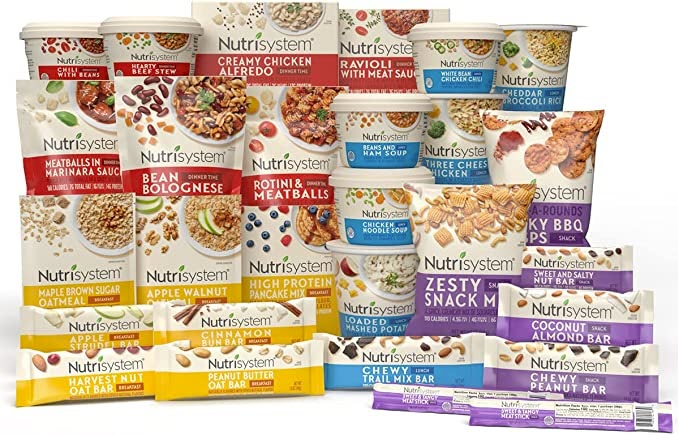 Nutrisystem offers 4 plans that caters to different budgets and preferences. There are also special plans for diabetics, vegetarians and couples who want to lose weight together.
Basic
$9.99/day
100+ menu choices with classic variety
Uniquely Yours
$11.7
150+ menu choices with standard variety
Uniquely Yours Max+
$13.57
160+ menu choices with best variety
Personalized nutrition plan
By downloading Nutrisytem's Numi app, you can track your weight loss journey easily, enjoy fun challenges, and get access to 1-on-1 support of weight loss coaching and a lot of helpful resources.
---
2. BistroMD – Doctor-designed weight loss plan
BistroMD is a customized weight loss program founded by Dr. Caroline Cederquist, a bariatric specialist. It has an extensive menu of over 150 premade high protein and low calorie meals, which are scientifically designed by registered dietitians and cooked by chefs. Meals only require reheating and are ready to eat within a few minutes.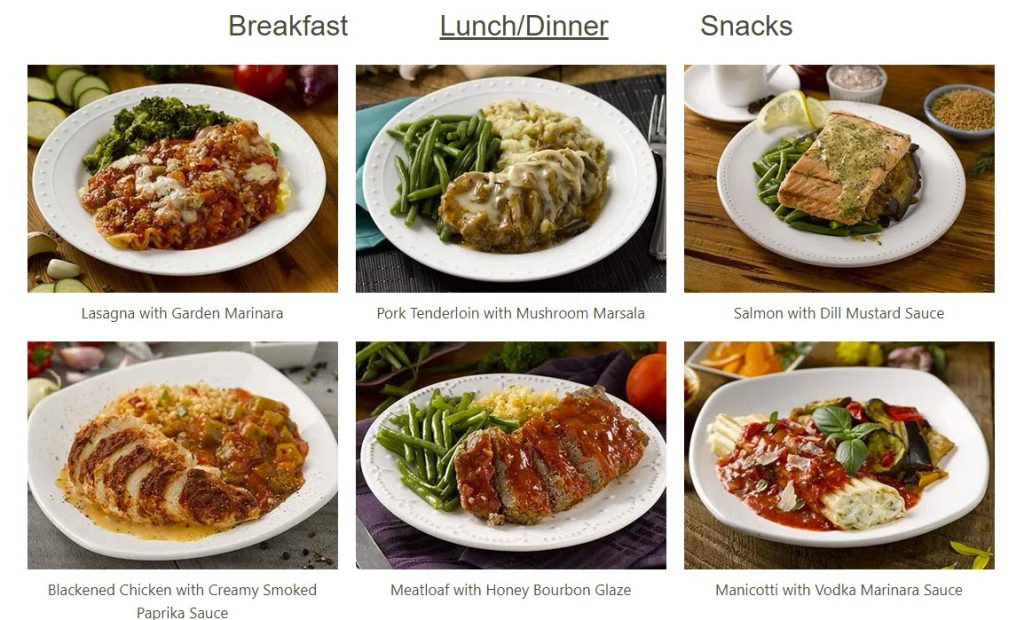 The BistroMD meals are offered in 5- and 7-day weekly options. You could opt for the full package which includes breakfast, lunch and dinner, or order just lunch and dinner. The menu is predetermined, but if there's something on the list that you don't want, you could switch it to what you prefer.
There are also speciality plans for people with specific dietary requirements.
Gluten Free – Meals without wheat, rye or barley.
Heart Healthy – Promoting the healthy function of your heart.
Diabetic Friendly – Best for diabetics.
Menopause – Keeping stable blood sugar and insulin levels.
---
3. Diet-to-Go – Weekly healthy meals delivery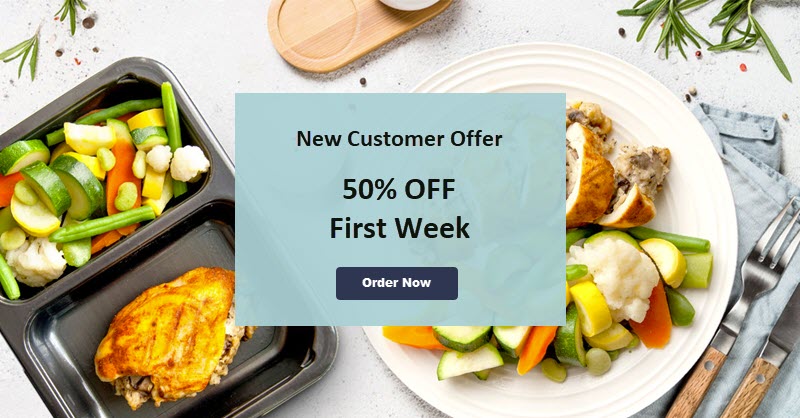 Diet-to-Go is a convenient option for people to start eating healthily and losing weight with portion-controlled meals delivered home. Every meal arrives fully prepared and all you need is to reheat it.
Diet-to-Go has 4 types of weight loss plans geared towards different dietary preferences. All are available in 5- or 7-day options, and you could decide on the number of meals per day (2 or 3). You can customize the recipe according to your tastes or go for the recommended combination.
Balance – Largest selection of calorie-controlled food with restaurant-quality flavors
Balance-Diabetes – Suitable for people with diabetes and perfect for controlling blood sugar
Keto-Carb30 – Less than 30 net carbs per day with meat, chees and eggs
Vegetarian – Meatless and seafood-free dishes and dairy products for a balanced vegetarian meal
The Diet-to-Go weekly plan starts at $130.99 plus $9.99 shipping cost. If you're ready to give it a try, you can save 50% OFF the first week.
---
4. Hungryroot – All-in-one meal and grocery delivery
If you're not that into prepared meals and want to do a little easy cooking by yourself, Hungryroot is right for you. It's a convenient and unique service between meal kits subscription and grocery delivery.
First, you'll need to take a basic quiz to share with Hungryroot your dietary preferences and goals like losing weight or improving health. And select how many meals you need to cover weekly. It will then suggest a list of groceries for you, including fresh ingredients as well as ready-to-eat food items, and give personalized and chef-curated recipes that are easy to follow.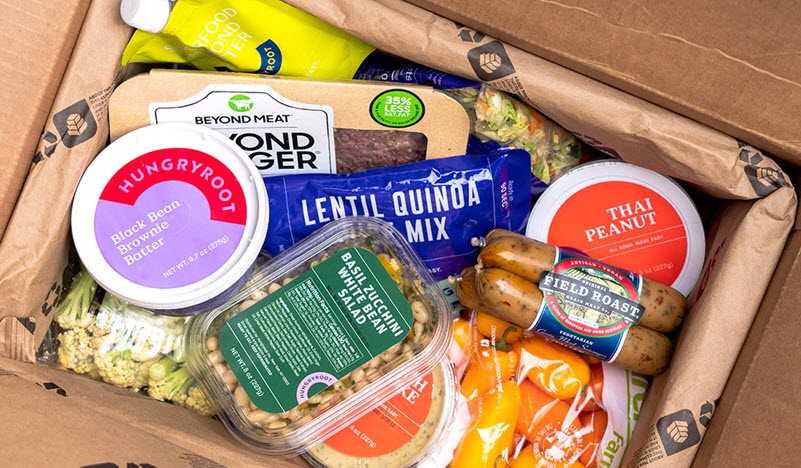 Hungryroot doesn't restrict particular recipes, so you can simply replace any items as you like. The price may vary based on your plan size, starting at $8.49 per serving.
---
5. Purple Carrot – Best plant-based meal kits
Purple Carrot is a meal delivery service specifically for plant-based eating, delivering all the ingredients and recipes you'll need to prepare vegan-friendly meals at home. It's a fantastic choice for vegetarians who're trying to drop pounds or people looking to add more veggies to their diets.
Just like most other meal kits services, Purple Carrot supplies ingredients and recipes you'll need to prepare for super easy vegan-friendly meal. Fresh ingredients are pre-portioned and delivered straight to your home, along with step-by-step cooking instructions.
All you need is to choose how many servings for each meal and meals per week, and pick your favorite from 8 vegan dinner menus. Breakfasts, lunches and vegan snacks are also available to add to your list. If you'd like to skip the cooking part, you can check out the prepared meal options that can be microwaved and eaten within 2 minutes.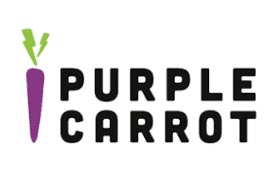 2-Serving plan
Recipe: 3 or 4 dinners
Price: $13.25 per serving
Best for singles and small families
4-Serving plan
Recipe: 2 or 3 dinners
Price: $11 per serving
Best for families and meal preppers
1-Serving prepared meals
Recipe: 6/8/10 meals can be selected per week
Price: $12.99 per meal
Best for people in need of quick and delicious meals
As the new customer, you'll enjoy free shipping and $80 off coupon on your first 4 boxes!
---
So that's the best meal delivery services for weight loss we recommend. Want to share another weight loss programs that's not mentioned here? Feel free to leave your comment below.