Best Home Treadmills (Reviewed 2023)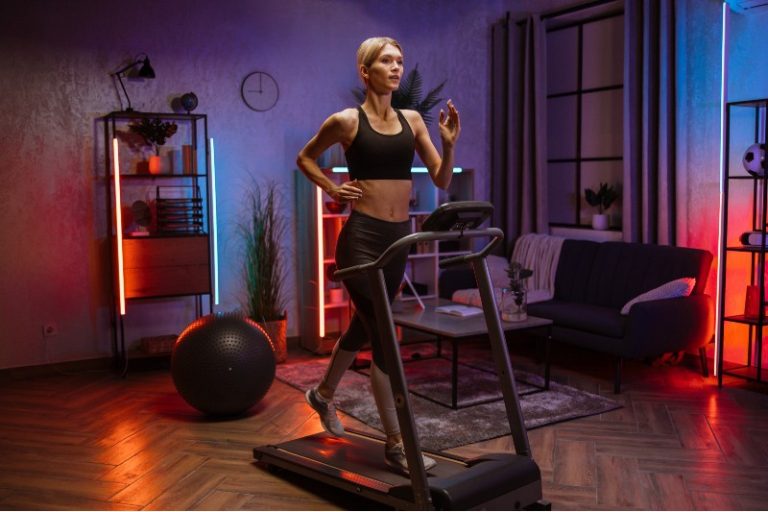 14-inch touchscreen
Smooth incline (15%) and decline (-3%) transition
Automatic speed adjustments
12 mph speed and 15% incline
High weight capacity (up to 375 lbs)
Excellent warranty coverage
Affordable price
Powerful and ultra-quiet motor
Cushioned deck for minimum effects on joints
Whether you're a keen jogger or casual walker, or just someone who just wants to kickstart your new-year exercise goals, it's a great idea to upgrade your home gym with a quality treadmill. You don't have to worry about bad weather, tight schedules or anything that might prevent you from working out outdoors. To help you shop wisely and easily, we've rounded up the 5 best cost-efficient treadmills for home use in 2023 and write a completely honest review.
Top 5 treadmills for home use
Pick your best fit from the top treadmills of our recommendation!
NordicTrack Commercial 1750 – Best Overall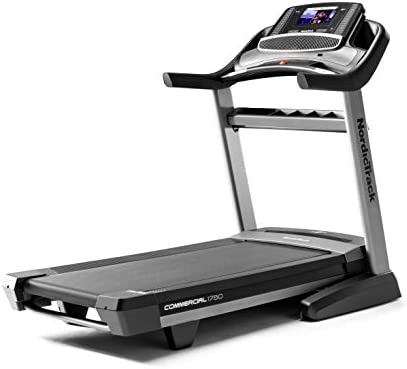 Size: 80 x 38 x 65 inches
Speed: 0 – 12 mph
Incline: -3% – 15%
Max user weight: 300 pounds
Warranty: 10-year frame, 2-year parts, 1-year labor
NordicTrack Commercial 1750 is one of the best home treadmills with a smooth ride, sturdy build and comprehensive functions. It features a 3.5 CHP motor that powers speeds ranging from 0 to 12 mph as well as inclines of 15% and declines of -3%. The advanced Bluetooth heart rate monitor will adjust your speed and incline automatically. Or you could adjust it manually via the intuitive control panel.
This machine stands out for a 14-inch iFit-enabled touchscreen (with one-year free iFit membership included), which allows you to enjoy fitness through a variety of interactive content like indoor classes and outdoor routines around the globe. What's more, its long and wide belt will be comfortable enough for runners of any height and weight. And despite the big size, it folds up quite easily for storage.
In terms of quality, performance, and price, this model is considered to offer the best value among NordicTrack's current Commercial Series.
---
Sole F80 – Runner Up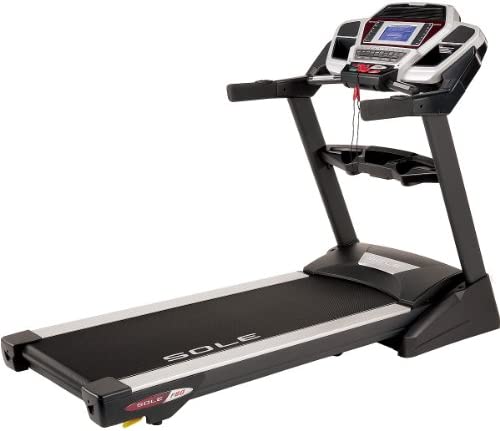 Size: 80 x 33 x 58 inches
Speed: 0 – 12 mph
Incline: 0% – 15%
Max user weight: 375 pounds
Warranty: Lifetime for frame, motor & deck, 5-year parts and electronics, 2-year labor
Sole F80 is a solid option for runners who are looking for a no-frill treadmill without subscription. Equipped with a 3.5 continuous-horsepower motor, it inclines up to 15% (but it doesn't decline) and reaches a top speed of 15 mph. The full-steel frame is durable to support a maximum user weight of 375 pounds. The cushioned flex deck is designed to reduce your joint impact by 40%.
Even users who are not tech-savvy will find this machine super easy to use. The 9-inch LCD screen displays real-time workout statistics clearly, and the tactile buttons on the handrails come in handy, helping you to move quickly between different speed and incline levels. Sole F80 doesn't have a touchscreen, but you could make your own setup for entertainment with the built-in Bluetooth audio speaker and table holder.
---
Horizon Fitness T101 – Best value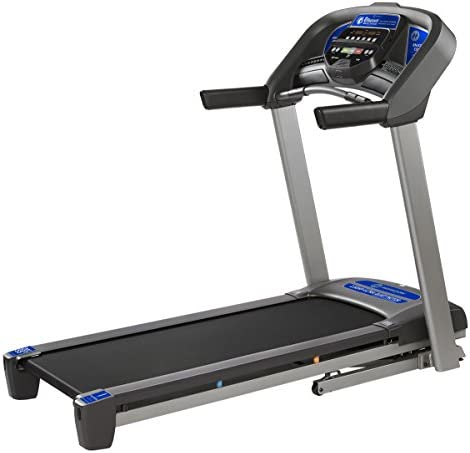 Size: 70 x 34 x 55 inches
Speed: 0 – 10 mph
Incline: 0% – 10%
Max user weight: 300 pounds
Warranty: Lifetime motor, 1-year parts, 1-year labor
Horizon Fitness T101 is the best-seller of budget-friendly treadmills. It provides robust features and performance for an enjoyable workout at home. You could choose from the 30 preset modes with different focuses on calorie burn, distance, weight loss or make a complete customization. The wide incline range from 0% to 10% and speed up to 10 mph allows you to add some variability and intensity to your routine. The 20-inch wide and 55-inch long belt, not spacious though, is sufficient for gentle training like walking or light jogging.
This machine is in a relatively smaller size so it's easier to assemble, and could fold up almost vertically for convenient storage. Compared with other treadmills of the similar price, T101 comes with satisfying lifetime warranty coverage on the frame and motor.
---
BowFlex Treadmill 22 – Best entertainment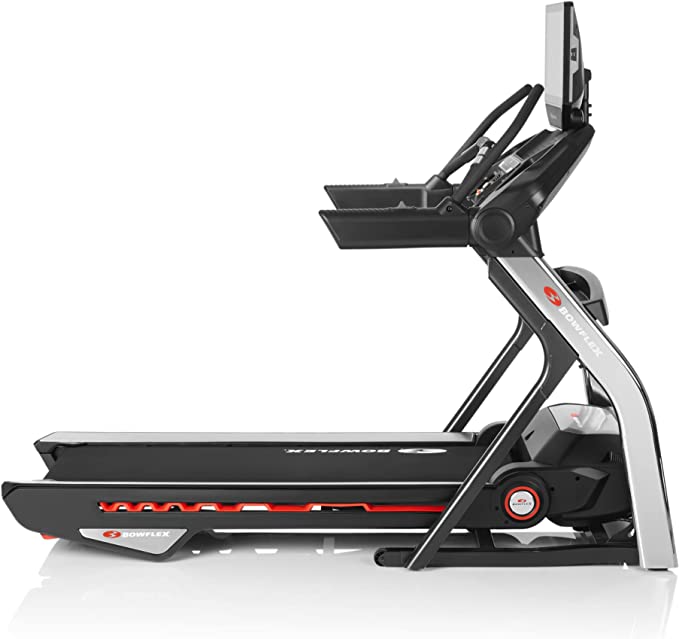 Size: 85 x 39.6 x 70 inches
Speed: 0 – 12 mph
Incline: -5% – 20%
Max user weight: 400 pounds
Warranty: 15-year frame and motor, 5-year mechanical parts, 1-year electronics, 2-year labor
If you're looking for an upscale treadmill with streaming options, Bowflex Treadmill 22 is an ideal choice. It boasts a sturdy build and outstanding stability while offering you an immersive entertainment experience during daily workouts.
The powerful 4.0 CHP motor can take the max speed to 12 mph, and the incline range is also exceptional (-5% to 20%), the widest of all the treadmills reviewed. That should perfectly satisfy the needs for some challenging runs. The comfortable and roomy running surface with cushioning will help absorb the joint impact.
Another great part of this treadmill is the 22-inch adjustable console with a touchscreen and Bluetooth speakers. It lets you access unlimited premium content on JRNY with 1-year free membership. There are professional trainer-led classes and scenic routes through beautiful locations. You can also connect it to your favorite streaming services like Netflix or Disney Plus.
---
AssaultRunner Pro – Best manual treadmill
Size: 69.9 x 31.7 x 64.4 inches
Speed: No limit
Incline: Curved belt
Max user weight: 350 pounds
Warranty: 7-year frame, 3-year moving parts
AssaultRunner Pro manufactured by AssaultFitness is the most popular manual treadmill. Made up of solid steel frame and handrails, this machine is proven durable and stable. It claims to sustain 150,000 miles of intense running.
Such a manual treadmill doesn't have a motor so it doesn't require electricity. There's no speed or incline limit. Without the motor, you'll need to put in more effort to power the movement and therefore burn more calories. The curved running surface provides good traction underfoot and can well protect your ankle, knee, and hip joints when running. From the digital display screen, you could track calories, distance, and pace, as well as other important metrics.
How to choose the best treadmill
Here are a few factors you should consider when buying a home treadmill.
Budget
A treadmill can be a big investment, so setting your budget beforehand can help you filter out a suitable treadmill effectively. A reliable and durable treadmill usually costs $1,000 and more. They should feature high-powered motors,  a wide range of speeds and inclines, as well as diverse workout options and last longer. High-end models with fancy touchscreens and advanced subscription content will be more expensive (over $2,000). If you're buying a product for everyday exercises and frequent uses, it's definitely worth it to spend more.
However, if you're short on budget, there are lots of affordable treadmills from brands like Sunny Health & Fitness. At a price under $1,000, they tend to have basic functions, limited speed & incline abilities and provide shorter warranty coverage.
Size
It's necessary to measure your available space before purchasing a home treadmill. To make sure the treadmill best fits your room, you need to consider its dimensions, weights, and whether it's foldable.
Besides, the running space (also known as belt size) is important, which will affect the footprint of the treadmill. It depends on how you're going to use the treadmill. It's better for runners to get a treadmill with belts 20'' wide and 60'' long, and for walkers to get ones of 17'' – 20'' width and 45'' – 60'' length. Taller users (more than 6 feet) should invest in larger belts, at least 20'' wide and 60'' long.
Power, speed & incline range
Depending on your fitness goals and workout habits, you should pay attention to the treadmill's power, capabilities of power and incline. If you're looking for intense running or will be using the treadmill every day, it's better to get 2.5 or 3.0 CHP. And wider speed and incline ranges will give you a better simulation of outdoor running. For those who prefer walking or jogging, a lower CHP rating is sufficient, but it may not support long durations with multiple users.
If you're a professional runner and athlete or want to achieve the best workout efficiency, you may prefer a manual treadmill. It doesn't have a motor and is completely powered by your movement.
Features
Apart from the basic functionalities like preset workout programs and real-time stats tracking, many high-end treadmills will provide a variety of high-tech features including a display screen, rich offerings of immersive live classes and coaching, Bluetooth connectivity, automatic speed adjustments, built-in fans, heart rate monitor, and so on.
---
So that's all for the 5 best home treadmills in 2023. If you also want to share another treadmill not mentioned here, feel free to leave a comment below.