5 Best Exercise Bikes for Indoor Cycling in 2023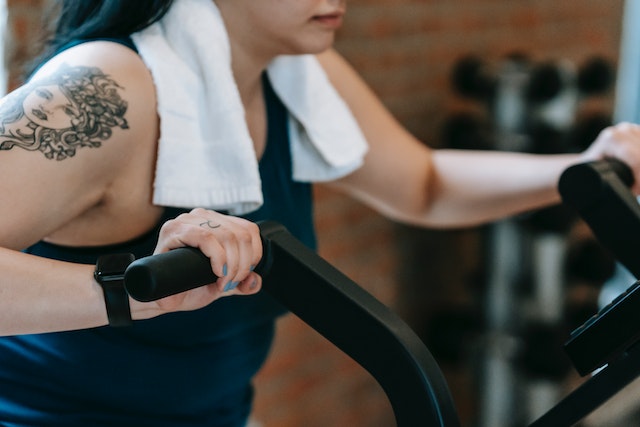 Indoor cycling is one of the most effective and convenient cardio exercises at home. It offers plenty of health benefits like building muscle, burning fats, and improving your endurance while having a lower impact on the knee joints than other equipment such as treadmills or ellipticals. Looking to get your own exercise bike to start daily cardio? This post rounded up the 5 best exercise bikes that you can make a good addition to your home gym.
Schwinn IC4 Indoor Cycling Exercise Bike is a budget-friendly Pleton alternative with excellent performance, comfort, and durability. Featuring a 40-pound flywheel and variable magnetic resistance, it offers a smooth and quiet ride even when you're pedaling out of the saddle. This machine supports a maximum weight of 330 pounds, and the adjustable seat and handlebars should accommodate riders between 4'6" and 6'6".
Although this bike doesn't integrate a touchscreen (only a backlit LCD), it enables Bluetooth connectivity and works with various fitness apps like Pleton, Zwift, and JRNY. There are also some useful accessories along with the bike, making it a great value for this price – a pair of three-pound dumbbells, a heart rate monitor, a device holder and dual bottle holders. You'll also get one-year JRBY membership for free with the purchase!
Pros

Smooth & quiet ride with 100 magnetic resistance levels


Dual-sided pedals


Bluetooth connectivity


1-year JRNY membership included
Cons

No built-in screen


Lack of preset workout programs


Difficult assembly
Most popular stationary exercise bike
Peloton Bike is a top-notch and popular indoor cycle. It has revolutionized the market by combining motivating home cardio with an impressive library of live and on-demand fitness classes for different levels (more than just cycling). Thanks to the 22-inch HD touchscreen, users feels like taking real spinning classes while tracking cadence, speed, distance, heart rate, and other real-time metrics visibly. You can also see how others in the same class work via the leaderboard and engage in the inspiring Peloton community. 
If you're looking to buy a high-end stationary bike, the latest model Peloton Bike+ has various amazing upgrades over the original one – the larger 360º rotating screen, advanced immersive speaker system, auto adjustment of resistance, and better connection capabilities.
Pros

Sleek design, well-built with durable materials


Immersive 22'' HD touchscreen


Access to thousands of live and on-demand fitness classes


Perfect for limited room space
Cons

Paid membership required to stream classes


Cycling shoes needed to work with the pedals
Best for calorie burn and weight loss
Different from most exercise bikes dedicated to stationary rides, BowFlex VeloCore delivers realistic, natural-feeling indoor cycling via the unique leaning function. You could tilt from side to side just like riding on an open road. And that will effectively activate your core and upper body and burn more calories. Other highlights such as the adjustable seat and handlebars, dual-sided pedals, compatibility with third-party apps (Peloton or Zwift), and extra accessories make this model well worth the money.
While you don't necessarily need a subscription to ride with VeloCore, getting one will greatly elevate your indoor cycling experience. The JRNY membership, free for first year, gives you access to tailored programs with real-time coaching, a robust selection of trainer-led videos, and over 200+ global routines. You can also stream entertainment like Netflix, Hulu or Disney+ via the console (16'' & 22'' options available).
Pros

Lean Mode for full-body workout


Dual-sided pedals


Wide range of resistance levels


3 lbs. dumbbells and Bluetooth heart rate armband included
Cons

A bit bulky


Relatively expensive
Yosuda Indoor Cycling Bike (YB001) is a smooth, durable, and easy-to-maintain bike designed for anyone who wants to develop a fitness habit. Despite the cheap price, it provides the variety of customization as high-spec models. The handlebar is 2-way adjustable and the seat is cushioned and moveable in four directions. Running on friction resistance, it offers unlimited resistance levels to suit any workout intensity. You just turn the knob dial to increase or decrease the tension and pull the emergency brake to stop the flywheel immediately. 
This model lacks high-tech features but comes with essentials like an LCD monitor showing your speed, distance, calories, and odometer in real-time, a water bottle holder, and a flat bracket where you could stream music or video or with your devices. At just 73 pounds, this Yosuda bike is super lightweight and easy to move around your home.
Pros

Infinite friction resistance


Belt drive for quiet and smooth rides


2-way adjustable handlebar and 4-way padded seat


Super lightweight
Cons

Small LCD monitor


No built-in program, app integration not supported
Best recumbent exercise bike
Recumbent exercise bikes are great for low-impact and gentle workouts with sufficient support for your back. Schwinn 270 is a brilliant choice. The user-friendly design, with a wide padded seat that is adjustable and a ventilated backrest, will let you cycle in a comfortable reclined position without straining the joints. The weighted flywheel and carbon steel frame will ensure you get a realistic road-momentum and stable feel while riding.  
270 doesn't have a touchscreen, just as most bikes under $1,000), but its console includes 29 pre-programs and 25 resistance levels to choose from, so you'll never get bored with the everyday workout. The dual screens will display every important metric throughout the session. It's also Bluetooth-enabled, allowing you to connect third-party apps like Explore the World and MyFitnessPal to sync fitness data. You could also try virtual riding with your friends and enjoy more scenic routes (VR compatible).
Pros

Large seat with a vented backrest


DualTrack two blue backlit LCD console


29 preset programs and 25 levels of resistance for customized training


Reliable Bluetooth connectivity
Cons

Grip heart rate monitoring is inaccurate


Short warranty on labor and electronic
How to choose the best exercise bike
Investing in an exercise bike can get expensive, so you may want to do comprehensive research before making the purchase. There are so many options on the market with different styles, features, and prices, making it a big challenge to pick one that fits your fitness goals and space. To help you with the purchase, here are a few important factors to consider when shopping for an exercise bike.
Types
There are mainly four types of exercise bikes catering to different styles of riding. Upright bikes and indoor cycling bikes are designed for maximum calorie burn and full-body workout, while recumbent bikes are much gentler.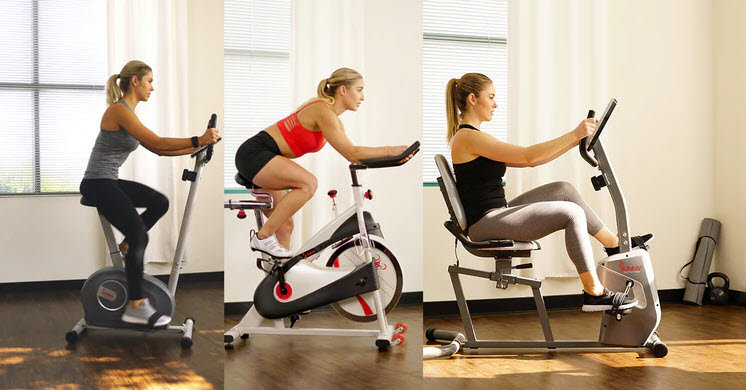 Upright bike
This is the most common exercise bike you can usually see at gyms. Compared to traditional bikes, it features a wider seat and handlebars closer to the body, so you'll ride in a more upright, stacked position. Most upright bikes come with a console where you could control the resistance via a simple press to fine-tune your workout. 
Indoor cycle bike
An indoor cycle bike also looks similar to regular road bikes and offers the closest experience of outdoor cycling in a lean forward body position. It features a weighted flywheel connected to the pedals and adjustable seating and handlebars to suit your height. The resistance levels are usually controllable by turning the knob, or you can stand up while pedaling to simulate going up hills or riding into the wind to add on more resistance.
Recumbent bike
Recumbent bikes are ideal for less intense workouts or recovery riding. With a full cushioned set to support the back and pedals positioned in front of the body, it allows you to ride in a comfortable reclined posture. This will reduce the stress on your joints and engage fewer core muscles in the body, which suits people with lower back problems or seniors.  
Air bike
Air bikes, also called assault bikes, are a less-known type of stationary bike. What makes it look different is the large fan at the front, which creates resistance to your pedaling. That said, the harder you pedal, the quicker the wheels rotate and the more resistance you feel. Your arms need to pump back and forth to move the handles. It's a great choice for riders looking for a full-body workout or people who prefer to ride without technology.
---
Space
Exercise bikes won't take up much space (recumbent bikes might be bulkier). If you have very small room for the equipment, it's better to choose foldable models with small footprints. You could store them easily when it's not in use.
---
Budget
When it comes to exercise bikes, there's a wide range of price tags, from under $200 to over $2,000. Smart and luxurious exercise bikes with advanced features and accessories will be more expensive. Built with durable components, they tend to last for years. If you're short on budget, brands like Sunny Health & Fitness and Yosuda offer sturdy and quality models without bells and whistles at a cheaper price.
---
Features
If you're a beginner to stationary bikes and don't know how to assess their performance and value, here are a few metrics you should pay attention to.
Adjustability – It will be very uncomfortable riding on a bike that doesn't fit your body ergonomically. So make sure the seat and handlebars could adjust both horizontally and vertically to get you in proper positioning.
Resistance level – The resistance level indicates how hard you want to push the pedals, helping you individualize your cycling session. The higher range of resistance levels a bike has, the more variability you could expect for your workout.
The resistance mechanism will also affect your riding differently. Computer-controlled magnetic resistance is relatively quiet and easy to control with the click of a button. It's a bit more expensive but requires minimal maintenance over time. Friction resistance may produce louder noise and adjusts with a tension knob.
Pedal – There are different pedal options to keep your feet securely in place while riding: 1) clipless style that works with shoes with cleats, 2) toe clip that has a steel or nylon frame wrapped over the top of the shoe, or 3) Hybrid pedals (dual-sided pedals) compatible with both running shoes and cycling shoes.
Technology – Premium exercise bikes usually provide plenty of high-tech setups such as Bluetooth connectivity, built-in console or touchscreen that allows you to stream favorite live classes or videos, heart rate monitor to track your fitness data, and so on.
Extra accessories – Things like bottle/tablet/phone holders, USB ports, cooling fans, and additional equipment such as dumbbells, resistance bands or kettlebells are all great add-ons to the exercise bikes.
---
Hopefully this post helps you find the best exercise bike that fits your needs. If you have any question or suggestion, please feel free to leave a comment below.