BeenVerified License Plate Lookup | 2023 Updated
Get a detailed vehicle history report at an affordable price.
License Plate Lookup
1. Enter Plate Number, Select State 2. View Vehicle History Report
A license plate lookup is a process of retrieving information about a vehicle by using the license plate number as the primary search query. It is a helpful tool for individuals who want to gather details about a specific car, such as its make, model, and year, as well as to gain a comprehensive vehicle history report.
In this article, we'll introduce you BeenVerified, a legit online service to conduct license plate searches.
What is BeenVerified? Is it legit?
Before checking how BeenVerified license plate lookup works, you will want to know some basics about BeenVerified and whether it is trustworthy. Below we have you covered.
What is BeenVerified
BeenVerified is a reputable online background check service that provides valuable information to individuals seeking to learn more about others. With 10+ years of experience in providing users access to billions of records from leading sources, BeenVerified could be your go-to choice for everyday information.
But BeenVerified is more than people search. It's 7 Products in one.
And it is legitimate. The data users can access is legitimate and obtained legally.
BeenVerified cost
BeenVerified is not free.
Currently, it offers two membership plans:
(Prices are subject to change and you may be able to receive discounts. So we suggest you check their site for the most updated pricing details. )
$29.99 /mo – 1-Month Membership
$19.49 /mo – 3-Month Membership

And subscribers can run 100 reports per month during the term.
Why isn't BeenVerified free?
The reason for the non-free nature of BeenVerified lies in the extensive and reliable data sources it utilizes to generate its reports.
The platform scours through a vast array of public records, government databases, court records, and other reliable sources to ensure the accuracy and completeness of the information it provides. These data sources often require licensing fees and maintenance costs, which contribute to the overall operational expenses of BeenVerified.
Moreover, the development and maintenance of a user-friendly platform that enables easy access to these records and generates comprehensive reports also entail costs. Ensuring that the platform remains secure, efficient, and reliable requires continuous investment in technology and cybersecurity measures.
How does BeenVerified license plate lookup work?
After confirming that it's totally safe to use the services that BeenVerified provides, you can dive into the process of looking up a license plate number on BeenVerified.
3 easy steps to conduct license plate searches
Step 1:
Visit BeenVerified's Vehicle Search page.
Step 2:
Go to the Search by License Plate section. Enter the plate number into the search box, select the state from the drop-down, and click SEARCH.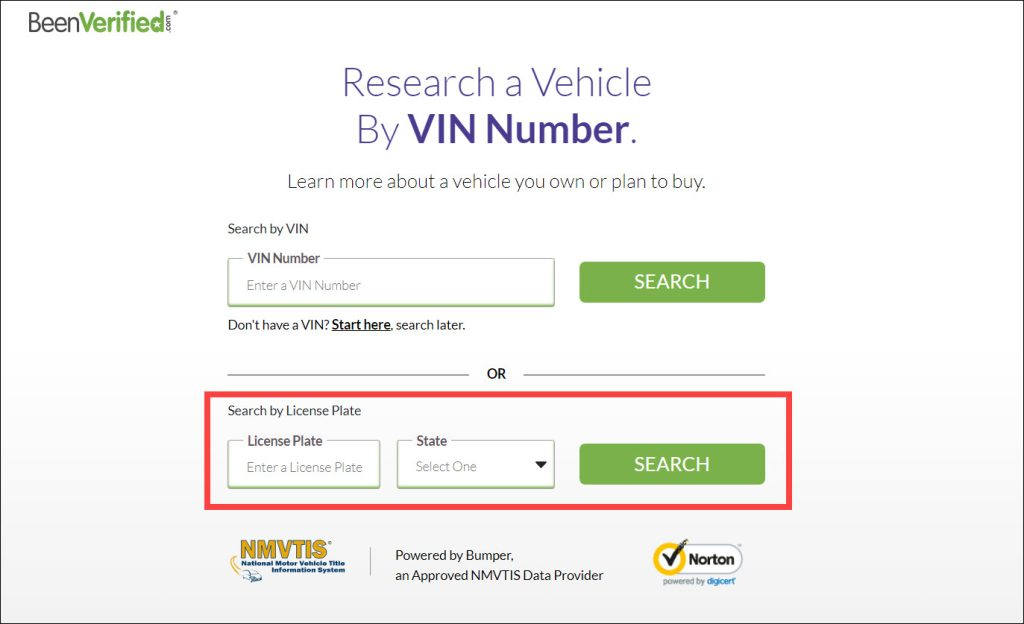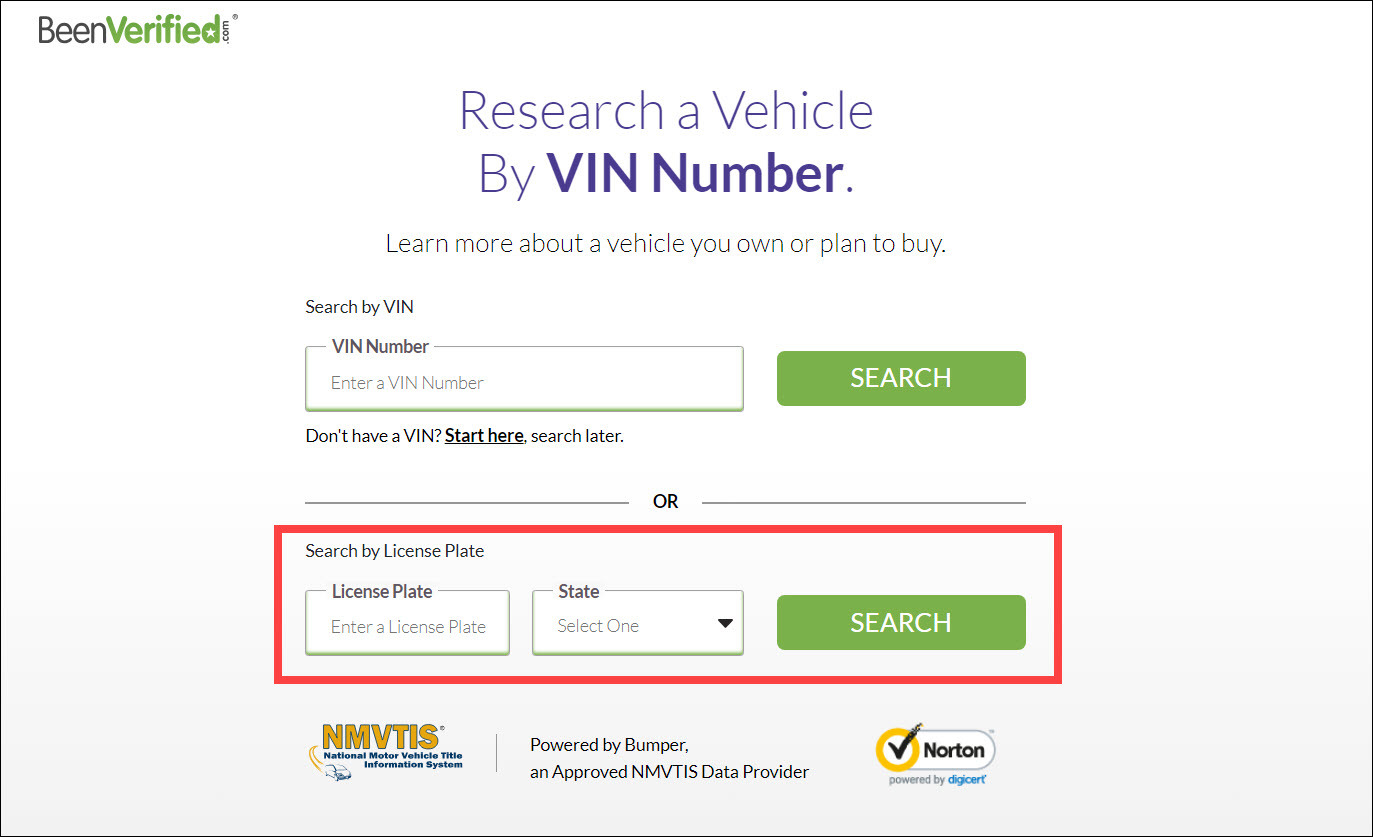 Step 3:
Patiently wait for BeenVerified to scan the data from all available public records sources. Once it finds your match, purchase a membership plan and unlock the comprehensive report.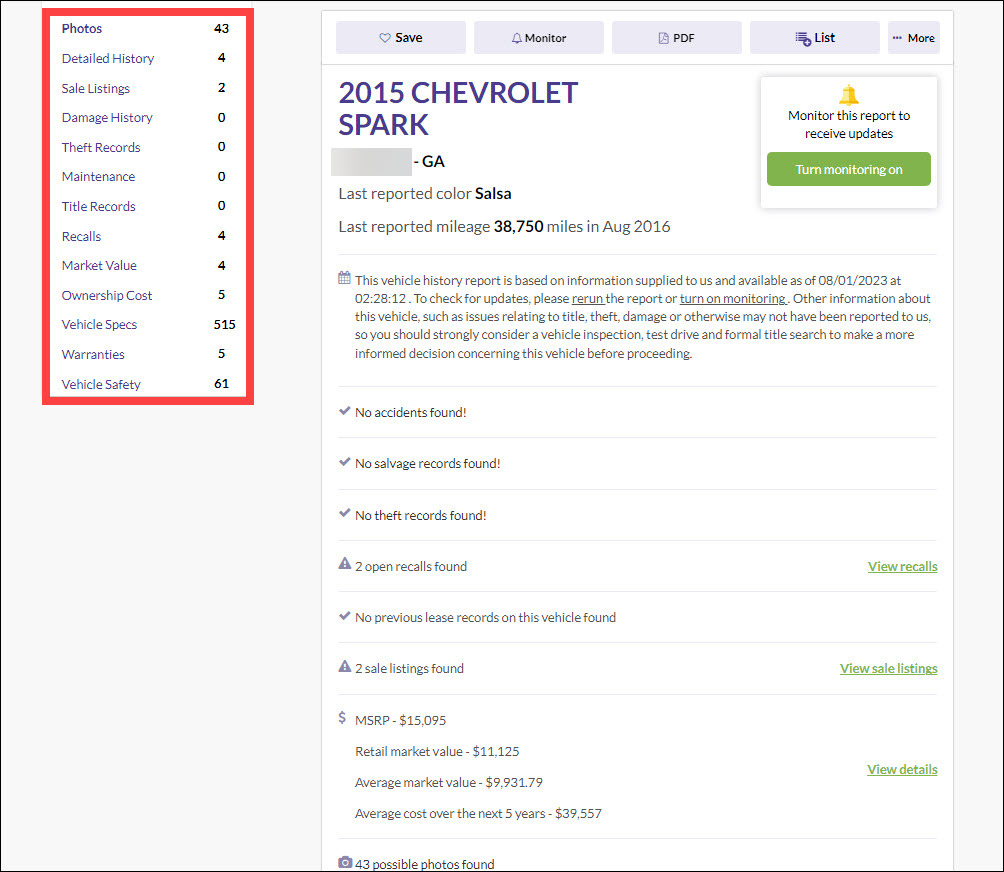 Typically, a BeenVerified Vehicle Search report can include the following information:
Accidents & Salvage Records
Vehicle Specifications
Market Value
Ownership cost
Theft Records
Sale Listings
Recalls & Warranties
And More!
Just a kind reminder…
Your membership will automatically renew every month unless canceled before the start of the next term.
The recurring membership fee, along with applicable sales tax, will be charged to the same payment option used today.
However, you can cancel your membership at any time:
Tel: 1-866-885-6480
Email: support@beenverified.com
---
So this is everything you should know about BeenVerified License Plate Lookup. Hope you find it useful. Feel free to let us know whether BeenVerified has helped you find the information you need in the comment section below.
The methods in this article provide you with easy access to public record information, but without a guarantee for accuracy and may include links to websites not listed as a Consumer Reporting Agency (CRA). Information acquired from these bodies is illegal to be used for employment, housing, credit, and other purposes alike, according to laws such as the Fair Credit Reporting Act (FCRA). If you're not sure whether your use of our methods is appropriate, click here for details.