ATV VIN Check | How to decode ATV VIN number and see if it's stolen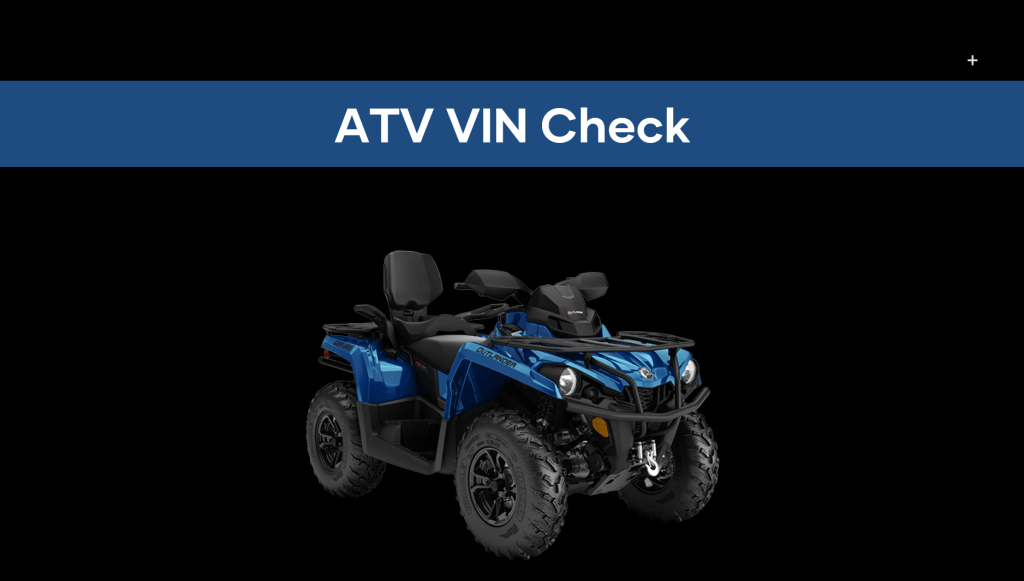 ATV VIN Check Stolen
Research an ATV you plan to buy by VIN number and learn more about its history.
ATV, all-terrain vehicle in short, is popular for the speed, strength, and adventurous experience it offers. Despite the fact that owning an ATV adds spice to your life, you can't ignore that buying a brand new ATV is costly, which may not be an optimum choice especially when you're on a tight budget. In this situation, you would like to turn to a used one. However, you still can't rest assured as purchasing a pre-owned ATV can be a scary undertaking that will require due diligence.
Something that needs your attention is that stolen ATVs are occasionally offered for sale online or in local classIfieds. One of the unfortunate realities is that they are easy targets for thieves due to their small size and relatively few factory installed anti-theft features.
According to statistics reported on NICB (National Insurance Crime Bureau), a total of 61,196 ATVs were stolen from 2016 to 2018, though the number has been declining. In a nutshell, it's always better to be safe than sorry: to prevent yourself from being scammed into buying a stolen ATV.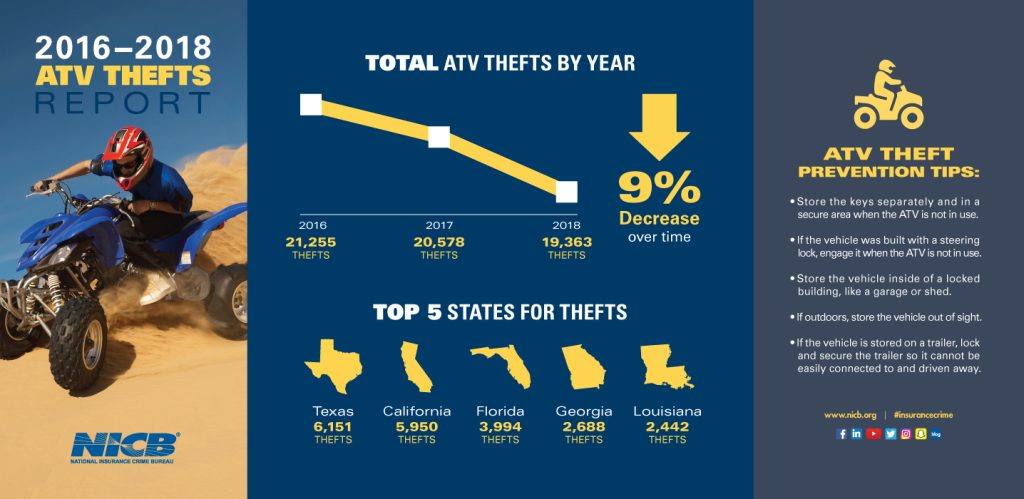 To avoid falling victim to unknowingly paying for a stolen ATV, you should run an ATV VIN check and get a comprehensive vehicle history report. This search can reveal much about a vehicle, including:
Specifications
All major events of the vehicle including accidents, salvages, thefts, and sales listings
The ownership history
And much more…
Now you've had a better understanding of how a VIN check can help you make an informed decision, you should get ready for it by checking out the sections below.
How to decode an ATV VIN number
A Vehicle Identification Number, or VIN, is a 17-digit unique identifier assigned to a vehicle, excluding the letters O (o), I (i), and Q (q), which can be confused with numerals 0, 1, 9. It contains valuable information about the basics of the vehicle, including the year, make, model, country of origin, details of the style, and much more.
The location of an ATV VIN varies by manufacturers. But in most cases, it can be found on the left hand side of the frame rail. Or you can request it from the seller or dealership. Once you get this number, you can decode it. The image below will show you how to read an ATV VIN number. The standard applies to vehicles built in or after 1980. Whether you're trying to understand a Honda ATV VIN number, Yamaha ATV VIN number, or Polaris ATV VIN number, you should be able to find the important information.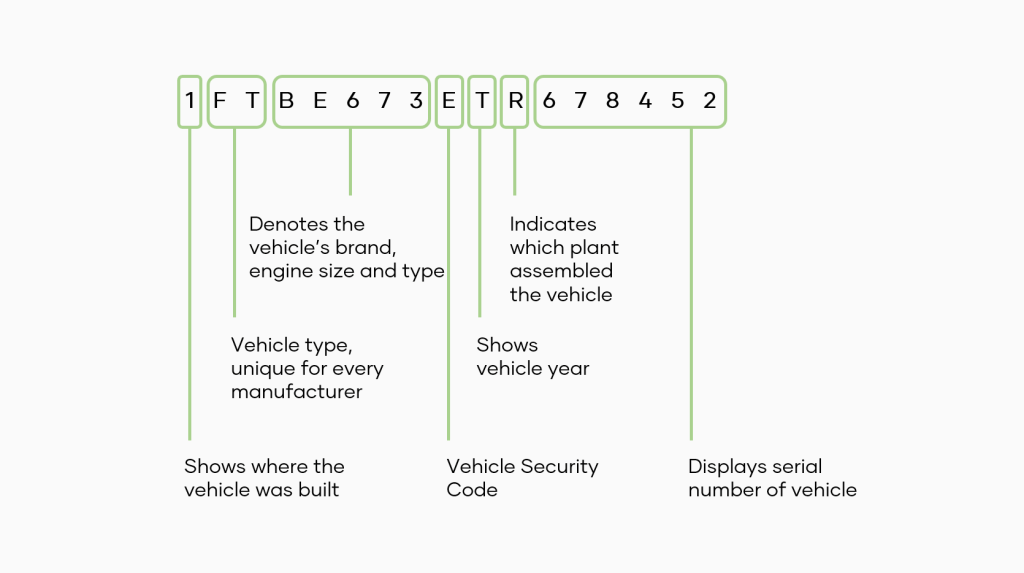 How to tell the year of an ATV by VIN
As noted above, if you wish to know the vehicle model-year, simply examine the letter or number in the 10th position from the left in the VIN, which represents the year code. The following information is to help you determine the year of an ATV.
| | |
| --- | --- |
| Code | Year |
| A | 1980 |
| B | 1981 |
| C | 1982 |
| D | 1983 |
| E | 1984 |
| F | 1985 |
| G | 1986 |
| H | 1987 |
| F | 1988 |
| K | 1989 |
| L | 1990 |
| M | 1991 |
| N | 1992 |
| P | 1993 |
| R | 1994 |
| S | 1995 |
| | |
| --- | --- |
| Code | Year |
| T | 1996 |
| V | 1997 |
| W | 1998 |
| X | 1999 |
| Y | 2000 |
| 1 | 2001 |
| 2 | 2002 |
| 3 | 2003 |
| 4 | 2004 |
| 5 | 2005 |
| 6 | 2006 |
| 7 | 2007 |
| 8 | 2008 |
| 9 | 2009 |
| | |
| --- | --- |
| Code | Year |
| A | 2010 |
| B | 2011 |
| C | 2012 |
| D | 2013 |
| E | 2014 |
| F | 2015 |
| G | 2016 |
| H | 2017 |
| J | 2018 |
| K | 2019 |
| L | 2020 |
| M | 2021 |
| N | 2022 |
How to run a VIN check and see if it's stolen
The most effective way to run an ATV VIN number lookup is by utilizing an online tool. Even if you don't have access to the VIN number, you still can research a vehicle using a license plate. They provide you with all the valuable information, without which you would otherwise have a hard time compiling all the data independently. Although you can also call the police to run a VIN check, this may not be the best option when you want to learn about an ATV's history before signing the contract.
For that job, we would like to recommend EpicVIN and Bumper.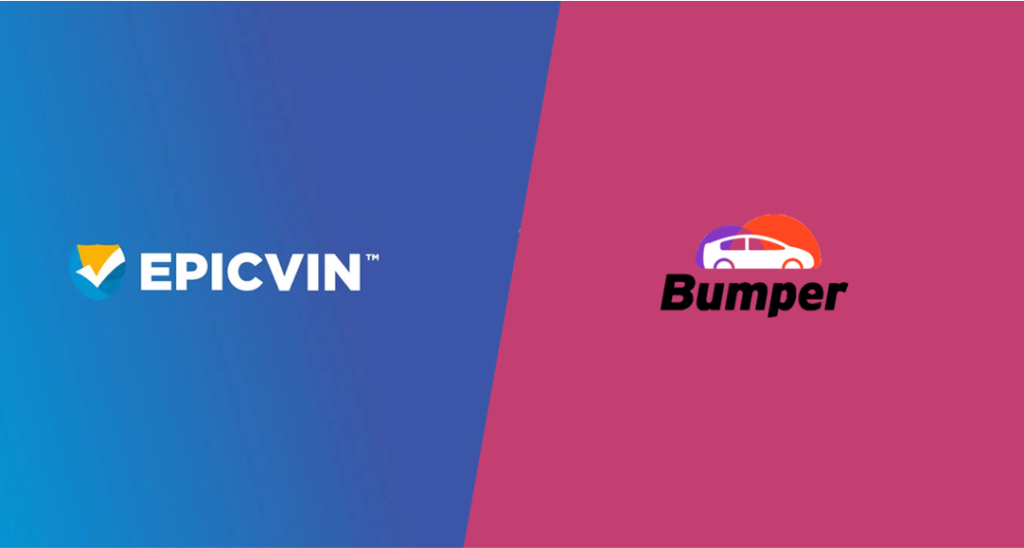 Are EpicVIN and Bumper legit
Before proceeding to any lookups, you may want to verify if EpicVIN and Bumper are legitimate services. The answer is "Definitely YES!". They are both NMVTIS-approved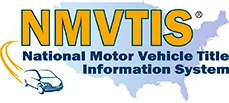 providers of vehicle history reports. So you can rest assured and perform your searches without having any concerns.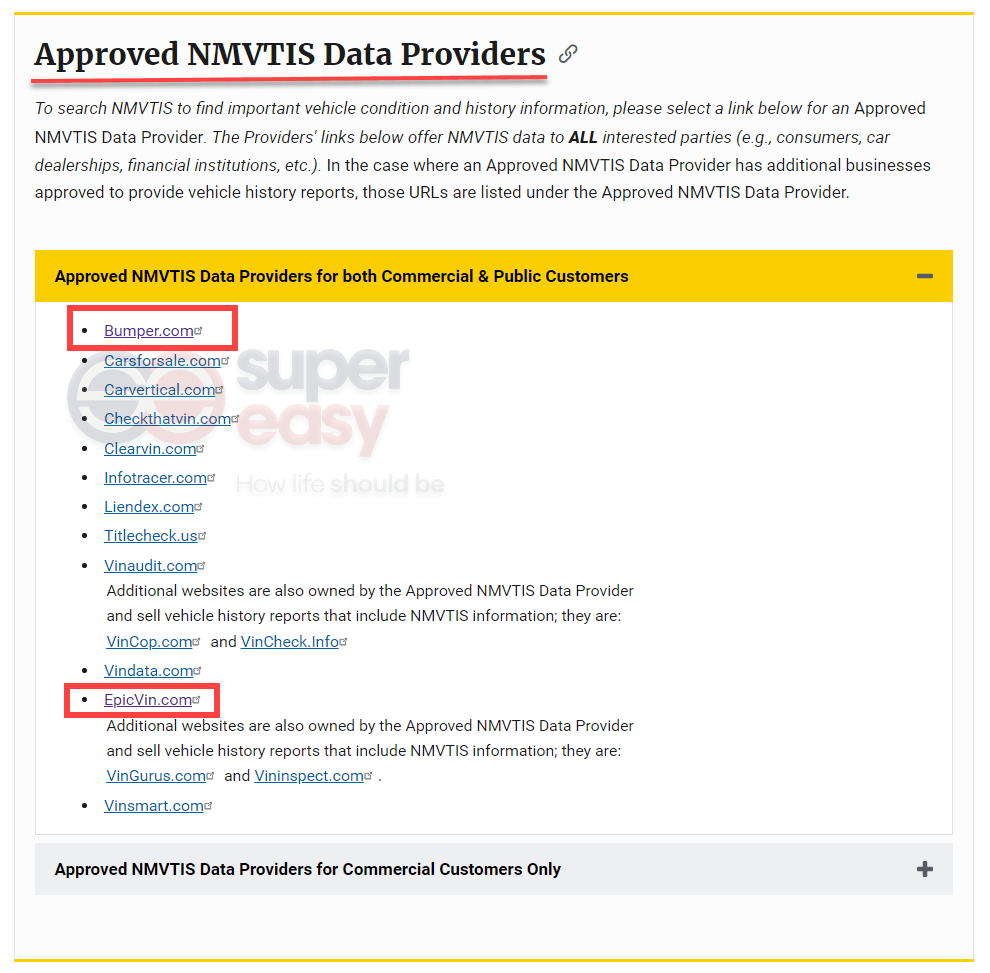 How to do an ATV VIN number lookup on EpicVIN and Bumper
Below are the brief introductions of EpicVIN and Bumper, plus the simple step-by-step guides to do a VIN check. Simply select the one of your preference and find the information that is useful for you.
Option 1: EpicVIN ATV VIN Lookup
When it comes to VIN lookups, EpicVIN should be your go-to option. As its name suggests, it allows you to learn a vehicle's history by the Vehicle Identification Number. With its user-friendly interface, you'll find it easy to run your searches. EpicVIN – before you buy
EpicVIN's aim is to reduce uncertainty and fraud in the automotive sector by empowering prospective buyers with an informed insight into a vehicle's history.
To run a VIN check on EpicVIN, follow the steps below.
Navigate to EpicVIN's search page.
Feed in the VIN and click Check VIN.


Wait for it to scan the database for the most up-to-date vehicle information. Then you should get a detailed report with which you can decide whether you should buy this ATV.


For users who want to have a quick access to ATV VIN number lookup by make, simply locate the one that you're in need of and run your search now.
Option 2: Bumper ATV VIN Lookup
With 10+ years of data expertise and more than 100 million searches performed, Bumper is a great source for public records on vehicles and beyond. With its VIN search tool, you don't have to rely solely on the seller's words about a vehicle as your only source of information. Additionally, with its market valuation tool, you'll know how much you should pay for a vehicle. Equipped with this sort of important information, you can feel confident when negotiating with the seller or dealership! Bumper – before your buy
Bumper is committed to building a better product and providing a game-changer for vehicle searches.
To run a VIN lookup on Bumper, take the steps as follows.
Visit Bumper's search page.
Enter the VIN into the search box and click SEARCH.


Wait for the system to find the VIN in the database. Then you should receive a report that may reveal theft records, if there are any.


---
So this is all you want to know about ATV VIN checks. Hope it assists you to get all the possible reliable information and make sure it's worth every dollar you spend on this ATV. If you have any ideas or questions, do not hesitate to drop us a line in the comment section below and we'll get back to you ASAP.