Ashley Furniture is a world-class furniture designer and manufacturers. When it comes to furnishing your home, Ashley Furniture is one of the brands that come to your mind for the first time. Instead of shopping at Ashley HomeStore Outlet, you can save at their online furniture store and get thousands of furnishing products.
The online prices at AshleyFurniture.com will most likely have the best and most up-to-date promotions. And this post is going to tell you how to save at Ashley Furniture's online store. Never miss out on savings again by checking this page out before you shop!
1. Shop Ashley Furniture sales
We all know there're sales on specific holidays like Memorial Day, Labor Day, etc. But the furniture store offers deals throughout the year, you don't have to wait for a furniture sale to buy much-needed decor and other products.
Navigate to the DEALS page, and you'll find up to 30% off selected items on the webpage. From solid-wood beds to accent chairs to canvas wall art, you can find every item on your list. Also check the Outlet section, up to 60% off discount plus 12 months financing plan is waiting for you.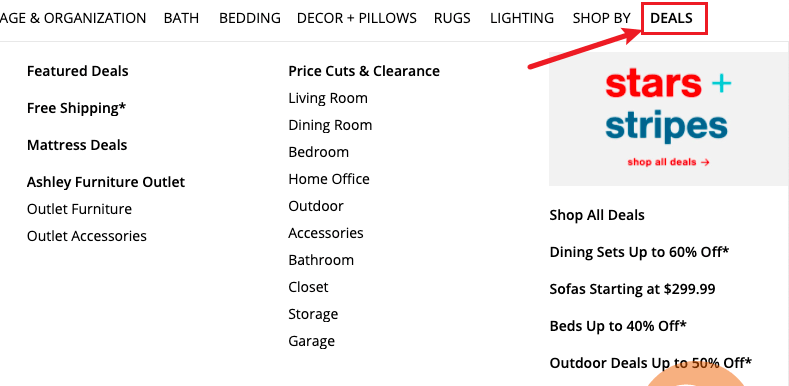 Ashley Furniture's Price Cuts and Clearance section is the last part to save on merchandise. You're guaranteed to find the lowest prices on Ashley Furniture for the best brands.
Ashley HomeStore guarantees you won't be able to find a lower price on their online merchandise anywhere else. In fact, if you find an identical, in-stock product from another online retailer at a lower price, Ashley HomeStore will match that price.
Ashley HomeStore posts home decor inspiration along with current sales and discounts to their social media channels. Follow Ashley HomeStore on Facebook, Instagram, Twitter, Pinterest, and YouTube so you'll know when a new sale arrives. If you don't wanna miss special deals or discounts, sign up on Ashley Furniture to receive notifications and exclusive deals from them.
2. Shop with promo codes
Coupons or promo codes are one of the easiest ways to save money when needed. Make sure you've searched for Ashley Furniture coupons before you shop so you can save more on deals and sales.
Here's the Ashley Furniture coupon page, grab working coupons before you shop.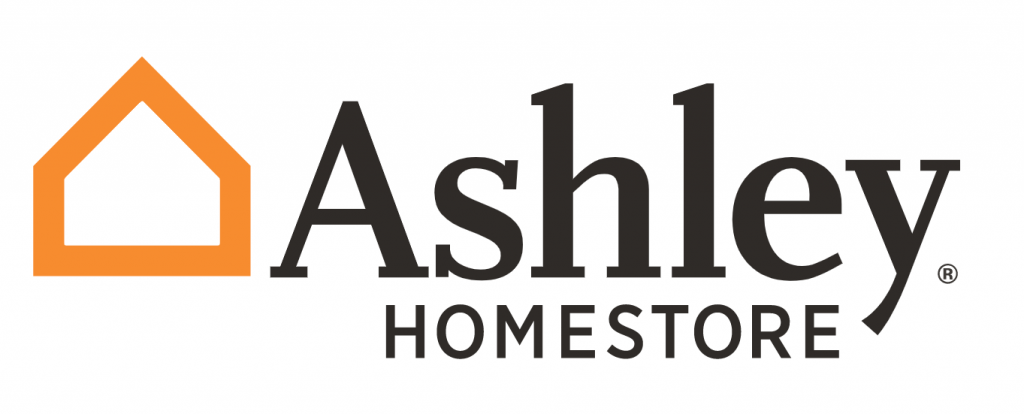 3. Send referral link
Ashley Furniture doesn't offer student discounts, teacher discounts, military discounts, or senior discounts. But sharing Ashley HomeStore with friends and family members through a personalized referral link, you're rewarded with a discount when they make a purchase.
It's a win-win strategy: your friends will receive 10% off when they sign up with an email address, and you'll receive a coupon code after they complete their first purchase. The more friends you shared, the more coupon code you'll receive. You can use these new coupon codes for another upcoming purchase you make. Ashley Homestore will send the coupon code to you through an email.

4. Check price after purchase
Ashley Furniture guaranteed they provide products at the lowest price. After purchasing any merchandise from Ashley Furniture, make sure you keep checking back in case your new items are reduced in price. If you find your items listed at a lower price on other websites within 30 days of your purchase, you can contact Ashley Furniture to adjust the price and give you the new lower price.
There're requirements for getting a price match, learn more from Ashley Furniture's Price Match Promise page.
Free shipping & Return policy
Ashley Furniture has free shipping on select items. Check out the DEALS tab on the website and start browsing all of the free shipping furniture. Ashley Furniture has put these products together for you.
Another way to save delivery fees is to pick up your online purchases at your local Ashley HomeStore warehouse.
Note: This option is available at participating locations only, and Ashley HomeStore isn't responsible for damage caused by loading or failure to secure items.
Ashley Furniture tries its best to ensure your purchase is delivered with the utmost care and attention. However, if you're not satisfied with your purchase or you've changed your mind, you can make a return or request a repair within 30 days of your purchase.
Conclusion:
That's all the saving tips for Ashley Furniture. Hope this post would help you save some bucks on your purchase. If you have other saving tricks or new hacks, please share them with us in the comment section.