(Homemade) 5 Best Protein Pancake Recipes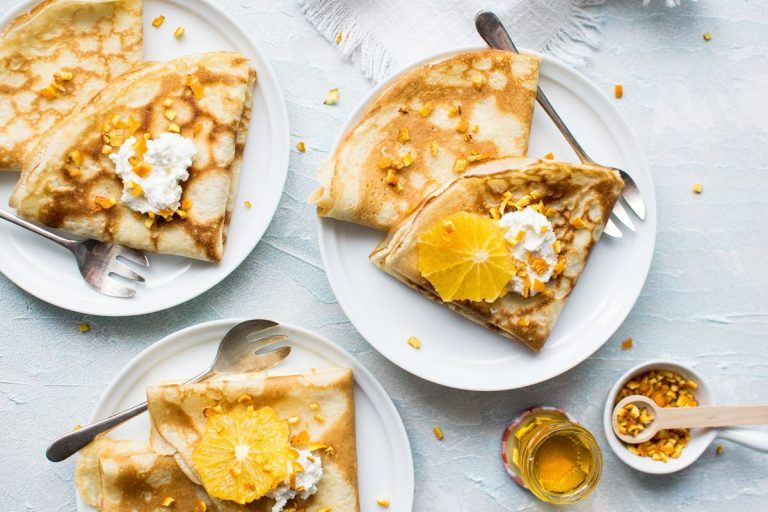 Right now the coronavirus is spreading all over the world. Although we don't have a vaccine, we can improve our immune system to fight against coronavirus. Protein pancakes are perfect for a healthy breakfast. The recipes below will help you boost your energy and keep you full until lunch. Also, you can make a cup of protein shake accompany with pancakes.
1. Banana Pancakes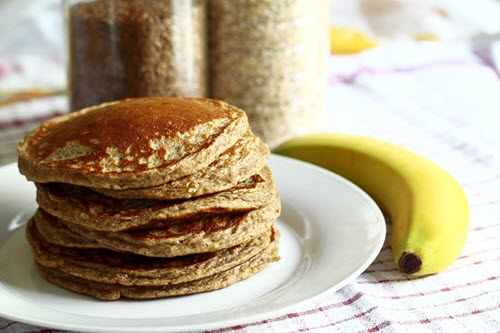 Ingredients
1 large banana
2 large eggs (or 4 egg whites if you want to reduce calories)
1 scoop (35g) Impact Whey Protein
1 scoop (35g) instant oats
How to cook
Heat up your non-stick frying pan with medium fire – don't make it too hot.
Chop the banana. Add banana and eggs to a blender and blend them until smooth.
Add the protein powder and instant oats to the blender and blend them. Add them after bananas and eggs can prevent the powder get stuck at the bottom.
Pour the batter into the preheated frying pan.
Wait around 30 seconds, when you see it turns into golden on the bottom you can flip the pancake and wait for another 30 seconds. Repeat this step until you have nothing left.
Add toppings you like.
2. Blueberry Pancakes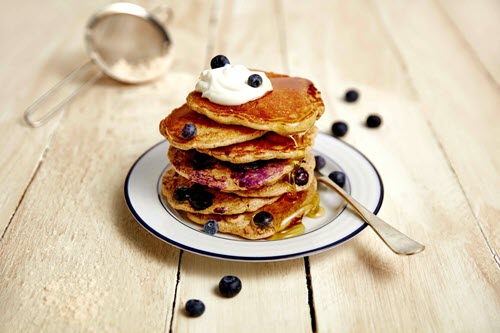 How to cook
Mix protein pancake mix powder with milk in a large bowl.
Put a small amount of butter in a non-stick frying pan and heat up.
Pour the mixture into the pan.
Wait for 2 minutes or when you see the bottom turns into gold, flip and fry for another 2 minutes. Repeat this step until you have no mixture left.
Add toppings you like. You can melt peanut butter in a microwave for 30 seconds and add it on top.
3. Protein Dutch baby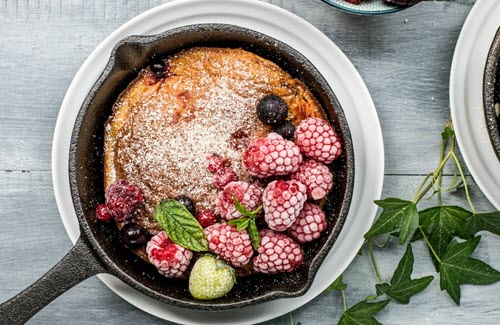 How to cook
Preheat your oven to 220°C and place a small ovenware dish into the oven.
Whisk protein pancake mix, milk and eggs until they are smooth.
Carefully remove the dish from the oven and then add 1 tablespoon butter.
Pour the pancake mixture into the hot dish and bake for 10-12 minutes in the oven. When the color turns to golden brown, it's done.
Top with things you like. Fresh berries are a good choice.
4. Vegan Chocolate Pancakes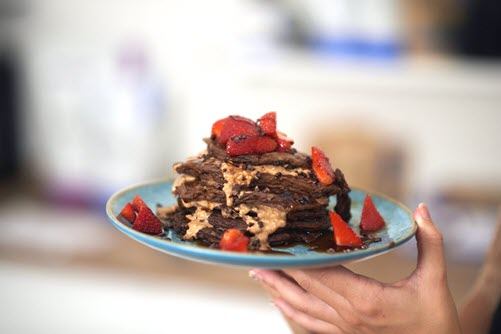 Ingredients
2 tbsp Organic Chia Seeds
100g instant Oats
35g Vegan Blend
1 tbsp. cacao powder
200ml non-dairy milk
1 tbsp baking powder
6-8 drops Chocolate Flavdrops
1 tbsp coconut oil for frying
How to cook
Mix organic Chia seeds with 6 tablespoon water in a cup and leave it alone for 10 minutes. The chia seeds would soak up the water and become jelly-like.
Add instant oats, vegan blend, milk, baking powder, and flavdrops to a blend. Blend until smooth.
Combine chia seeds with the mixture.
Use medium heat and add coconut oil.
Pour the batter into the non-stick pan and flip it when you see the edges begin to turn golden. Then fry the other side. Repeat until there's no batter left.
5. Protein crêpes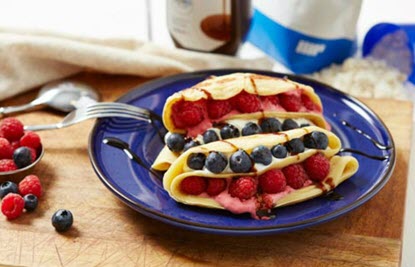 How to cook
Put all ingredients into a blender and blend until smooth.
Heat coconut oil in a nonstick pan with high fire.
Pour your batter onto the pan and turn the heat to medium.
When you see bubbles appear on the pancakes' surface, flip them.
Top with things you like.
Get 45% OFF Discount for these products
Click Get Code.


Click Copy, then click Go to us.myprotein.com.

Choose the product you like and add them to your cart.
Paste coupon code into the box then clicks Use Code.

Now you're ready to Checkout.
Note: If you spend over $60 (after using coupon code), you can get a FREE gift.

---
To find other online coupons and deals, please visit our Coupons page!